As a creative person and printables obsessed lady, I LOVE color. Color lovers unite! 🙂 I especially love bold, bright color schemes against white. It's shocking. It's daring, and I just love it. <3 I take so much inspiration from flowers all around me and wanted to create some of the best flower-inspired color palettes.
But sometimes when I'm working on a project, I'm not all that inspired.  
That's my cue to take a step outside in the garden, get some fresh air and clear my mind. Breathe in, breathe out. At that moment, I'm instantly inspired by the nature that stands before me, flowers, and I start looking at types of flower color combinations. 
Nature inspired color palettes fill me so much joy! Just LOOKING at the beauty, has a way of really making me happy, igniting my fire, and pumping those creative juices! 
Use these beautiful floral design color palette ideas for anything you can think of, but here are some ideas:
Weddings
Printables
Home Decor
Clothing
Graphic Design
Websites/Blogs
Coloring
You ready to get started? 
24 Best Flower-Inspired Color Palettes
I hope these flower-inspired color palettes take your breath away and fill you with tons of creativity! Beneath the picture is the color palette HEX codes.
This color scheme has the best of both worlds, several neutral tones with a bright splash of red!
Colors:
Battleship Gray – #4a4850
Striking Red Rose – #f41722
Baked Gold – #e5b563
Cypress Green – #304929
Gray Chalice – #abafb8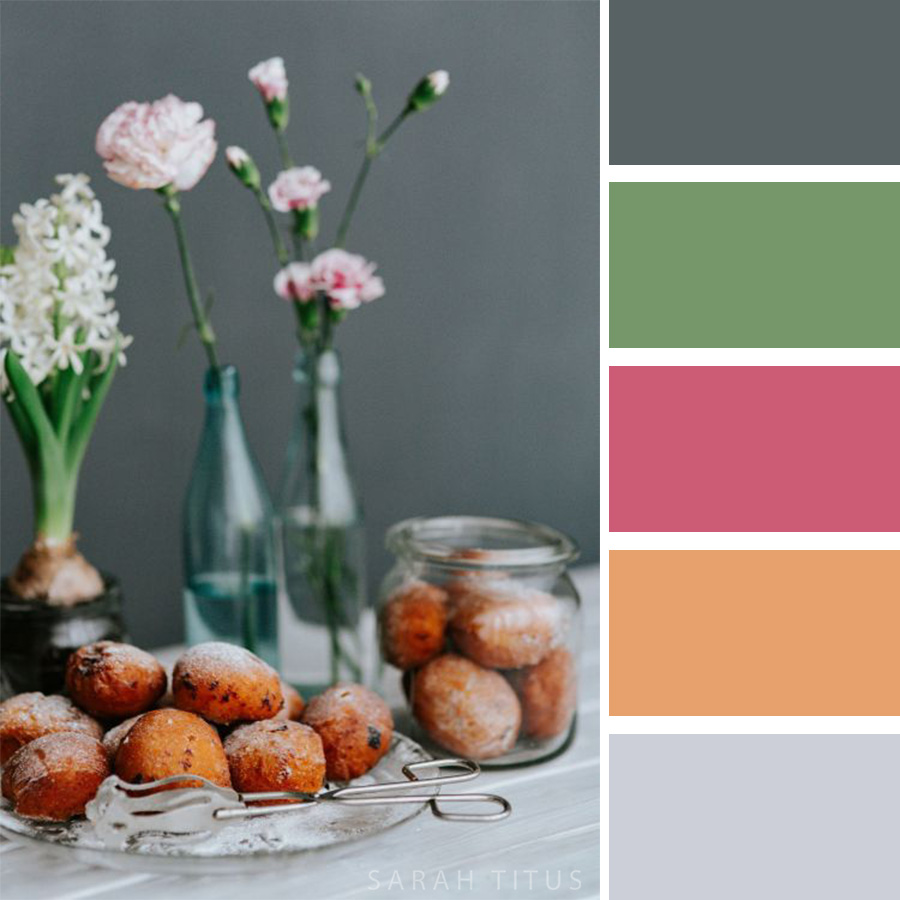 This mauve and gray color combination create a relaxing vibe with the coral and green.
Colors:
Gray Sigma – #586264
Savannah Green – #75976a
Pinky Mauve – #cc5b76
Caramel Coral – #e6a16c
Gray Oasis – #cccfd8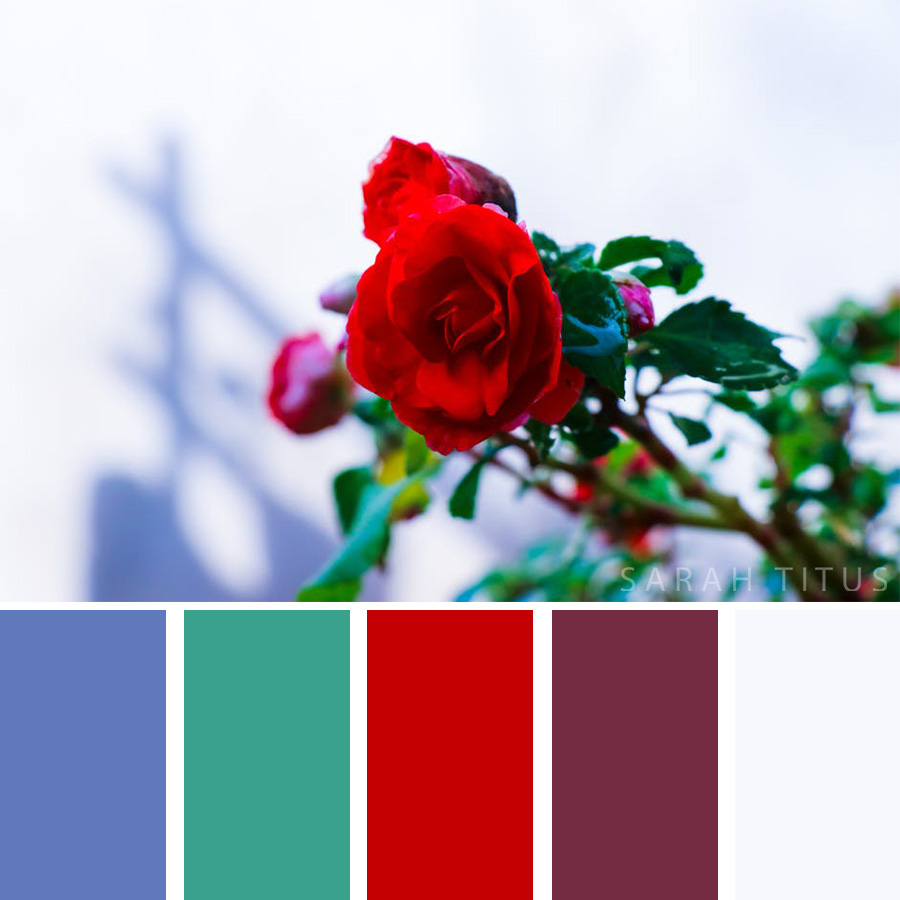 Rich and vibrant with a deep punch of red make this a beautiful happy color palette.
Colors:
Blue Yonder – #6079bb
Emerald Isle – #3aa18c
Traffic Red – #c30001
Burgundy Bouquet – #732c42
Snow Kiss – #f7f8fd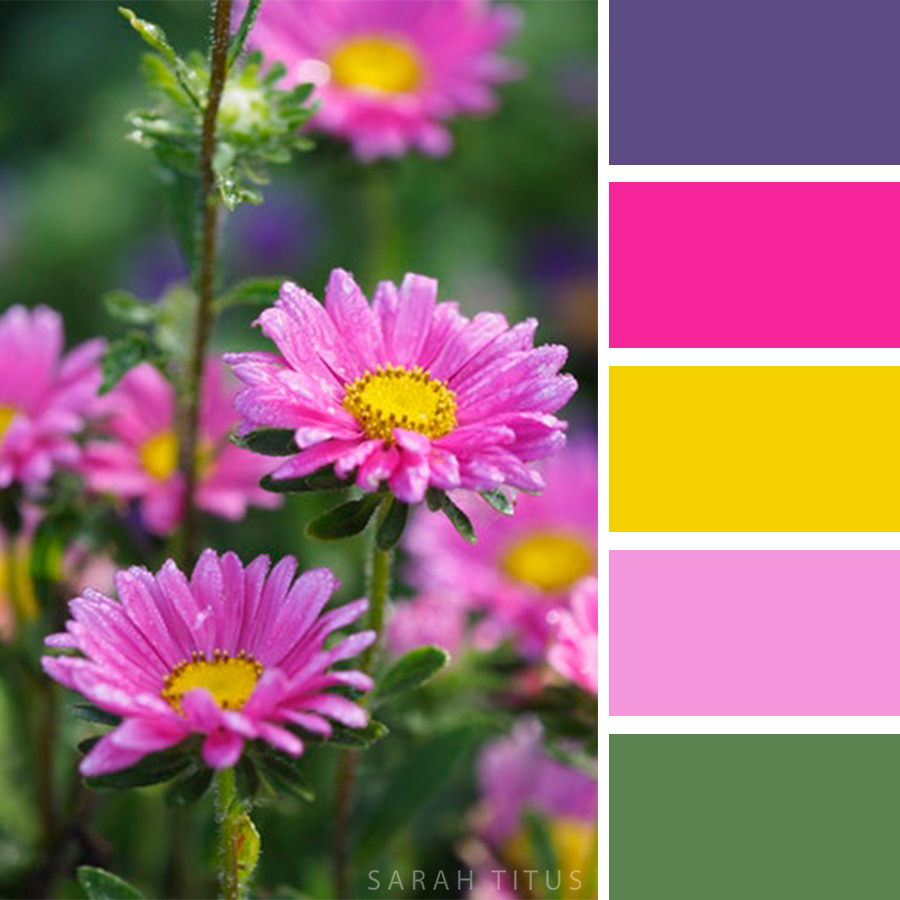 This color palette has it all, sunny, happy and with a grounding neutral green shade.
Colors:
Cyber Grape – #5b4b82
Pink Gerbera – #f5259a
Empire Yellow – #f4d000
Daisy Pink – #f497dc
Natural Green – #5a834e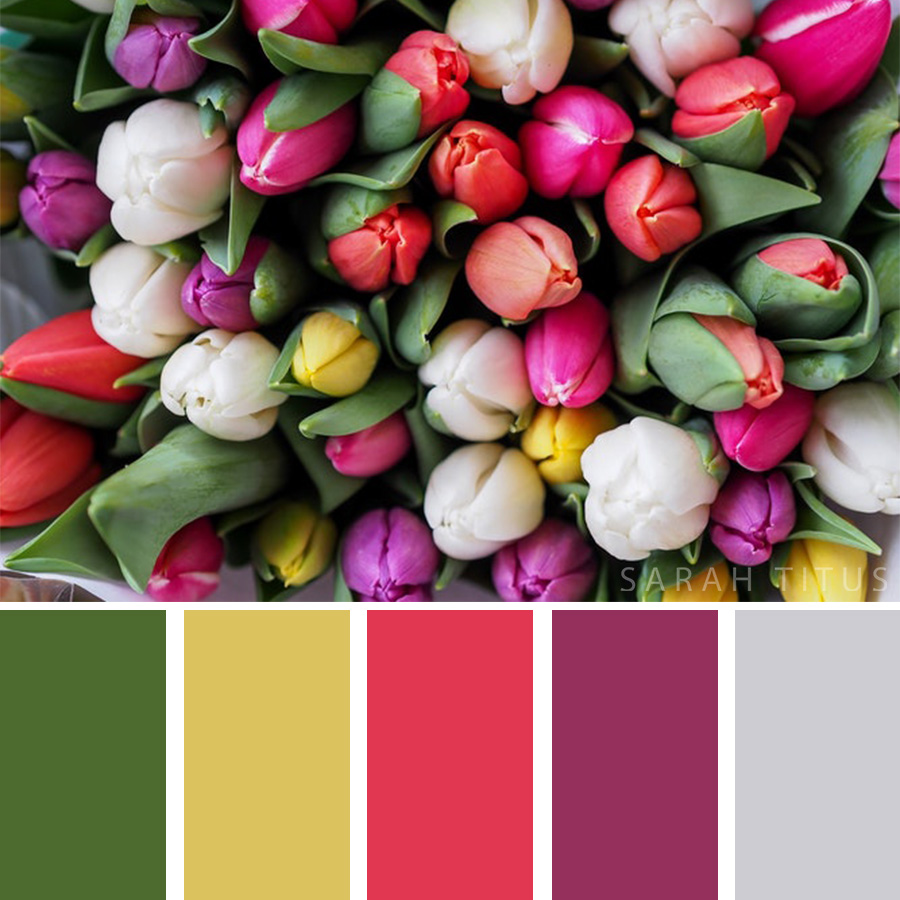 You can't go wrong with tulips. Am I right!? This color combination are cool and bright with a splash of warm yellow.
Colors:
Treetop Green – #4d6a2e
Warm Yellow – #dbc25f
Hibiscus Tea – #e13751
Sumptuous Plum – #94305c
Gray Drift – #cdcbd2
Light and delicate and fresh and airy are the mood that this color palette strikes.
Colors:
Crisp Gray – #c7ced8
Rich Mulberry – #684352
Pink Corsage – #f185b7
Airy Pink – #ecb8cf
Fresh Green – #abbd8b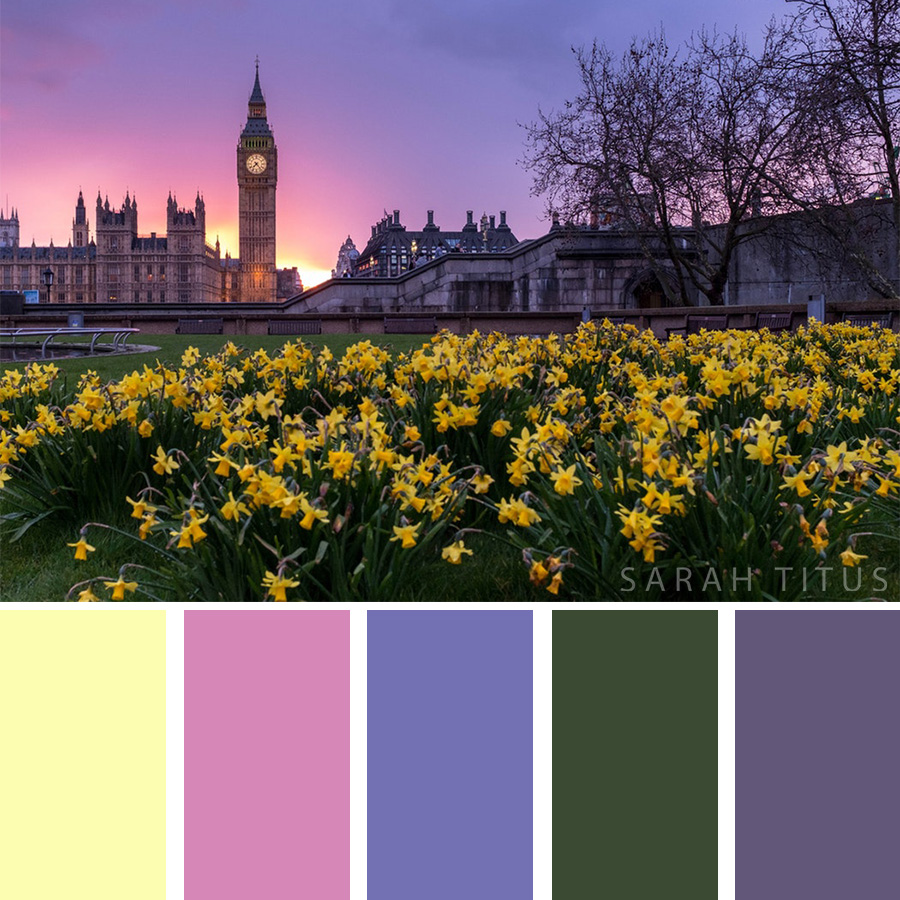 Twilight is definitely the scene these rich colors evoke.
Colors:
Yellow Afterglow – #fcfdb1
Dusky Pink – #d687b8
Blue Preserve – #7370b3
Sherwood Green – #3b4a32
Purple Silence – #625779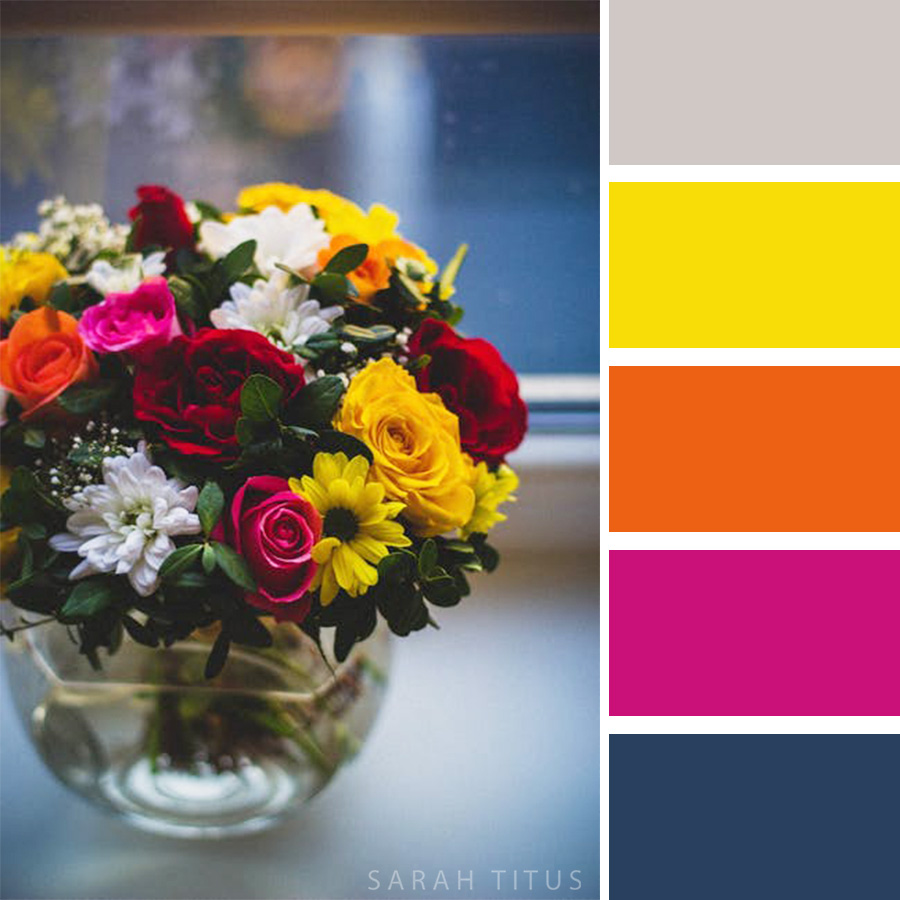 Cheery, vibrant and joyous are the atmosphere this flower inspired color palette create.
Colors:
Twilight Gray – #cfc8c5
Yellow Sizzle – #f8dd06
Mandarin Orange – #ec6114
Vivid Pink – #ca1078
Tardis Blue – #29405e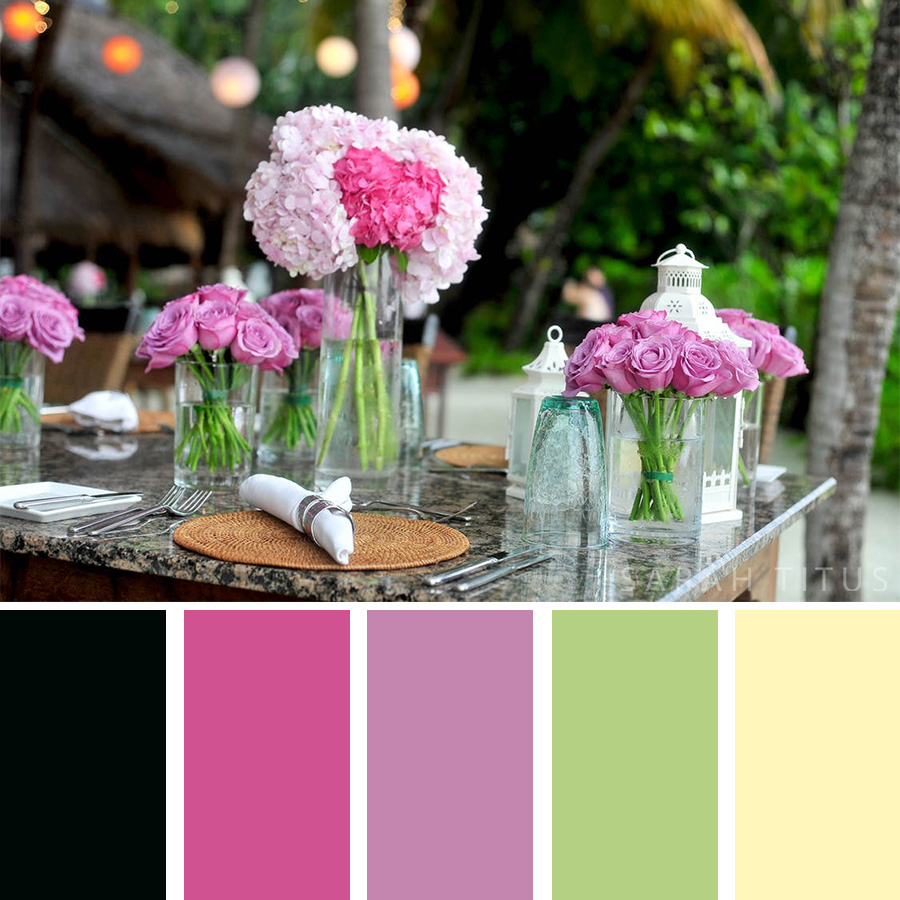 Can you feel the elegance and sophistication these shades invoke?
Colors:
Black Swan – #000905
Sophisticated Pink – #d05291
Elegant Lilac – #c485ae
Tart Apple – #b4d083
Blondie Yellow – #fff6ba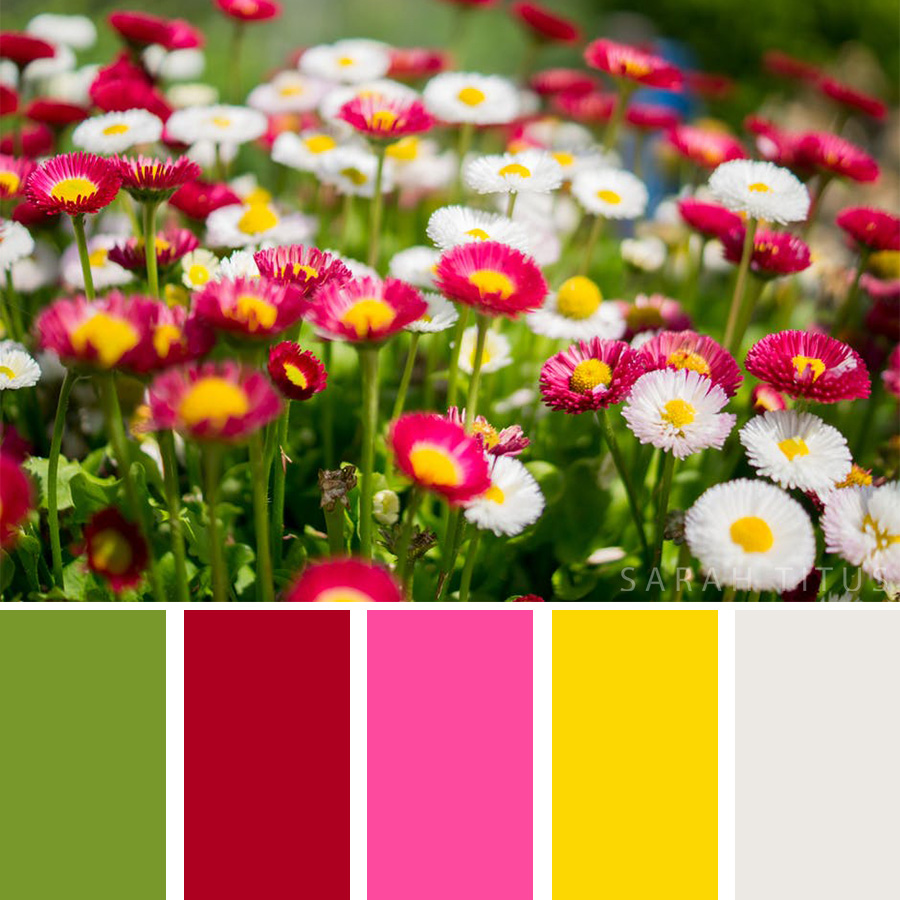 A field of happiness are what I would call these vivid colors. Can you see it?
Colors:
Jovial Green – #78982c
Berry Delight – #ad0020
Pink Bliss – #fd4a9f
Yellow Glee – #fcd701
Contented Gray – #ece9e4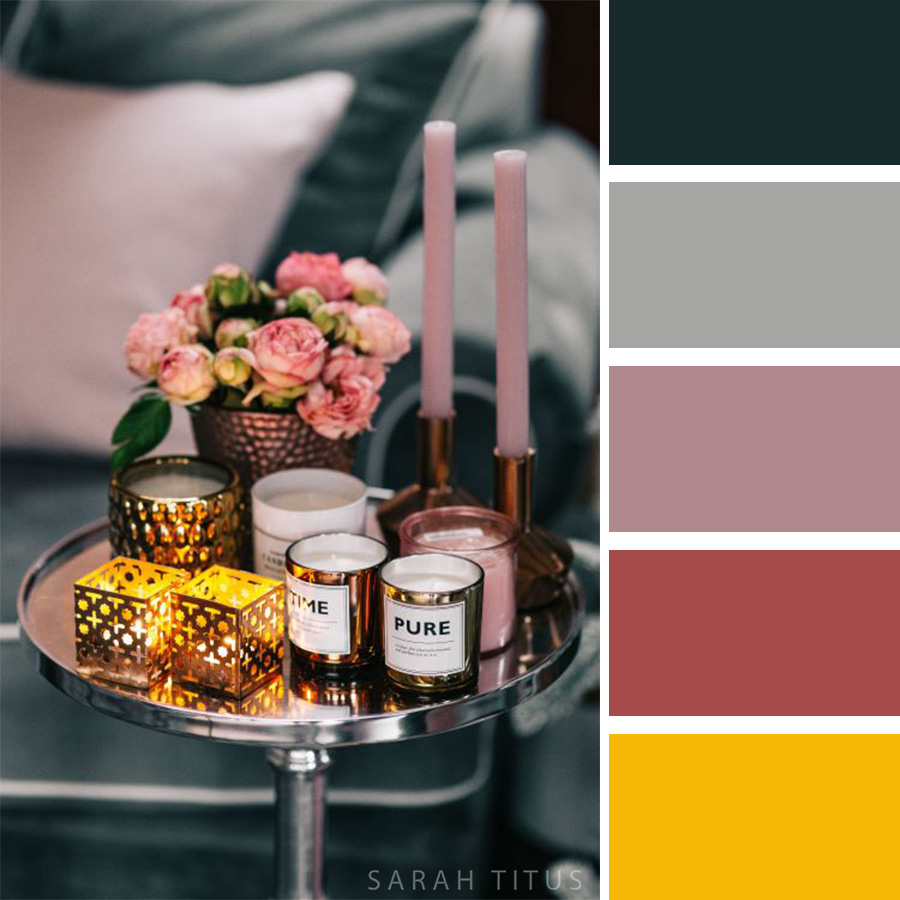 These color schemes for bedrooms say richness and calmness with a touch of warmth and energy.
Colors:
Dark Blue Warmth – #182a2c
Serene Gray – #a5a5a3
Placid Purple – #af898e
Russet Harmony – #a54b4c
Energetic Yellow – #f6b907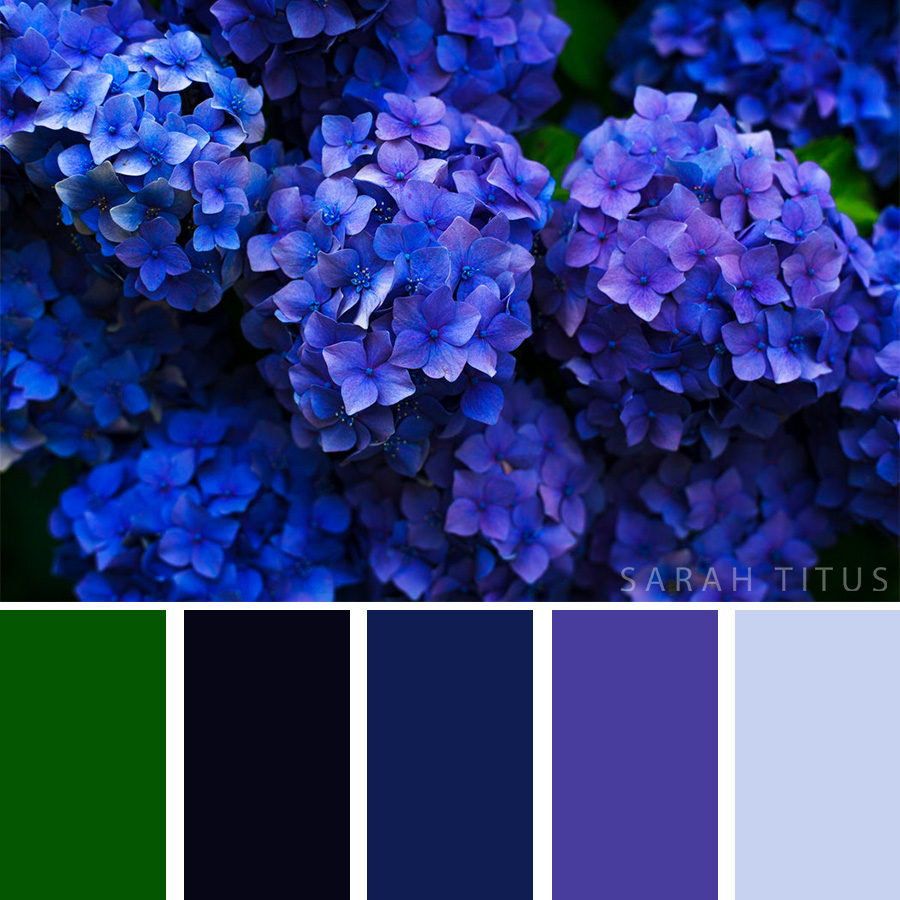 These energetic, vivid colors still seem to provoke a certain peacefulness. 
Colors:
Majestic Green – #035600
Continental Blue – #070616
Tahiti Night Blue – #0f1d53
Bluebell Peace – #483d9c
Blue Pearl – #c7d2f0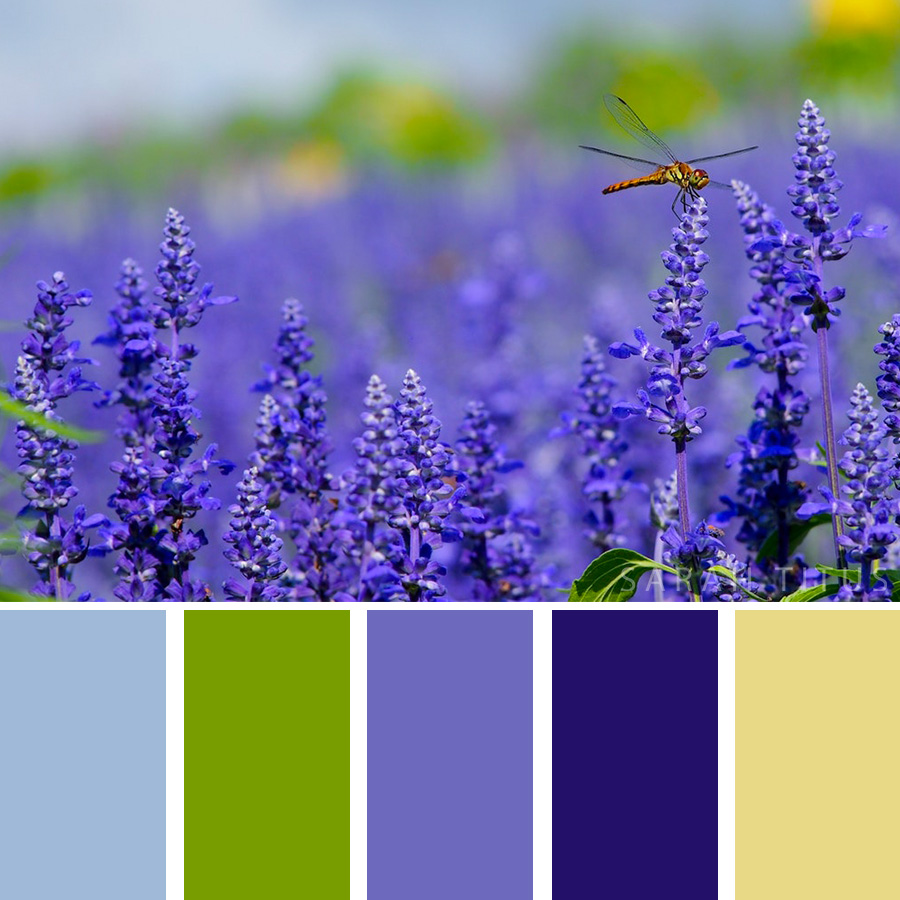 Clear, quiet and at peace is the aura this special color palette gives off.
Colors:
Blue Aura – #9fb9d7
Iguana Green – #789d00
Bluebell Trance – #6d6abc
Blue Decadence – #231168
Yellow Parchment – #e7d986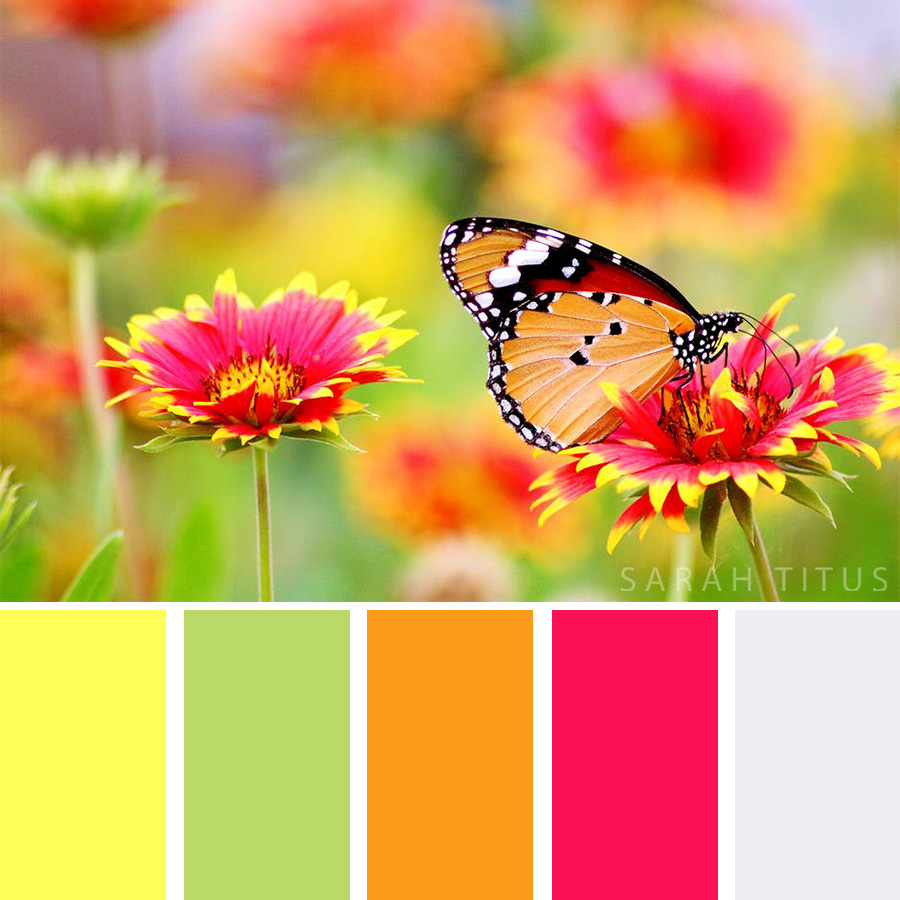 Gorgeous, happy and wonderful is this bright and colorful palette's inspiration. It would be PERFECT as website color schemes!
Colors:
Yellow Jubilee – #ffff56
Lime Freckle – #bbd966
Exquisite Orange – #fb9b1b
Pink Dazzle – #fa1256
Gray Gauze – #edeff1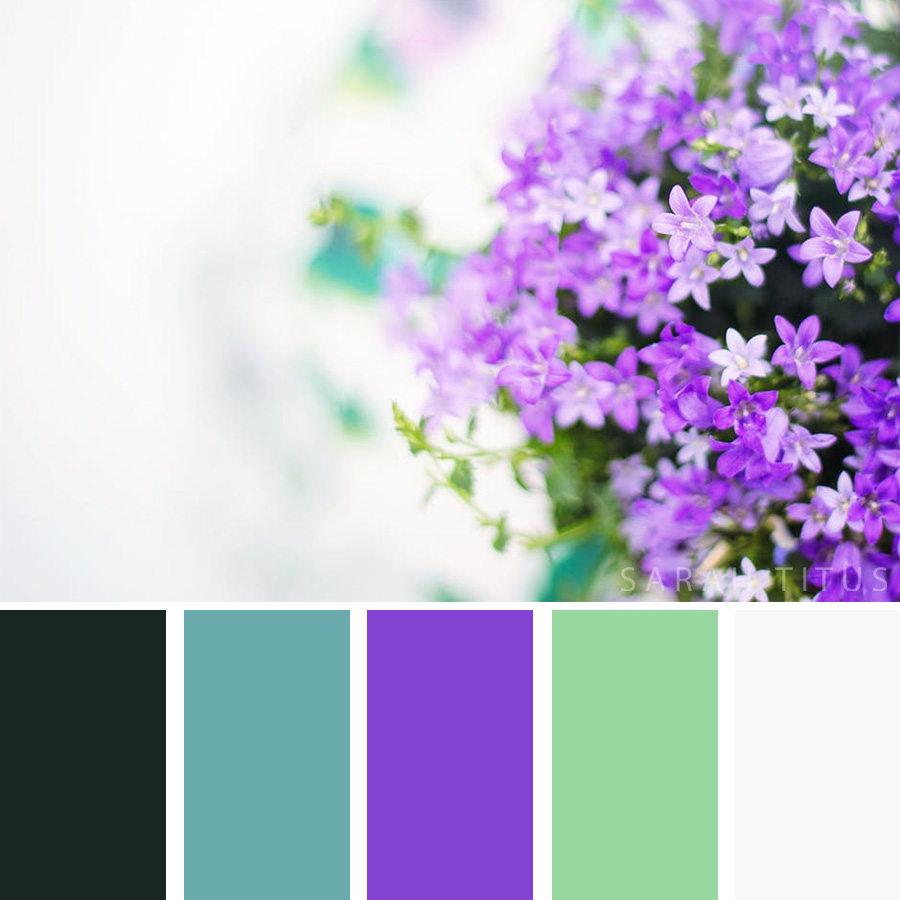 This floral color palette from this image is delicate, cool, and serene. I'm definitely going to use this as my color palette for a printable!!
Colors:
Black Emerald – #1a2622
Blue Poise – #6aabad
Purple Gladiolus – #8342d0
Serene Green – #99d7a0
Ice Cube – #f9f9f7
Richness, boldness and beauty radiates from this color combination.
Colors:
Lavish Purple – #6e0546
Blue Delphinium – #a9a4ff
Perfect Peach – #ffd3a8
Bold Green – #1f7403
Bright White – #ffffff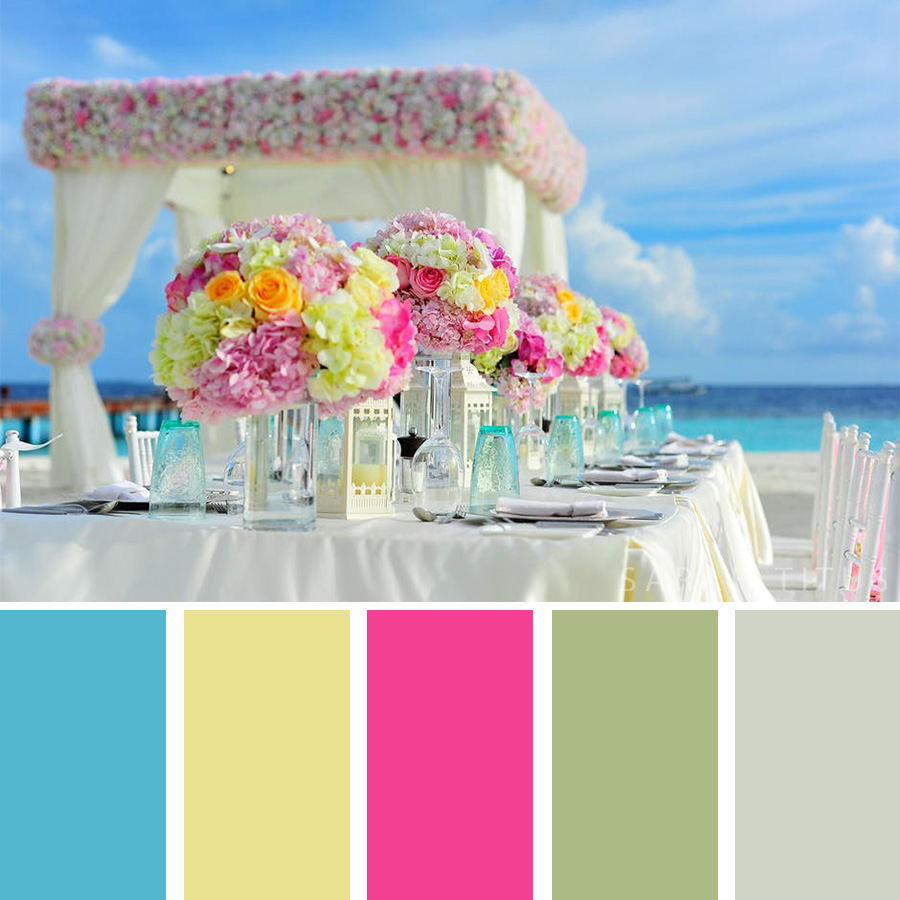 This floral combination shines with femininity, celebration and tranquility. It's a perfect complimentary color scheme for wedding flower color palettes.
Colors:
Blue Spirit – #53b7cf
Dainty Yellow – #eae190
Pink Spree – #f44093
Tender Green – #acbb85
Coastal Fog – #d0d4c7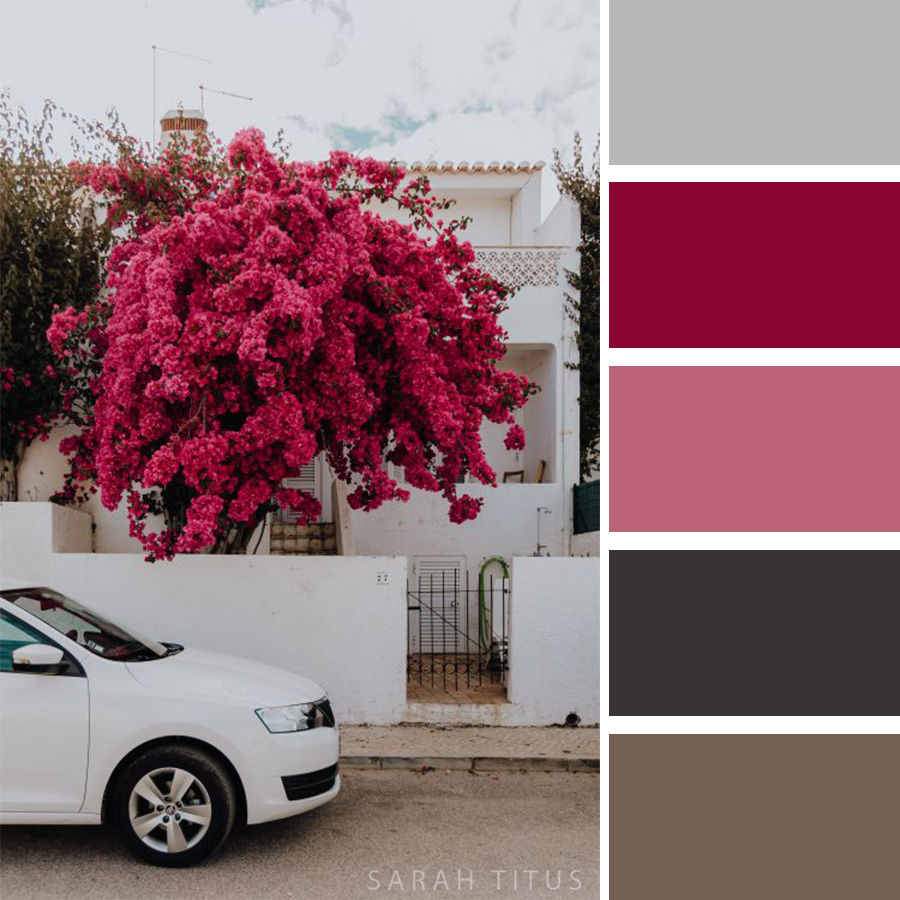 Neutral and stark, but with a bold pop of bright color gives an unexpected, wow!
Colors:
Gray Dawning – #b7b7b9
Garnet Symphony – #88052f
Cherry Blossom – #bb6477
Charcoal – #383434
Stark Gray – #736052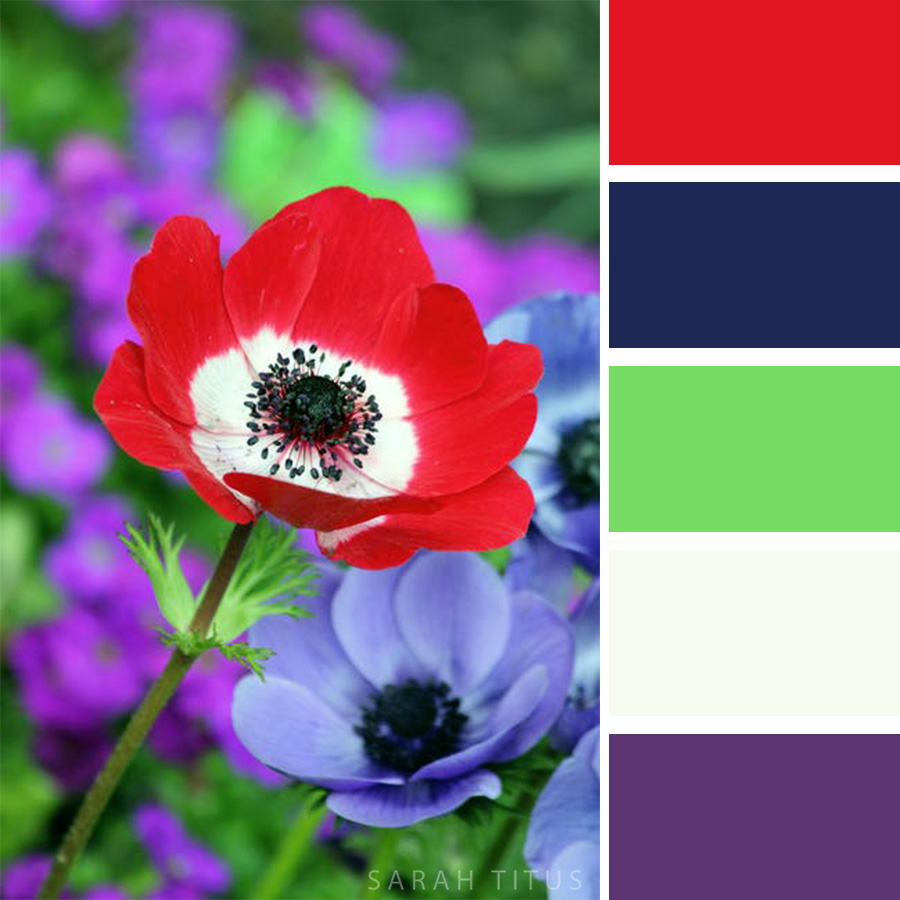 Royal, vivid and a bit refreshing, these colors will wake you up! This is EXACTLY how to create a color palette right here!
Colors:
Poppy Red – #e11522
Blue Dominion – #1d2856
Lively Green – #74dc61
Baby Powder – #f7faf0
Lucid Purple – #5d3572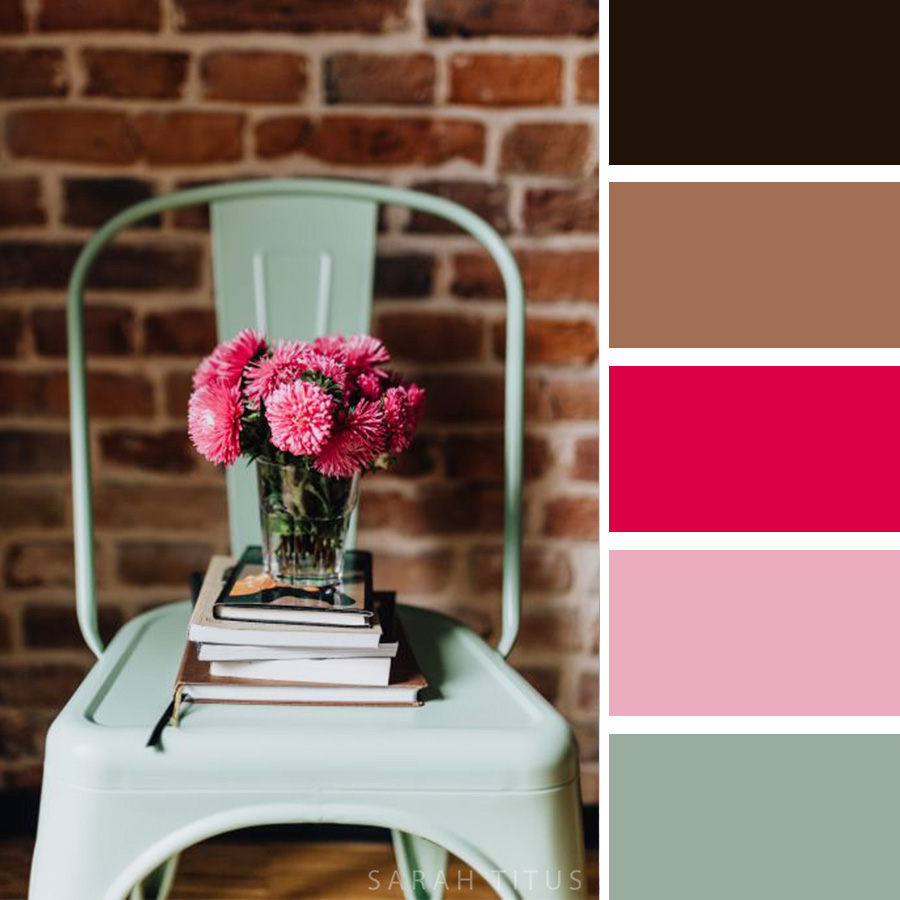 Peaceful neutrals aren't boring when there's a pop of bright pink in the mix! That's what this color palette expresses.
Colors:
Cocoa Nibs – #211207
Southern Wood – #a16e55
Iconic Pink – #db0144
Kawaii Pink – #eaacbf
Sea Spray Gray – #98ac9e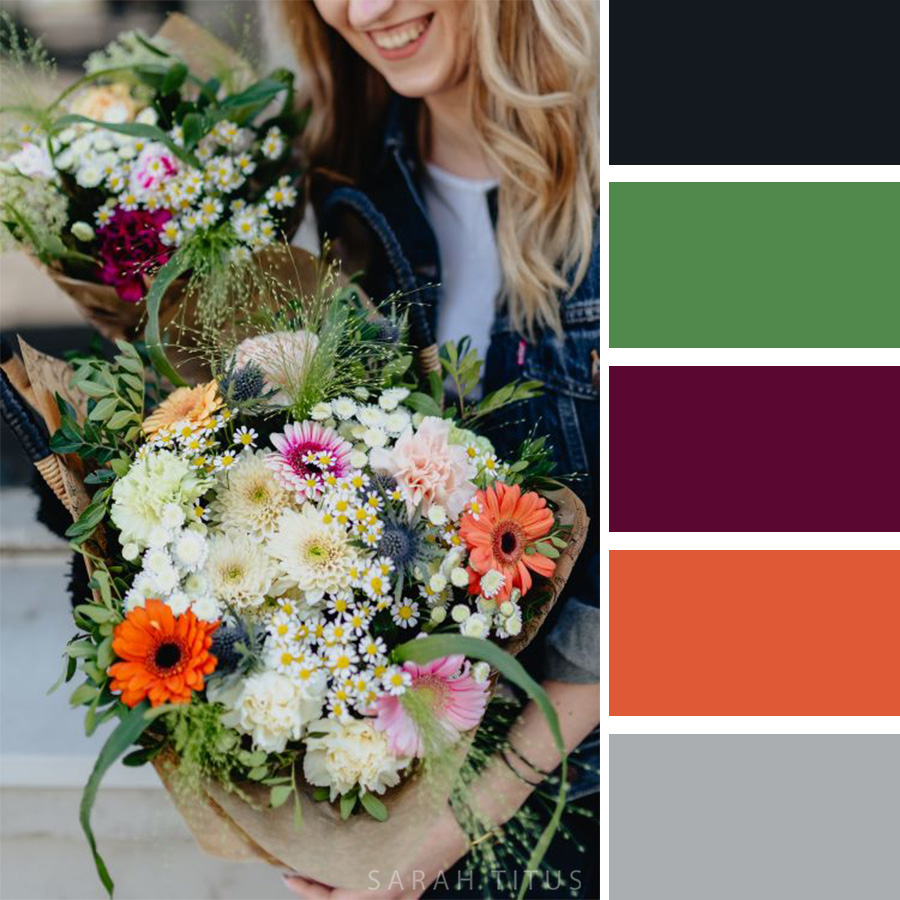 This picture is a perfect for evoking color scheme ideas. Colors you may never think of putting together can go together exceptionally!
Colors:
Black Shadow – #14191f
Grasshopper Green – #50884c
Bordeaux Purple – #5a0831
Orange Soda – #df5936
Hi Ho Silver – #aaaeb1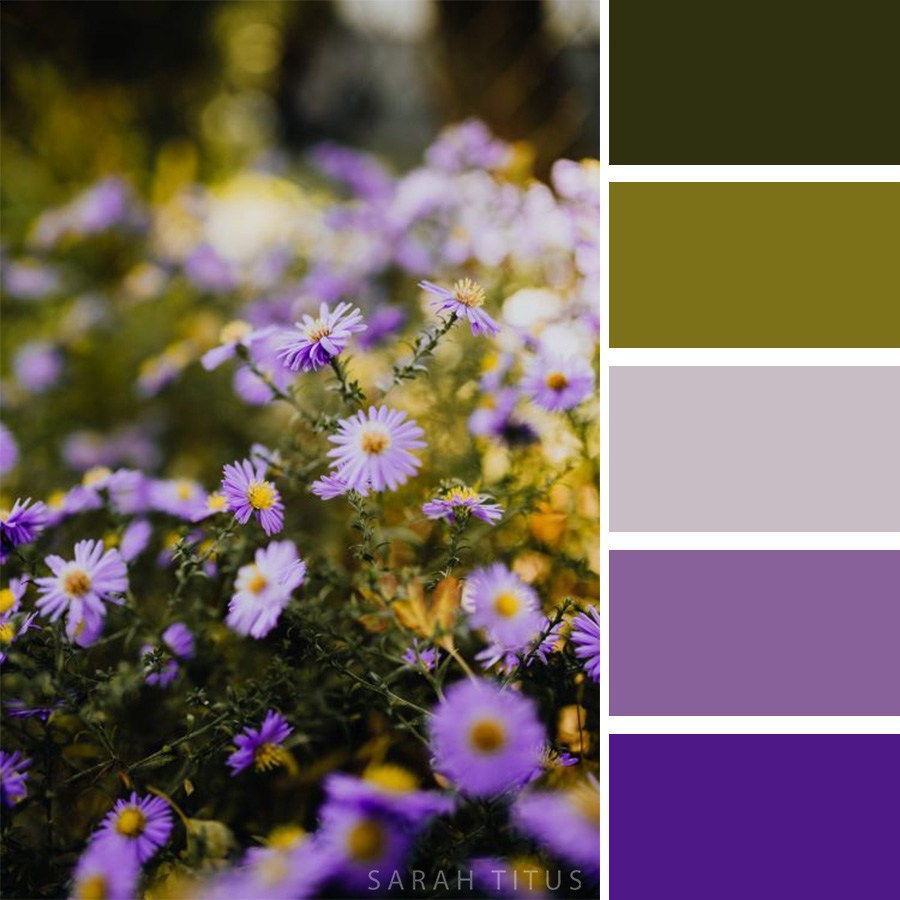 You can absolutely put purple and yellow shades together without it being too youthful!
Colors:
Deep Moss – #2f3010
Goblin Green – #7c7118
Duchess Lavender – #c7bdc5
Mystic Purple – #886099
Purple Hollyhock – #4f1887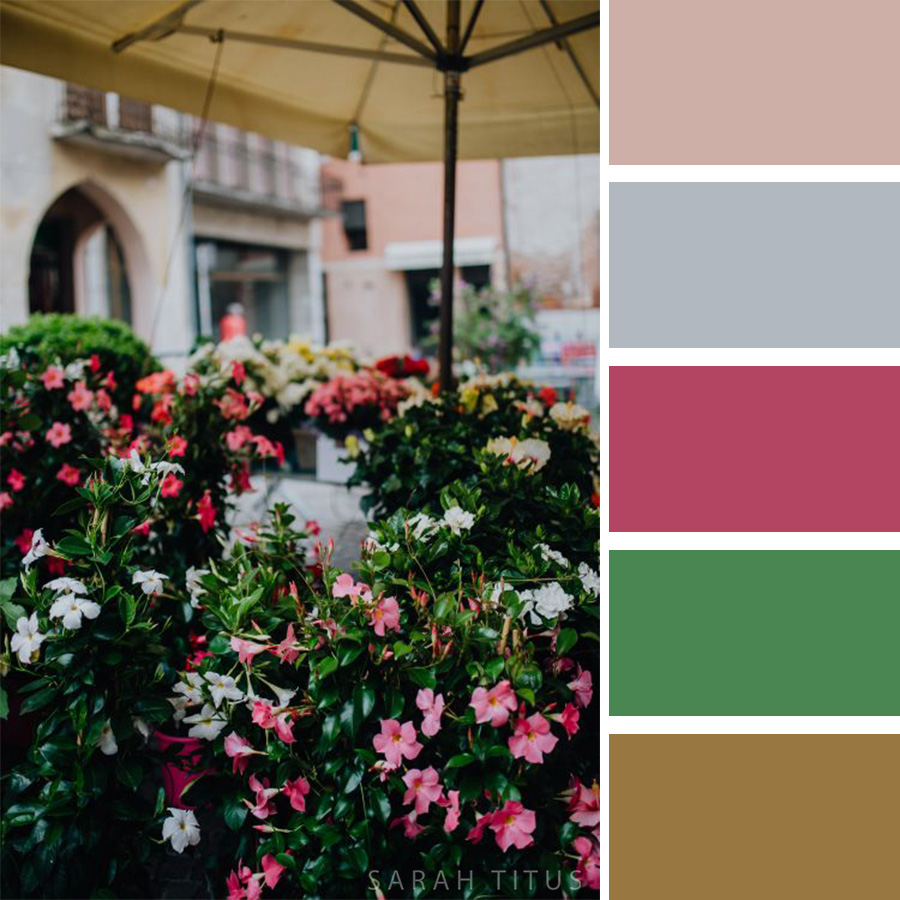 These colors schemes examples of flowers say to me that neutral does not mean bland and boring!
Colors:
Vintage Tea Rose – #cdafa7
Sanctuary Blue – #b1b8c0
Pink Gala – #b34561
Eden Green – #498652
Antique Penny – #987840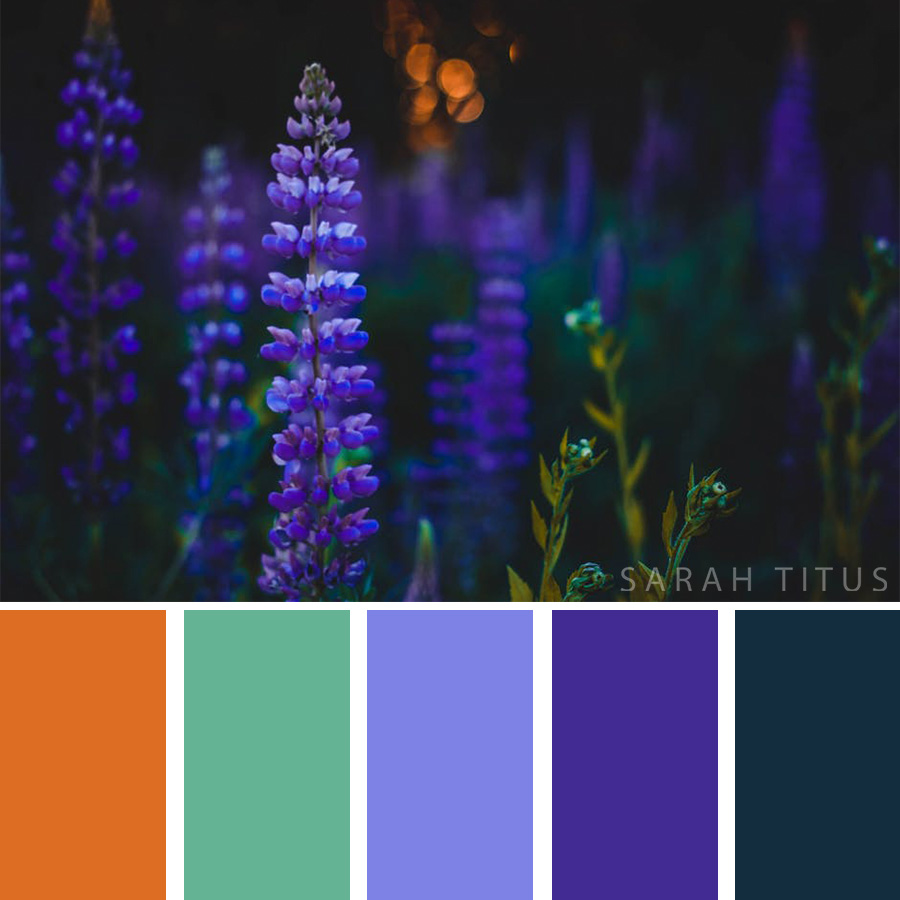 How gorgeous is this when you're looking for color palette images?! If you're looking for dreamy and mellow, these color shades have that, with just a touch of fire.
Colors:
Tiger Orange – #dd6d23
Acapulco Green – #65b395
Wisteria Blue – #7d82e5
Blue Illusion – #422b92
Blue Meteor – #132d3e
For more color palette inspiration, check out the other collections here.