Our website is supported by our users and contains affiliate links. We get paid when you purchase or sign up for anything through those links. Read the full disclaimer for more information.
Remote work has been around long before the pandemic ever brought about its mainstream rise.
Remote working was formerly referred to as "telecommuting" when a NASA engineer by the name of Jack Nilles coined the term in 1973. Around this time, a small team of IBM workers started working from home to test the effectiveness of this new style of working. By 1983, this small team increased to a whopping 2,000 workers conducting their call center duties from home.
Fast forward to 2022 — 26% of U.S. employees work remotely and 16% of global companies are fully remote, according to Zippia.
Remote work isn't the future of work. It's already here with projections to continually increase in 2023 and beyond.
No matter how many articles and CEOs claim to be against remote work, there's no stopping it.
With hundreds of remote-first companies that continually hire throughout the year, let's go over some of the best remote job boards and sites to find the best remote work situation for you.
The Different Types of Remote Jobs
Not all remote jobs are created equally.
Before diving head-first into your remote job search, let's first clear up the difference between the different types of remote jobs.
Remote jobs can fall under several categories including:
Hybrid: Hybrid remote work means that the employee is expected to work sometimes in the office, whether it's part of the week or part of the month. The most popular form of hybrid remote work is 2-3 days of being able to work from home or elsewhere. Then you would be expected to come into the office on the other days.
Work From Home: Work from home jobs are usually restricted to a radius like a city or state. These are more common with smaller companies that don't have the infrastructure to be able to allow employees to work from different locations or restrict them to only work from their home office.
Work From Anywhere: Work from anywhere jobs allow you to truly work from anywhere within a country or globally. This depends on the company's infrastructure and ability to support employees working from different states and countries. Usually the larger and more globally established a company is, the higher your chances are for a full work-from-anywhere experience.
Freelance: Freelancers are their own boss and make their own schedule so they call the shots on when and where they work. This is fully remote with the mentality that you work from wherever you are as long as you have Wi-Fi, a laptop, and happy clients.
Depending on your goals and preferred style of working, be sure you know which type of remote work you want before you start your search.
If you want to start a digital nomad lifestyle, you probably want to hone your search to only show work from anywhere remote jobs or freelance jobs. If you're someone who plans on working from your home office anyway and needs that flexibility, then stick to work from home and hybrid jobs.
Remote-Only Remote Job Sites
1. FlexJobs
Flexjobs has been around since 2007 and is one of the best remote job boards to find vetted and scam-free remote, work from home, and flexible job opportunities. The site isn't just a job board either. It includes a great free blog to help you land a remote job, remote work news, career coaching, and resume writing help.
Even though the job board, career coaching, and resume writing are premium services, you can use the code FLEXLIFE for up to 30% off using our link. There you'll find remote jobs not only in the U.S. but also for companies that allow you to work from anywhere in the world.
We know how much it sucks to think about paying to use a remote job board, but this one has the best reviews of any other job board out there. After you land the job, you can cancel the service.
If a paid job board isn't your style, keep reading for tons of free remote job sites to use for your job search.
2. Dynamite Jobs
Dynamite Jobs is a remote job board that only works with employers that are 100% remote. They've been working with companies who are offering true remote-first work cultures since 2017, with their job listings ranging from a variety of countries. Plus, it's a completely free to use.
The top categories on the site with the most remote job listings are engineering, management, operations, virtual assisting, marketing, writing, sales, and marketing.
3. Remote.co
Remote.co was founded by Sara Sutton, the same person who founded FlexJobs and has had success running virtual teams since 2007.
Remote.co lists international remote jobs that are full-time, part-time, and freelance in a variety of categories. The categories with the most remote job listings include accounting, customer service, marketing, design, development, HR, IT, project management, and writing.
4. WeWorkRemotely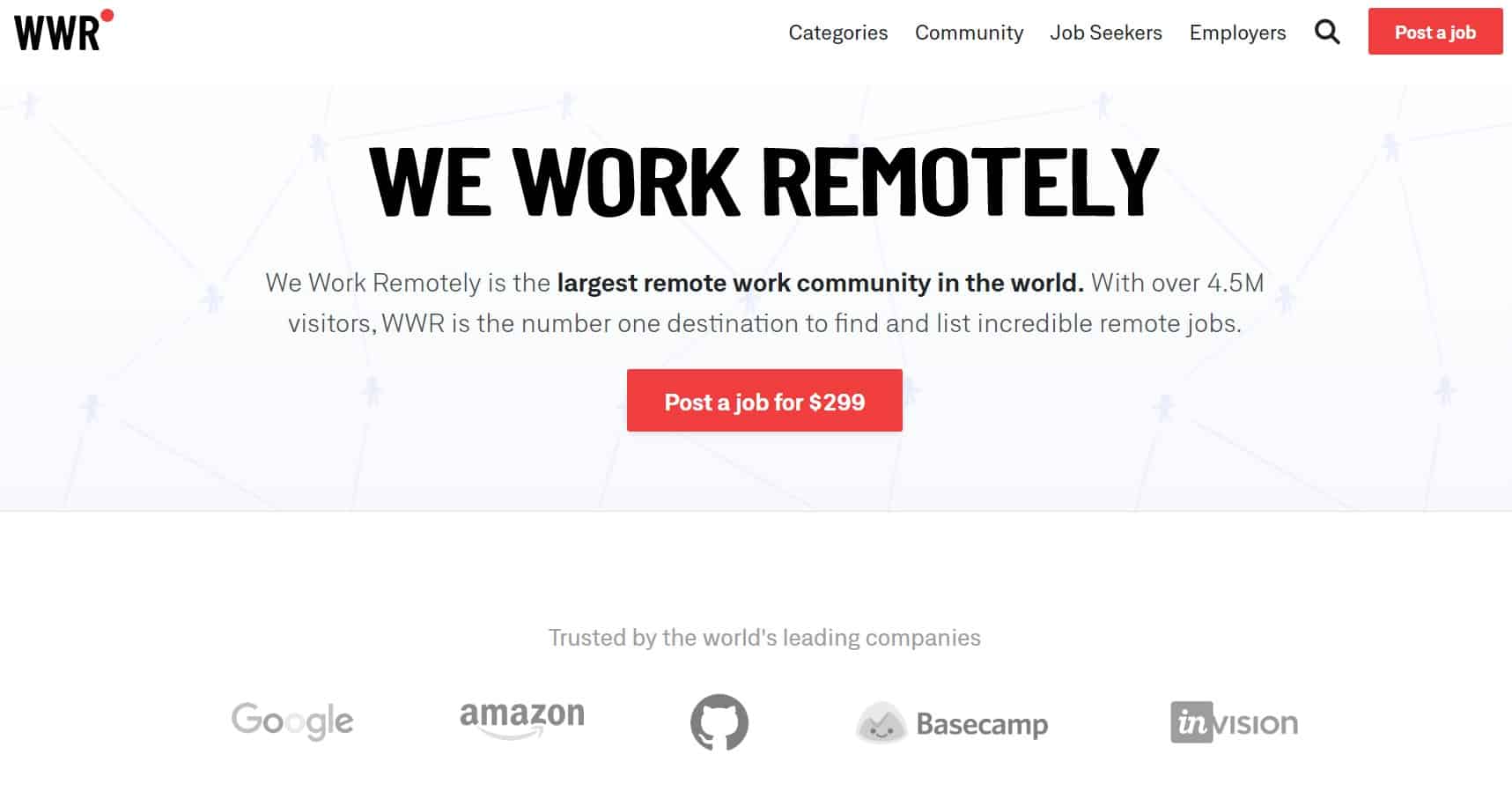 WeWorkRemotely is the largest remote work community in the world and is trusted by companies like Google and Amazon. 
Use their free slack community as a remote work tool to connect with other remote workers and browse their remote job board to find positions in categories like design, devops, management, finance, product, customer support, sales, and more.
5. Himalayas
Browse over a thousand international remote and work from home jobs at top companies using Himalayas.app. 
On Himalayas you'll find remote jobs in a variety of categories but the categories with the most listings tend to be development, design, customer service, marketing, product management, and finance.
6. JustRemote
JustRemote features international remote jobs for both permanent and contract employees.
Categories of remote jobs on the site include customer service, development, design, editing, marketing, human resources, project management, and more. The category with the most amount of listings tend to be jobs in development.
7. Remotive
Remotive is a remote job site where you can find international remote jobs from fully vetted tech companies. They list both full-time and freelance jobs available.
Some of the categories you'll find remote jobs in are software development, design, customer service, marketing, sales, data, finance, legal, human resources, writing, and more.
8. SkipTheDrive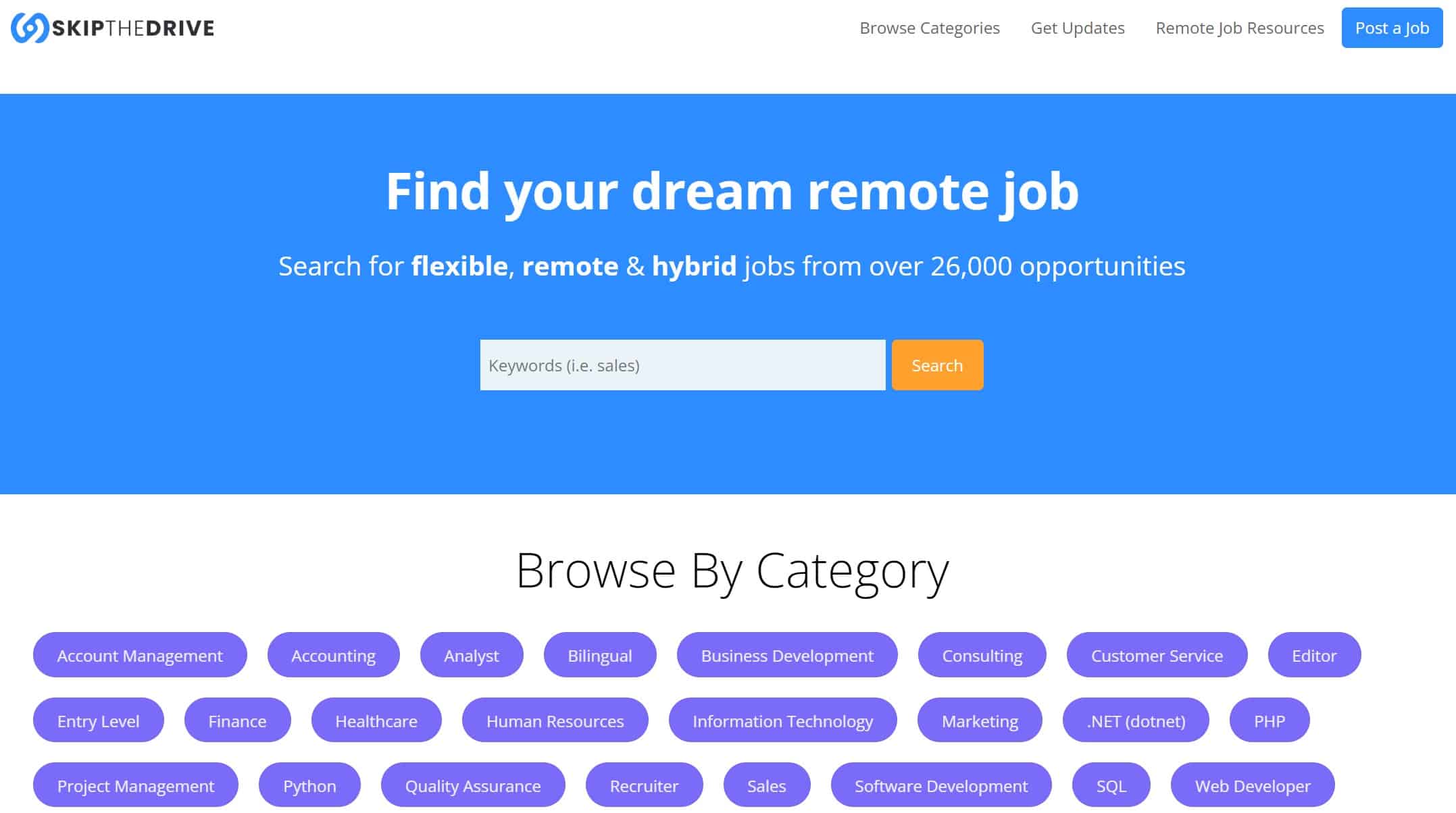 SkipTheDrive is a remote job site that posts remote job listings from startups, Fortune 500 companies, and other well-known and vetted organizations. They also have a helpful blog with remote job search tips and tools.
Browse over 20+ categories of remote job listings on the sites, including in categories like accounting, customer service, editing, finance, healthcare, IT, recruiting, and more.
12. RemoteOK
RemoteOK is a remote job site that lists both tech and non-tech jobs and is trusted by companies like Amazon, Shopify, and dozens more.
On the site you'll find tons of international remote jobs in categories like development, engineering, finance, design, marketing, content writing, and more.
13. Jobspresso
Jobspresso helps people work from anywhere with curated job listings on their platform in tech, marketing, customer support, and more.
Browse over 1,000 curated, international remote jobs including contract, freelance, full-time, part-time, and internship types of jobs.
14. Remote Jobs Club
Remote Jobs Club isn't like your average remote job board but we had to include it in this list.
Instead of a remote job board that you can search on, it's a free service that emails you hand curated remote jobs on a bi-weekly schedule. Sign up and join 7,500 others who are getting email roundups of remote jobs that aren't restricted by any particular geographic area.
15. Inclusively Remote
Inclusively Remote is a remote job site that features remote opportunities for everyone, everywhere. They feature both full-time, part-time, and freelance remote roles on their platform.
I especially love this remote job board because of the filters they have when looking at companies like LGBTQ support, medical coverage. etc.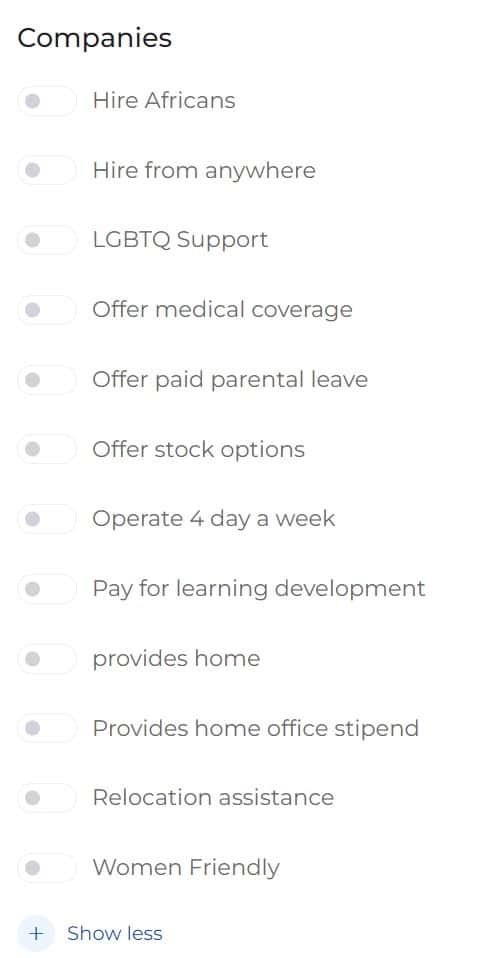 Niche Remote Job Boards
16. Remote In Europe
Use Remote In Europe to find curated remote job openings for candidates in European countries.
Some of the most popular categories on the site include devops, design, marketing, customer success, product, and programming.
17. RemoteAfrica
RemoteAfrica is the largest remote work community in Africa.
On the site you'll find remote jobs in Africa in a variety of categories including engineering, design, product, marketing, devops, copywriting, and more.
They even include jobs that will help you relocate.
18. Arc.dev
Arc.dev is a site specifically for developers looking for remote jobs. But instead of applying to companies, the companies apply to you.
How it works is you create a profile and start getting featured to companies to help you land a remote job in as little as 14 days.
19. LGBTQRemotely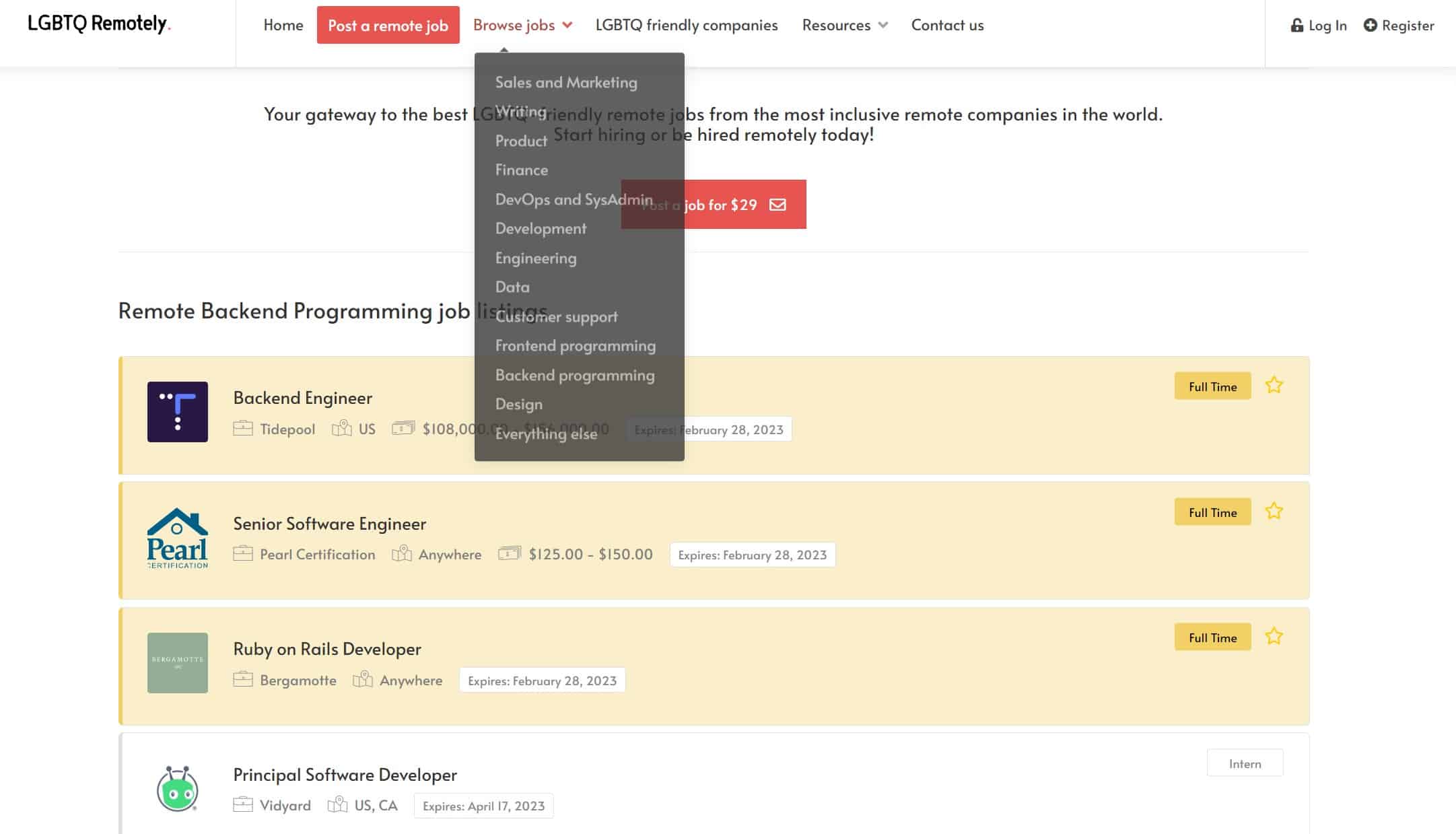 LGBTQRemotely lists LGBTQ-friendly remote jobs from some of the most inclusive remote companies in the world. 
On the site you'll find remote opportunities in categories like sales and marketing, writing, product, finance, engineering, development, customer support, and more. You can also browse jobs by company in their directory if there is a specific LGBTQ-friendly company you want to work for.
20. RemoteWoman
RemoteWoman is a remote job search board that helps you find remote jobs at female-friendly companies. The company was founded by Jaira Romero, a first-generation American whose parents immigrated to the U.S. from El Salvador. Now her and her company are on a mission to enable professional women to find meaningful careers in a world that increasingly demands flexibility, diversity, and inclusivity in building innovative solutions.
On the site you'll find remote jobs for women in categories like development, marketing, product, design, sales, and support.
21. BuiltIn
BuiltIn is a remote job search board where you can find hybrid and remote jobs in tech for all experience levels. 
Search jobs in categories like design, development, marketing, finance, data analytics, operations, and more.
22. 4DayWeek.io
4DayWeek.io is a niche remote job site that lists remote job opportunities at companies that have 4 day work weeks.
Some jobs listed have 4 x 8 hour days at 100% salary, 4 x 8 hour days at 85% salary, and part-time jobs of 30 hours a week and below.
The categories of jobs you can search include engineering, marketing, product, UX, sales, data analytics, human resources, and more.
23. NurseFern
NurseFern is a remote job board with curated listings for nurses looking to transition from the bedside to work-from-home nursing roles.
The job posts are separated out by the day of the week and are updated weekly. 
24. Remote Medical Jobs
Remote Medical Jobs helps nurses, nurse practitioners, and physician assistants pivot to remote work with remote clinical jobs,
The remote jobs listed on the site are North American locations only with full-time, part-time, on-call, nights or weekends, temporary, and per diem remote jobs.
25. Teacher Career Coach
Teacher Career Coach is an online resource platform and job board for teachers wanting to pivot out of the classroom. 
Their job board has filters for both "Remote OK" and "Remote Only" which return several results for remote jobs that teachers can pivot into. I especially love their career quiz that helps teachers find what best remote role to move into depending on where they're at in their career.
26. NoDesk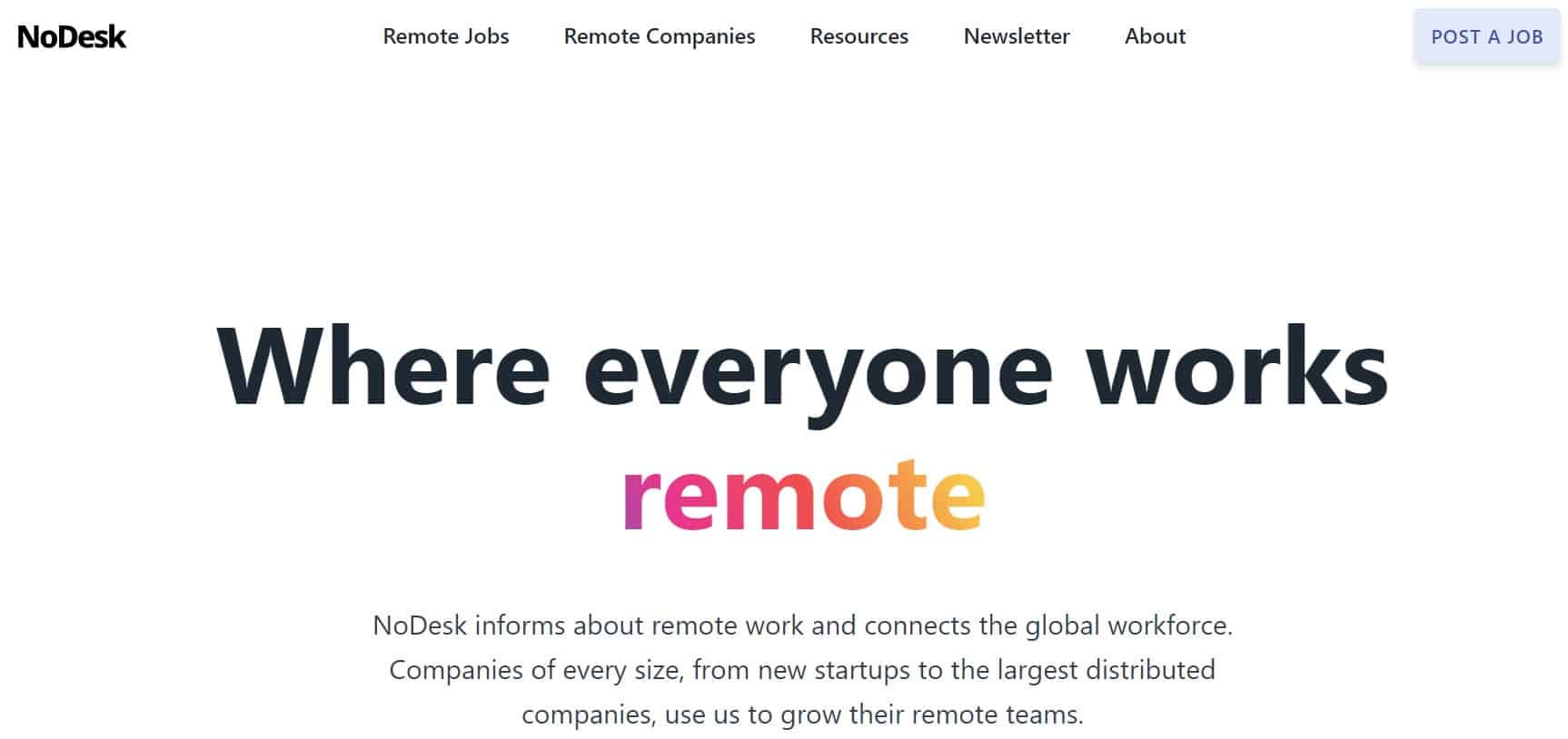 NoDesk is a remote job search platform to help find international remote jobs and connects you with companies that offer you the freedom to work remotely from home or anywhere around the world.
On the platform you'll find remote jobs in categories like customer support, design, engineering, marketing, operations, product, sales, and more.
27. Working Nomads
Working Nomads posts international remote jobs for digital nomads.
You'll find remote jobs on the platform in over 15 categories including development, customer success, system administration, marketing, healthcare, legal, and more.
28. Remote3
Find remote jobs at web3 startups using Remote3.
The site specializes in web3 jobs in categories like development and engineering but also features remote job listings in categories like marketing, customer support, information security, no-code, community, writing, and non-tech jobs.
Freelancer Job Sites
29. Upwork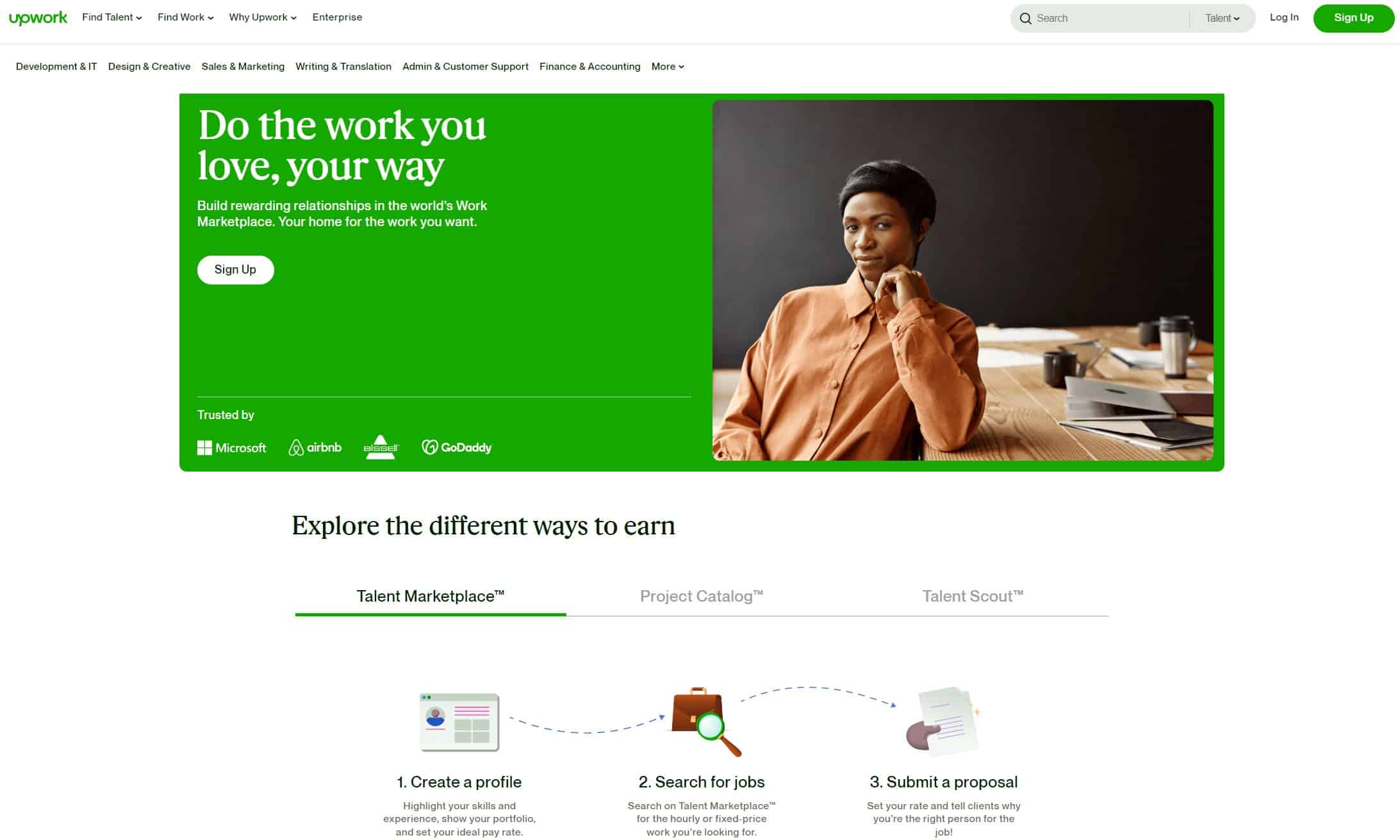 Upwork is one of the most popular freelancer networks out there that helps freelancers find jobs
The way it works is the freelancer sets up a profile, browses current projects listed, and sends proposals to the projects they're interested in. All work transactions happen within the platform, with Upwork taking up to 20% of your earnings as their cut to continue running the platform.
If you're a freelancer who wants to try Upwork, read this article to avoid scams on the platform.
30. Freelancer
Freelancer is another freelance job marketplace where you can post freelance jobs available as a client and apply to freelance jobs as a freelancer seeking work.
As a freelancer, you'll have to sign up to become a freelancer on the platform, then you can search jobs by skill and language.
Freelancer takes up to 10% of your earnings on the platform.
31. Hubstaff Talent
Hubstaff Talent is a freelancer job platform where you can browse freelance projects available from agencies and the platform takes no fees from you for their service.
On the platform you'll find full-time projects, hourly contract projects, and fixed price projects.
32. Toptal
Toptal is an exclusive freelancer network made up of the top freelance software developers, designers, finance experts, product managers, and project managers in the world. But you'll have to apply to be apart of the network before you can start browsing available work.
33. ProBlogger
ProBlogger isn't a freelancer network but it is a site where website owners can post available jobs for freelance writers and bloggers. 
This site is best for beginner freelance writers and bloggers though as it tends to post lower paying gigs. If you're a beginner, it's a great place to get started. 
Browse their testimonials here.
34. Behance
Behance is a job board that features remote jobs and freelance projects for creatives. 
On the platform you'll find freelance gigs in branding, fashion, graphic design, illustration, web design, and over 50 other creative fields. 
35. Superpath

Superpath is a job board that features both full-time and freelance jobs in content strategy, creation, management, and freelance writing. But their secret sauce for finding the best freelance gigs is their free community.
Other Job Boards With Remote Options
36. The Muse
The Muse is a job platform with a remote filter that displays only fully-vetted jobs — meaning the platform is 100% scam-free.
On the platform you'll find jobs in over 40 different categories like accounting, IT, marketing, administration, education, data and analytics, and more. The site also provides access to career coaching and advice.
37. Power to Fly
Power to Fly is a job search platform that features a remote jobs option where you can browse hundreds of international remote jobs in over 70 different categories. 
The site is also great for networking and holds free monthly job fairs to help their users to get placed into jobs.
38. LinkedIn
LinkedIn is one of the most popular platforms to use for career development, networking, and searching for jobs. They've added a remote option in the recent years to keep up with demand.
After you create a LinkedIn profile with your past experience and skills, head over to the job search part of the platform where LinkedIn will then recommend job listings to you based on what you've put in your profile. Be sure you mark your profile as "open to work – for recruiters only" so you can also get recruiters to start reaching out directly to you for open positions that you might be a good fit for.
LinkedIn is also useful for freelancers where you can set up your page to show what services you offer, post links to your portfolio in the featured section, and start reaching out to brands you'd like to work with.
39. Creatively.Life
Creatively.life is a job platform specifically for creatives that lists both on-site, hybrid, and remote jobs.
As a creative looking for a job, toggle their remote filter under location to see remote jobs and search by skill, industry, type, or brand.
40. Best Writing (Formerly Content Writing Jobs)

Best Writing is a job platform that caters to writers looking for jobs. You'll find on-site, hybrid, and remote jobs on the site for full-time, part-time, and freelance writing jobs available.
When using their job search capability, be sure to search for keywords with the word "remote". An example would be "remote copywriter" to find only copywriting jobs available that are remote.
41. Idealist
Idealist was founded in 1995 as a 501(c)3 nonprofit organization headquartered in New York. Their mission is to help build a world where all people can lead free lives by inviting people everywhere to imagine, connect, and act.
Their site lists jobs that are on-site, hybrid, and fully remote. You can also browse internships, volunteer opportunities, organizations and grad programs. The site also features hiring help and a Facebook community.
42. CollegeGrad
CollegeGrad is a job platform that lists entry level jobs and internships for college students and recent college graduates. 
When searching for jobs on the site, be sure to include the keyword "remote" in your search.
43. Diversity Jobs
Diversity Jobs has been the leader in connecting diverse talent with companies who value them since the 1990's. They originally started out as LatPro.com, the very first job board dedicated to bilingual and Latino professionals.
Then in 2006 they expanded their focus and mission to unite diversity-friendly employers with all people of color, including Black and African Americans, Asians, Hispanics, Native Americans, as well as women, veterans, people with disabilities, older workers, and members of the LGBTQIA+ community as DiversityJobs.com.
On Diversity Jobs you can search on-site, hybrid, and remote jobs in a variety of categories, but specialize in SaaS-based talent acquisition and diversity recruiting solutions.
44. Indeed
Indeed is one of the most popular job sites out there that connect millions of people to new opportunities every single day. Indeed's job feed is also the same feed used on Glassdoor.
Even though the site itself is not remote-only jobs, there is a remote filter that you can use when searching for jobs.
When searching on Indeed, be sure to avoid remote job scams.
Frequently Asked Questions (FAQs)
What is the best remote job site?
To find the best remote job site for you, try out a couple of remote job sites that have listings for your skills to see which one you like the best. Then set up job alerts on those sites so you get emails when new jobs for your skills become available.
What companies pay you to work from home?
Tons of companies pay their employees to work from home or as a fully remote worker but it depends on the company. Some companies provide work from home days and hybrid work environments. Some provide work from home in a certain location and others provide fully remote work cultures. Usually, starting your job search with remote-first companies are your best best for securing a fully remote job.
How do you find a job that let's you work remotely?
You can use remote-only job boards, popular job boards with remote work filters, negotiate for remote work at a new or current job, and browse job listings at remote-first companies to find a job that lets you work remotely.
More article to help find remote work:
Pin it for later!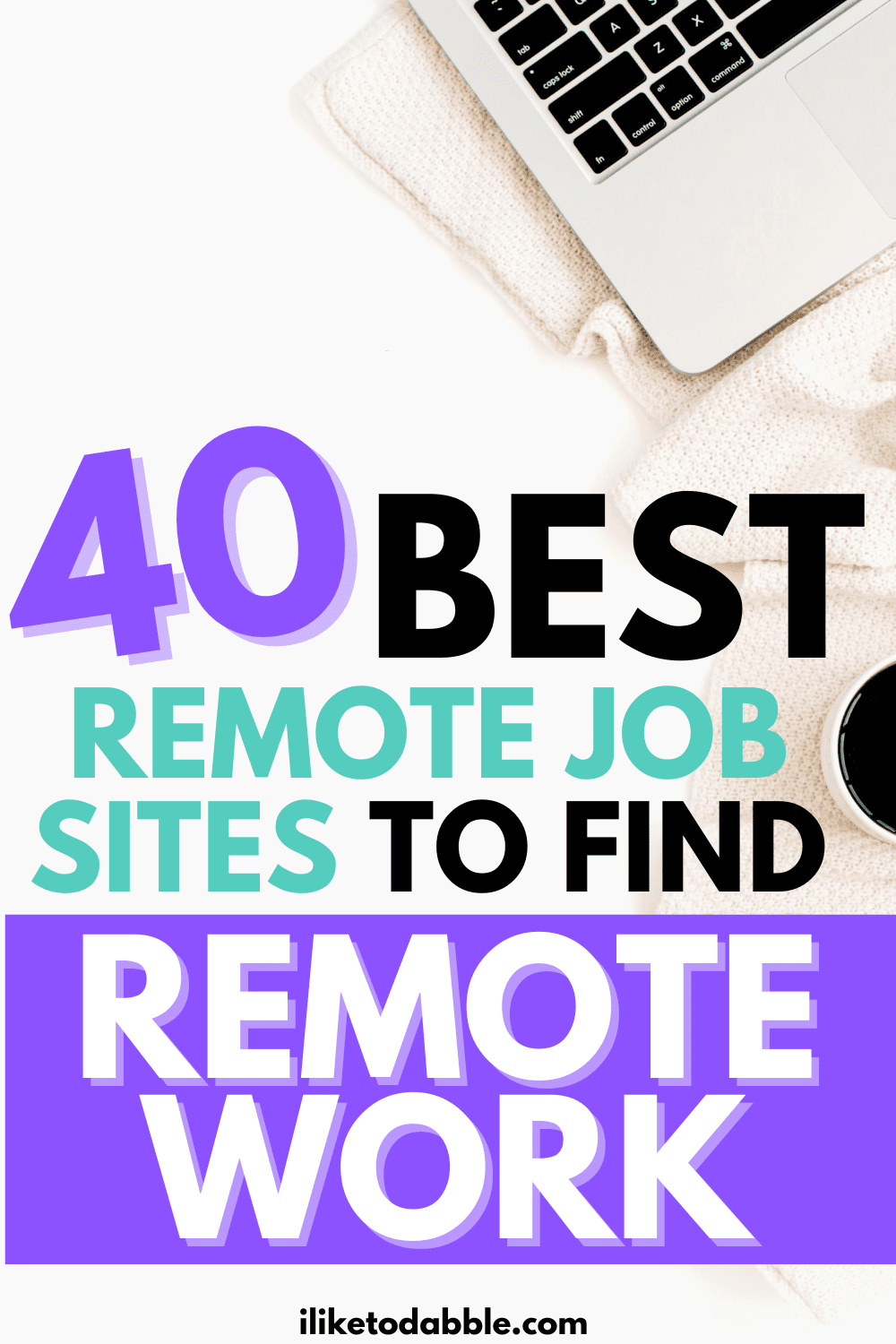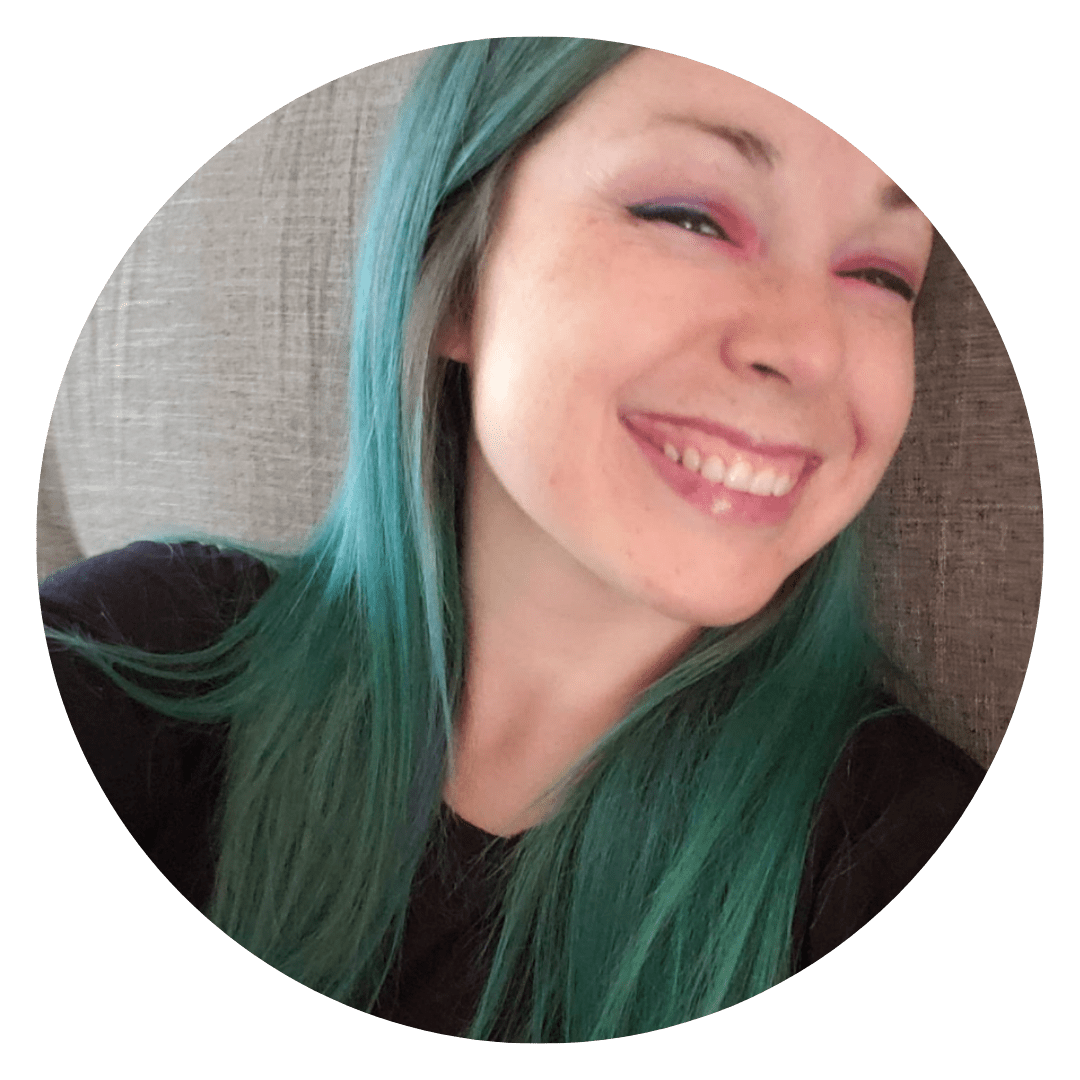 Daniella is the creator and author of iliketodabble.com. When their wife Alexandra and them aren't globetrotting or playing with their 7+ animals, they are dabbling and working towards a future of financial freedom.