Looking for beginner's passive income ideas in 2023? Whether you're a young adult, beginner, student, or simply seeking ways to earn money with minimal effort, we've got you covered. In this article, we'll explore some of the best passive income ideas for young adults, beginners, and students alike, as well as for anyone else looking to generate passive income.
Inflation is rampant, and major firms are laying off thousands of workers, creating an unstable economic climate in 2023. In times like these, having a steady income is crucial for maintaining stability and safety in one's own finances. To solve this problem, we can turn to passive income. To put it simply, passive income is money that comes in even while you're not doing anything to earn it. So, let's dive in and discover the most profitable and sustainable sources to earn passive income in 2023.
The beauty of passive income is that it gives you more leeway to accomplish what you want with your time and money, while still covering necessities like rent and electricity. It can also act as a fallback in the event that you lose your main source of income. Even in hard economic times, you can feel secure in your financial future if you employ the correct passive income approach and develop numerous streams of income.
There are still many passive income possibilities that can be investigated in 2023, even for newcomers and students who may not have the financial means to invest in rental homes. Investing in securities like stocks, bonds, and mutual funds is a common strategy. While there is some risk involved in making an initial investment in one of these strategies, the payoff in the form of passive income might be large over time.
Alternatively, you may make digital things, such as e-books, courses, or mobile applications. These items are perfect for internet sales because they can keep bringing in money for you even while you're not working. A blog or YouTube channel that you may support with advertising and sponsorships is another viable option.
In 2023, taking advantage of the ever-growing gig economy is also a great way for beginners and students to generate passive income. You can offer your skills and services on platforms like Fiverr and Upwork, which can provide you with a steady stream of passive income. Additionally, you can consider affiliate marketing, where you promote products or services and earn a commission for each sale.
In the sections that follow, we'll define and outline some popular strategies you can employ.
28 Passive Income Ideas & Opportunities for Young Adults & Beginners With Little Money
This pandemic has had an incredibly negative impact on the economy and livelihoods. If you're one of the millions of Americans who lost their jobs, it might be time to start earning passive income. If you are a beginner or a student, here is the list of the best passive income ideas and opportunities (with little money) that can boost your income in 2023.
1. Passive Income Through Cash Back Websites
Earning a passive income through cashback websites is as passive an income method as any. You just need to go about your life as you normally would but with a little more focus on the things that you decide to buy. Cash-back websites combine spending money with earning money. This may not be considered something that will help you go to early retirement.
But you can still earn money with no effort required from you. Not to mention that this is completely free. All you have to do is sign up for cashback on shopping websites. These shopping portals return to members a percentage of the total amount that they spend on their qualifying purchases.
For example, you can use Swagbucks to get cashback. Just use its shopping portal to buy items online or add the Swagbucks browser plug-in to get points automatically as you browse the web. According to the company, it has paid out over $400,000,000 to members. Countless members have earned as much as $12,000 using Swagbucks. It is even a safe way for teens to make a little pocket money.
Another example is MyPoints, which gives you a few different ways to earn points. To get cash back, you can use their shopping portal and earn points by buying anything from one of their partner stores. You can also get points by taking surveys, watching videos, playing games, and even reading emails.
TopCashback is slightly different as they give the full commission back to customers and make their money elsewhere. You're able to earn 3% consistently, which may not sound like much, but is a high percentage to be earned across all sites. There are also coupons you can find and special offers that give higher cashback.
2. Passive Income Through Stock Investment
Owning stocks and bonds to many doesn't seem like one of the best passive income ideas. Yet this is the very basis of private retirement accounts. You're buying stocks, bonds, and mutual funds that contain both so that you can live off the passive income in retirement. Companies need money to finance their business so they earn it by either borrowing or sharing stocks through an IPO. An initial public offering (IPO) refers to the process of offering shares of a private corporation to the public in a new stock issuance.
By investing in the stocks of a company, you become one of its "owners". When the market is down, this is the best time to buy stocks.  If you aggressively save money and seek good-value, dividend-paying stocks, you may be able to achieve a solid passive income before the traditional retirement age. Diversify your holdings to reduce the risk of losing everything because a company cratered.
We have separated this from investment in bonds because of the nature of the two. In the previous paragraph, it was mentioned that this is a share of ownership of a certain entity. Some entities pay their stockholders every quarter so it is an excellent way of making a living without doing anything. But you have to be careful in choosing the company to invest in.
3. Amazon FBA
Amazon has become a great source of passive income for people who want to generate extra income for themselves. If you have something to sell online, you can use Amazon's platform. Amazon is huge. It's the third-biggest website in the US. Amazon also offers a couple of different fulfillment strategies such as the "Fulfillment by Amazon" platform – also known as FBA.
Its FBA program is just like eBay, where you have something to sell and just need to find buyers. The major benefit of using FBA is that you don't have to worry about a thing. Amazon stores your inventory at its massive warehouses and does all of the picking, packing, and shipping. Around the world, Amazon has more than 175 fulfillment centers which contain more than 150 million square feet of storage space.
With FBA, you get to store your stuff on those shelves. You also get Amazon's world-class customer service and returns, along with other advantages (like automatic Prime eligibility and Free Super Saver Shipping) that help you scale your business—fast. The other option allows sellers to fulfill their own orders. Each method comes with its own pros and cons.
Steps to start making passive income through Amazon FBA.
Find some unique/profitable products to sell.
Something which has good demand but is not commonly available at offline retail marketplaces.
Find the suppliers of those products.
Remember that you need to buy low and sell high to have a reasonable profit margin.
List these products on Amazon through your seller account and set the prices.
You need to have a competitive pricing strategy to compete with other sellers on Amazon.
Use the right product titles and descriptions on the listing page.
 Try to think about what will best help customers find your products, discover answers to their questions, and make a purchasing decision.
Ship all of the items to Amazon at one time.
Amazon takes responsibility for the packaging, labeling, and shipping of products through Fulfillment by Amazon (FBA).
Amazon collects payment, deducts their fees, and then sends you money twice per month.
Once you've launched your business, Amazon has tools in place to help you take your business to the next level. Amazon's advertising solutions create new ways for you to reach and engage shoppers, regardless of whether they're just starting to compare products, or ready to make a purchase. Ads show up right where customers will see them (like the first page of search results or product detail pages).
Please note that the sales are passive, the work isn't. Here are a few things to try in your first 90 days as an Amazon seller.
Keep an eye on your account health in Seller Central
Use Fulfillment by Amazon or Seller Fulfilled Prime
Advertise your listings or offer deals and coupons
Enroll in Brand Registry and create enhanced brand content
Expand your selection by listing more products
Use the Automate Pricing Tool in Seller Central
4. Selling Stock Photos Online
Stock photos can be a good passive income source if you love to take tons of pictures. You can get paid to sell photos online through stock photography websites such as Shutterstock. The photos can be from any niche such as travel, food, or any sports that you like to cover. You can put your images for sale as an independent photographer on various stock photography websites.
While this can take time to build up if you take thousands of good pictures but you would enjoy the whole process and time spent if love taking photos. After all one of the goals of financial independence is to build wealth that doesn't eat up your time, so you can enjoy life and do the things you like to do. This is a great passive income idea because it pays you to do what you want to do anyway.
Here are some of the best stock photography sites where you can sell your images and photos online for passive income. You can open an account and get started creating this passive income stream.
Depositphotos
SmugMug Pro
Shutterstock
Pixabay
iStock Photo
Etsy
Getty Images
Stocksy
Adobe Stock
Twenty20
5. Earning Passive Income As Silent Business Partner
One of the best passive income ideas most people have never heard of is becoming a silent partner in a business. Instead of lending the business money, you buy a stake in the business. Then you're paid a percentage of the profits, and your money is backed by a percentage of the assets of the firm. There are sites where you can search for businesses seeking silent partners. Instead of giving a friend thousands of dollars for a 10 percent stake in their restaurant, you can choose from thousands of startups or small businesses for one that looks good to you. Moreover, you can reduce your risk by investing in several startups.
This is one of the best passive income ideas for those who were thinking of starting their own business but decided they didn't want to do all the work. Know that passive income ideas like this require doing your due diligence, vetting the business' numbers, and verifying that your rights as an investor are protected. You can also bankroll the business of your friend or family. They will then be able to run the business for you.
If this is an ongoing operation, you must study their financial statements and other aspects of their business before shelling out anything. But if you are investing in a new entity, you must know if your business partner is trustworthy. Although this does not lessen your financial exposure, you can sleep peacefully at night knowing that your money is in safe hands.
6. Lending Money To Others For Interest-Based Income
One of the best passive income ideas is to loan money to others and get paid in the form of interest. We're not saying to loan money to a broke friend who never pays you back. As a private lender, you can lend to anyone in your social circle. For example, many home fix and flip investors need access to a source of capital they can tap into very quickly to fund the initial purchase of their properties.
You can partner with them to use your capital for the short term in exchange for an interest rate that is mutually agreed upon. You can also utilize peer-to-peer lending sites to loan money to others. The lending site collects the payments and provides more leverage when someone is late. You as a lender can lower your risk by diversification.
Simply lend money to a variety of people instead of putting all of your money, literally, in one basket. It is a wise strategy if you're pursuing higher yields that beat stock market returns.
This is probably one of the few passive income ideas that involve high risks. But it is quite profitable. You can lend money to people who cannot qualify for conventional financing means. You could lend money with an interest of 6 to 10%. A good way to lessen your financial exposure is by investing in a company that will act as a mediator. They will ensure that you are paid back.
Another easy passive income idea through lending is called peer-to-peer lending in which you can give loans to other individuals who don't meet all requirements for conventional financing. A crowd lending website is where you become someone who loans out money and you get paid interest. You're like a bank now, getting paid interest.
It's an awesome feeling to be the lender instead of the borrower. You invest in portions of loans. With returns of 6-10%, investing with a company like Lending Club can get you substantially higher passive income than normal investment funds or bank interests.
7. Starting A Blog & Monetizing It
The passive income through blogging has allowed many to stop exchanging time for money. For example, as a travel blogger, you can set up a WordPress blog and share your experiences with your readers. Whenever you go to a new place, you can write about all the cool things you saw and did there. You can make money in a few different ways. You can apply for ad programs like Google Adsense and set them up on the sidebar of your site.
If any of them click through, you will get a small fee from your advertising partner like Google. You can also sign up for some of the affiliate programs. As mentioned above affiliate marketing is one of the various ways to make money online by promoting products or websites to earn a certain percentage as a commission.
8. Affiliate Marketing
Blogging is often seen as a great way to earn almost passive income. If you run a blog and get decent traffic, you can incorporate ads to your site and get paid per click or view on each ad. If you have a lot of traffic, this can add up to a decent chunk of change. Basically, affiliate marketing involves promoting products and getting a cut of sales.
All you have to do is put a link to a product on your blog, website, or social media page and then start earning money This isn't completely passive income; you have to create content that will attract enough viewers for the ad revenue on the blog to be worth the effort. You have to write content, but you can hire others to write content for you, as well.
You can use software to schedule posts to be published when your readers expect new content. General ad revenue for blogs has been declining due to sheer competition. The alternative for bloggers is affiliating the blog. For example, a Mommy blogger could be paid to review various baby products, though she's legally required to disclose the relationship.
You could mention sponsors and post a link to their site or products for sale. On the other hand, you could do it yourself, doing product reviews, and sharing affiliate links to the best-selling products on Amazon. Then you receive a few percent of every sale as a commission. This is one of the best passive income ideas for that blogging consistently about a topic for which they can recommend related products.
This is one of the passive income ideas that do not require any investment from you. This would be an excellent money-making venture especially if you already have an existing website and a band of loyal followers. In this scenario, you post a link that will send the viewer to a certain website where they can buy the item. If they do purchase, you get a commission.
A lot of new things have come up in affiliate marketing. For example, you could promote or run ads in an app you create. Or you could mention sponsors that helped pay for your blog or provided expert advice for your online course. That's aside from the classic approach of putting affiliate links in a blog or emailed newsletter.
One of the new passive income ideas is using various tools to set up affiliate programs on a one-to-one basis, whether you're referring people to someone else's online course or sending leads to a real estate agent.
Then there are the relatively classic passive income ideas like promoting books and products via an Amazon affiliate link. This is an option even if the app exists solely to connect your audience with you as an influencer. Promote your blog posts or podcast, and you can occasionally send out a link to your ebook or someone else's book offered through the Amazon affiliate program.
You can also buy blogs/websites that already have a good amount of traffic and generate revenue every month. Thousands of websites are created every year and put for sale by the owners. If you can buy them with a reasonable amount of web traffic — as well as a demonstrated cash flow — it could be a perfect passive income source. Most blogs employ Google AdSense, which provides a monthly revenue stream based on ads that Google places on the site.
There may also be affiliate programs like Amazon Affiliate generating additional revenue. Both income sources will be yours once you purchase the blog. From a financial perspective, blogs usually sell for 24 times their monthly income. So if the site generates $250 a month in income, you can likely buy it for no more than $3,000. You can buy money-making websites/blogs from sites such as Flippa.com and EmpireFlippers.com.
9. Money Making Websites
Many blogs earn revenue from Google ads. Some may have affiliate income as we described above. What most don't know is that you can buy blogs from the owners and take them over. The ideal cases have evergreen content that generates passive income for years. Add some fresh content, and you'll increase traffic and monthly revenue. This also raises the possibility of earning money with site flipping.
Alternatively, you can build a niche blog that targets a small subset of the blog's audience, increasing its value to the audience and advertisers. You can even increase traffic to all of your blogs by cross-linking to each of them. This is one of the better passive income ideas for those who want to do more than a blog on the same subject every day.
10. Renting Your Car
You can make passive income from renting your secondary car on popular car rental apps that put car owners in touch with car renters. You can offer a slight discount to increase your car's demand and set a minimum amount of rental days to ensure you make get more money for your time. So, this is one of the most passive ways you can make an extra income online at the moment if you have a car you can rent for cash.
You can make several hundred dollars a month renting your car on those platforms. For example, Getaround is a car-sharing app that allows car owners to connect to people who need to rent a vehicle. Similarly, you can cover your monthly car payments or simply earn some extra cash by sharing your primary car on Turo whenever you're not using it.
That is a pretty good return since you can recover the entire cost of your car over a period of several months. Note that there are many things you can monetize this way. Not just a car. Depending on where you live, you could rent out your parking space for the money. You may be able to rent out tools that you own. The questions you have to ask are what you're willing to lend out and what demand for these items is like in your area.
11. Writing Books
Selling books can be an incredible way to create some genuine passive income in the form of royalties.  In today's day and age, once your book is accessible on a site like Amazon, you could get a check every month for doing nothing. The more time you spend promoting your books, the more cash you'll make online and offline.
12. Drop-Shipping
With the blast of eCommerce, drop shipping has turned out to be extremely famous. Here is how it works: you make an online store that offers items from certain manufacturers. A person visits your site, orders an item, and your system sends the order request to the manufacturer of that product.
The maker at that point completes the order by shipping it directly to the person who had placed the order on your site. A cool aspect concerning this kind of business is that you don't have to stock products that you are selling – No inventory is required from your side. The customer pays for the item; you collect the commissions and the manufacturer or seller of the items stores and ships the items to the customer.
13. Selling Online Courses
One of the best passive income ideas is selling access to courses or guides to an audience that needs such content. If you have expertise on any subject, this can become of the best passive income streams for you. This can be a lot of work upfront, but once an ebook or an online course is created and marketed it can provide you with a passive revenue stream for years.
Variations of it date back to the "Four Hour Workweek". However, this method of building passive income has evolved over the years. The money from the online course comes straight to you, and you can use it to promote your blog on the online learning platform.
You could also promote your current business with online courses, whether you're a home decorator, real estate agent, attorney, or building contractor. Furthermore, you could use the course to promote other content you've created, be it a blog or book. Or encourage them to sign up for your subscription-only newsletter.
Content creation can be one of the better passive income ideas if you connect with services that can write quality content on-demand that you simply add to the newsletter. Note that there are plenty of tools for handling the marketing and distribution side.
For example, you could set up newsletters to automatically send content to your email list. Once you identify a need and can create a decent online course that fulfills it, you'll have people paying you for the content. If it is good, they'll refer it to their friends, generating more revenue. You only have to create the content once and post it on a site where they pay to access it.
If you create an online course, you can sell a companion "guide" or e-book to the students. If your online guide is selling well, then you can create audiobooks or courses for them as long as it provides additional value.
You can also use online courses to promote your expertise and promote books you've already written. This is one of the better passive income ideas for writers since it allows you to monetize content you already have in a new way that can even raise your profile. You can either sell the ebook on your website or offer it as an affiliate arrangement with other websites that provide content related to your ebook.
14. Buying Bonds
This is often included in most passive income ideas because you can just sit back as the money rolls in. Buying bonds are considerably safer compared to investing in stocks because bonds are considered liabilities by the company that issued them. Bonds are loans offered by corporations, cities, and governments. In exchange, there is a written and signed promise to pay a certain sum of money on a certain date and condition.
On the other hand, stocks are considered equity. If ever that company files for bankruptcy, they have to settle their liabilities first before anything else. Governments can also issue bonds but not stocks. To build a large enough passive-income stream you can invest in tax-free municipal bonds, government treasury bonds, and corporate bonds.
15. Vending Machine Business
This is one of the often underestimated passive income ideas. But it is a great way to make money especially if you have found the right place to install your vending machine. Consider the number of people going in and out of that place, you will stand a big profit if you have placed the machine in a strategic area. A well-placed vending machine can potentially earn $100 per week or even hundreds of dollars per day.
For example, if one vending machine in a prime location can bring in $50 to $100 per month. If you buy 100 vending machines, all in prime locations, you may be able to hit an average of $1000 per day. Like any business, most states require vending route operators to obtain the proper permits and licenses required by their local ordinances. When planning to start a vending machine business, it's important to check your local ordinances.
16. Time Deposit
You can earn passive income by investing money in fixed deposit accounts. This is one of the best passive income ideas that present very minimal risks. Unlike other savings account, a time deposit has a stated date of maturity. You cannot withdraw such a deposit before the maturity date. The interest rate of this type of savings account is considerably higher compared to other accounts, but it depends on the term and amount placed. Once you will withdraw your savings, you have to notify the bank at least 30 days before the said date. The higher and longer you park your money, the higher the interest rates will be.
17. Podcasting
Even small podcasts can make money through a variety of different income streams such as advertisements. A podcast is an episodic series of spoken word digital audio files that a user can download to a personal device for easy listening. Podcasting doesn't make any money until people choose to watch you.
It takes time for listeners to decide you have value. So if you're looking to start a podcast because you need a paycheck this week, you should find another way to earn income. However, if you've made thousands of subscribers who listen to your podcasts, then it can be monetized. Just like with a blog, you can earn passive income from affiliates, or advertisers, or by selling your products and services.
For example, you can get sponsorships and plug an ad a few times in every episode. You can also opt for affiliate programs like Audible that a lot of podcasters and YouTubers take advantage of. They give you a special affiliate link to promote. When someone uses your link, you get credit for the sale and earn $15. To start a podcast, make sure you purchase the best podcasting headsets in your budget. The quality of both your audio and content matters a lot.
18. Start a YouTube Channel
When you join the YouTube Partner Program, you have the ability to earn money through YouTube. You need to be at least 18 years old or have a legal guardian older than 18 years of age who can handle your payments via AdSense. You need to create content that meets their advertiser-friendly content guidelines.
Google will review your channel before you're accepted into the YouTube Partner Program. They also constantly review channels to ensure you're meeting all their policies and guidelines.
YouTube channels can be monetized even if they don't have millions of subscribers. Your earning potential isn't determined solely by the number of subscribers and views you have, but also by the level of engagement you generate, the niche you cater to, and the revenue channels you explore. Popular YouTubers build their audiences in millions and then launch their own merchandise.
They also partner with different brands that are looking to target specific audiences. Brands are now spending their typically large advertising budgets on influencers who've already won the loyalty of their audiences. This creates a massive opportunity for you as a creator if you can negotiate the right deals.
You can make passive income on YouTube through the following features:
Advertising revenue: Get ad revenue from the display, overlay, and video ads.
Channel memberships: Your members make recurring monthly payments in exchange for special perks that you offer.
Merchandise shelf: Your fans can browse and buy official branded merchandise that's showcased on your watch pages.
Super Chat & Super Stickers: Your fans pay to get their messages highlighted in chat streams.
YouTube Premium Revenue: Get part of a YouTube Premium subscriber's subscription fee when they watch your content.
19. Become a Social Media Manager (WFM Job)
You can work from home and manage a few social media accounts of different brands. Many small business owners do not have the time to keep up with social media, so they like to hire freelancers who can work from home. A career in social media manager management is always in demand as companies fighting for online presence and recognition continue to grow.
If you have a knack for social media, you can help local businesses maintain basic social media pages for contracted monthly fees. You need to have a creative mindset, writing skills, and an understanding of how content works on social media. These skills can be learned through online courses even if you do not have a degree or diploma.
You need to stay informed about trends and tools in social media, marketing, technology, and advertising. Facebook and Instagram are the two most popular social media platforms for local businesses. Full-time social media managers are paid a heft salary. They are responsible for planning, implementing, managing, and monitoring the company's social media strategy to increase brand awareness, improve marketing efforts, and increase sales.
20. Passive Income From Airbnb Business Model
You can partner with Airbnb and earn passive income as an Airbnb host by renting your room. If you have a spare bedroom, you can find a roommate or list the space on AirBnB for travelers. Airbnb provides a passive income generation system to monetize living space. Airbnb makes it easy to earn passive income from renting a room, an apartment, or an entire house. Their systems handle the bookings and the payments while the hosts handle all the rest.
If you have a spare room in your house, then you can put it on rent. This is one of the passive income ideas where the risks are quite minimal. All you have to do is put up an advertisement online that such a room is available for rent. You will just have to wait for people to check your spare room and rent it.
The sharing economy is based on people renting out assets they aren't fully utilizing to earn income. This can be a rather passive income, or you can be an active player. It may almost require no physical efforts from you, such as when you rent out your vacation home on Airbnb while the property manager maintains it as they always do.
There are also many turnkey AirBnB management companies out there that can make your short-term rental passive income hassle-free. Renting out a spare room in your house is a little more work, but it is open to almost everyone.
21. Investing in Mortgage Notes
Mortgage notes are also known as real estate lien notes and borrower's notes. They have become a popular asset class over the past few years. Investing in mortgage notes has many benefits such as — rates of return that are higher than the bank's traditional low yield bonds; and higher than most stock dividends. A real estate mortgage note is a promissory note secured by a mortgage loan.
This is one of the best passive income ideas for those who want to secure steady and substantial income, though you have to hunt for it. Real estate mortgage notes may allow you to get a regular stream of passive income without the hassles of a landlord, or you can buy the note and sell it later to another investor.
It is possible to buy loans or "notes" from others. Then you are the one that receives the payments. Every person who offered lender financing to the person who bought his or her home has such a note. Besides, some of them may be willing to take a discount on the note to get most of their cashback.
Know that this requires doing your due diligence and drafting the right legal documents to protect your investment. If you're looking for passive income ideas, know that you should stay away from tax liens unless you know what you're doing. Real estate mortgage notes are a good way to invest in real estate with relatively little work beyond the initial search and purchase.
22. Passive Income Through Real Estate
There are many ways to make passive income in the real estate industry. One of the most common ways is to create rental properties. A rental property is one in which you either rent out rooms or the whole house to earn extra income. If this sounds like an investment strategy you'd like to try, read on for seven smart ways to increase the profitability of your rental properties. This probably falls more in the category of semi-passive income, since an investment in real estate is always at least a little bit of an active venture.
Still, once you have a property that is established and fully rented, it's mostly a matter of managing the property and keeping it performing well. The standard approach for would-be landlords is to buy a property, make the necessary renovations, find tenants, and rent it out. Buying turnkey properties skips the middle two steps. You are buying a property that already has to pay tenants. We won't say this is among the brand new passive income ideas for 2020, but the real estate investment approach is coming back into style.
And several factors are making it more attractive for those seeking passive income. Banks and other institutions will loan you money at affordable rates to buy properties like this. You can generate passive income almost immediately. You inherit the tenant, and you might be able to inherit the property management firm that does all the work.
You don't have to fix up the property. Yet the seller is obligated to inform you of major problems and upcoming repairs. You can choose not to buy a house that needs a new roof, new air conditioner, or foundation repairs. There is less risk of buying a property and being blindsided with major unplanned expenses.
You can also find a growing number of properties up for sale as retiring Baby Boomer wants to sell their assets and just retire, while others hit the market as part of an estate. This does demonstrate that owning and holding rental real estate is among the most successful passive income ideas.
23. Own Rental Properties Indirectly For Cash Flow
There are several ways you can own rental properties indirectly. One is to be an investor in a rental house, owning a share of it while someone else handles the maintenance and collects the rent. This is truly a passive income. The downsides include lower returns than if you owned the property outright, illiquidity, and potential problems if your business partner makes mistakes.
If they choose bad tenants, there's no income and you have limited say. If they are sued or go into bankruptcy, you're joined at the hip as their business partner. One alternative is owning shares of a real estate investment trust or REIT. The shares are often as liquid as shares of stock. The rates of return are lower than if you owned the apartment buildings they built and manage, but you don't have any liability, either.
You can invest in REITs in a variety of different ways, including purchasing shares of publicly traded REIT stocks, mutual funds, and exchange-traded funds. REITs generally own and/or manage income-producing commercial real estate, whether it's the properties themselves or the mortgages on those properties.
You can invest in Retail REITs, Residential REITs, Healthcare REITs, Office REITs, and Mortgage REITs. REITs will provide you high dividend yields along with moderate long-term capital appreciation. Investing in REITs is one of the best passive income ideas for investors.
24. Fixing & Renting Property
There are many ways to make passive income in real estate. Many people get involved in house flipping to make more money because it seems straightforward. Buy a run-down house, make repairs, fix it up, and sell it for a profit. This approach can yield 50,000 to 150,000 dollars a year in income if you handle several houses a year, earn the standard 15,000 to 30,000 profit on a property and nothing goes wrong.
There are several problems with this approach, especially in the down housing market due to the economic impact of the coronavirus and related shutdown. It is very difficult to sell a house when people are afraid to tour it. Yet you're legally obligated to pay the carrying costs such as the payments on a hard-money loan, mortgage, and insurance.
Why is "fix and rent" one of the best new passive income ideas? It is a solution for those who've fixed up a property but don't think they can sell it for a profit in the down housing market. They can find renters because real estate is an essential activity and people still need a place to live. Renting out the property gives you a source of income to pay bills like the mortgage and insurance.
A potential side benefit of this approach is that you may hold the property so long that the tax bill on capital gains is dramatically reduced. Alternatively, you could buy houses from struggling fix-and-flip professionals to serve as rental properties. The odds you'll get a bargain to go up the longer the housing market is in the doldrums.
Some people chose the fix and flip approach because they don't want to find tenants or maintain properties. You can solve this problem by outsourcing that works to a good property management company.
What if your end goal remains selling the property? Putting in a tenant allows you to generate passive income until the housing market recovers. It also increases the value of the property if you choose to sell it to another investor. For example, turnkey investors will love to buy an affordable property that already has a paying tenant in it.
25. Real Estate Crowdfunding
Among the rather new passive income ideas is crowdfunding rental real estate. We are not suggesting using crowdfunding instead of applying for a mortgage. Instead, we're suggesting you loan money to other real estate investors through crowdfunding sites. What are the benefits of this passive income approach? You can vet each investor's project individually, but you aren't dealing with individual investors personally.
This eliminates high-pressure sales by investment groups and the emotional appeal of aiding a friend who wants to buy a house. You can diversify your holdings, loaning several hundred or thousand dollars to each would-be investor. You get a higher interest rate than you would if it sat in a money market account.
The crowdfunding platform takes a slice of every loan issued. However, they also administer the loan payments. If someone doesn't pay the payment, you don't have to call them up demanding payment. The crowdfunding website will pressure the person to pay up. Lending money through the crowdfunding site eliminates the need to have a detailed contract with the borrower or having an equity stake in the property itself.
You can choose the loan duration, whether they're using crowdfunding to save money on hard money loans or in place of a mortgage. You can choose which lending platform you go through, too. Furthermore, those seeking passive income ideas will appreciate the low cost of entry. For example, you could join a crowdfunded real estate project for just a few thousand dollars.
If you wanted to join private developers in property investment groups buying houses or apartment buildings, multiply that by a factor of ten. If you're looking for new passive income ideas, know that crowdfunding sites allow you to diversify in other ways, as well. While you might invest the bulk of your money in real estate projects, you could put some money into someone's new restaurant or debt consolidation loan.
Pros
You can invest in properties that you otherwise wouldn't be able to access such as hotels.
You can find crowdfunding deals that let you put relatively small amounts of capital to work.
Portfolio diversification: You can take $100,000 and invest it equally in $20,000 increments across five different investments.
Risk Mitigation: Portfolio diversification also helps in spreading that risk across numerous investments.
Cons
The biggest drawback of crowdfunded real estate deals is that they are illiquid investments. They cannot be readily sold if you need the money.
You have to complete the target period before liquidating your investment.
You get lower returns than what you would receive if directly invested in real estate through ownership.
That is because the developer or operator with whom you are investing needs to make money too.
No control over your investments as the development of the crowdfunded property will be managed by someone else entirely.
26. Become a Social Media Influencer
A popular social media marketplace like Instagram can help you generate a strong and steady passive income stream. Did you know that the highest-paid social media influencer to date is 22-year-old social media mogul and makeup business owner Kylie Jenner? She can make more than $1 million per sponsored post shared with her 185 million followers on Instagram.
Social media influencers are creating a new class of celebrities and they can make hundreds of thousands of dollars depending on their follower count and outreach success. Affiliate links are often a bit more passive than most forms of brand partnerships on social media platforms like Instagram, Facebook, or Youtube.
These links allow followers and audiences to purchase featured products, download apps, visit specific web pages, or sign up for services. Becoming a social media influence will take some time and does not happen overnight. You need to select your niche, optimize your social media profiles, understand your audience, and create and post relevant content.
You also need to be regular and consistent in posting engaging content. Engaging with your audience is a must to build followers organically. Once you have a large social media following, you can earn money by promoting a product or advertising for a company. You can even combine this with different marketing campaigns if you are an influencer and have your blog (advertisement + affiliate income).
This is how many bloggers make money! Again, it is not 100% passive income but once set up correctly and then scaled, can be surprisingly lucrative. According to an article by Foxbusiness.com, the average influencer can take home anywhere from $30,000 to $100,000 per year by promoting products like clothing, food, hotels, and even vitamin supplements on their pages. Users with more than 1 million followers can make more than $100,000, or even up to $250,000, per sponsored post, according to a 2018 Vox report.
27. Mortgage Refinancing
If you're unknowingly paying way more for your mortgage than you need to, then this is something you should consider. The number one benefit of refinancing your mortgage is to obtain a loan at a lower rate of interest and also to decrease the monthly mortgage payment amount.
It is also that refinancing provides the borrower with fresh money at lower interest rates due to which the homeowner can lower his/her monthly payment amount. Most individuals take out loans for financing their studies, homes, vehicles, etc., and added to this; they also accumulate loans on credit cards.
On average, most households spend almost half or more of their earnings towards loan repayment and the escalating rates of interest to ensure that the term of repayment keeps on growing. By refinancing your mortgage, you can take back the portion of your income going towards your interest rate and reinvest it. When your debt is reduced, your cash flow increases. This money can then be reinvested or boost your overall savings.
28. Transcription
If you're looking for a flexible job that allows you to work from home, requires little to no prior experience, then you can opt for transcription. It is a useful skill and a great way to make money online. This job gives you the freedom to set your own hours and, in many cases, work as much or as little as you want each week.
This job typically pays per audio hour. This means that if the audio file is one hour long, you are paid for one hour of work. Also, transcription jobs are usually broken into general, medical, and legal categories.
You can choose the one you're most comfortable with.  Most companies like to hire newbies after passing a transcription test. If you want to earn big money, you need to have experience and work directly with the clients.
You can also join various freelance platforms that offer transcription jobs. Just Google it. Transcription requires equipment like headphones, a foot pedal to pause clips (this leaves your hands free to type), software to enhance the sound, a computer, and a high-speed internet connection.
What is Passive Income?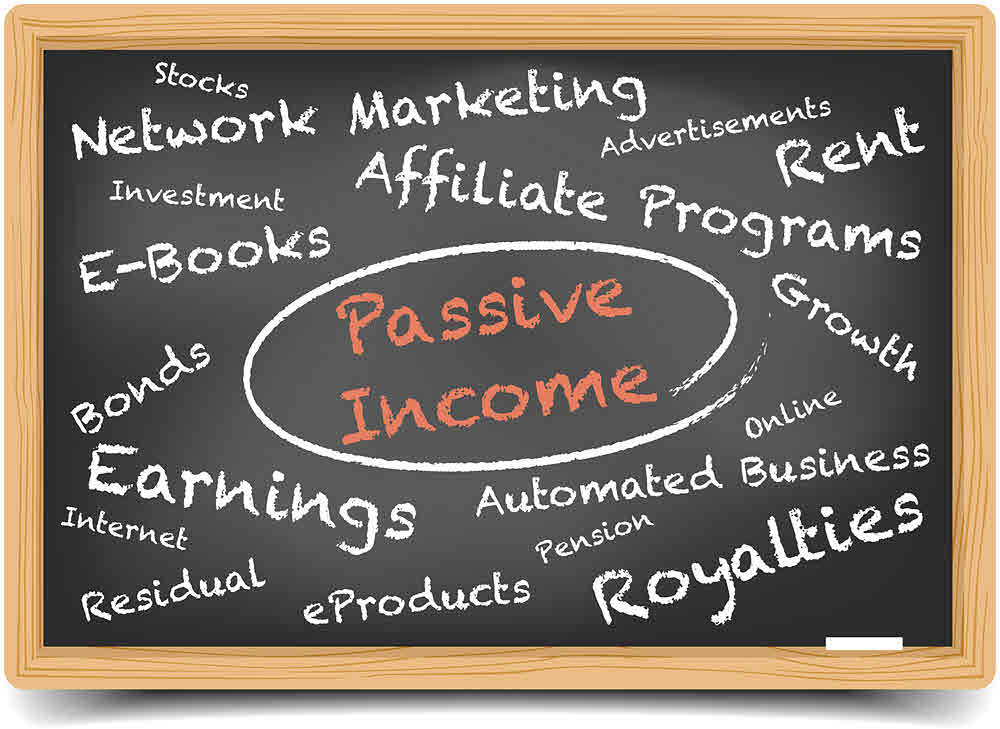 Passive income is money that is usually (but not always) received regularly without any or only little effort. What is so fascinating about it? Can you generate passive income with no initial fund? Everyone aspires to generate a passive income so they may retire wealthy and live their life to the fullest. There are several types and degrees of passive income, which we will discuss. Making money while you sleep is just another fancy term for passive income. By building different sources of passive income, you can earn a good amount of money regularly from work that is already completed, such as royalties from books.
However, in order to attain financial independence, you must leverage your time and effort to establish multiple passive income streams that will continue to grow in the future. In other words, you must do something to produce passive income upfront in order to rely on it for years to come. You either have to do much, in the beginning, to set up your passive income stream, or/and you regularly have to invest at least a bit of your time, effort, or money to maintain that income.
You may now get thousands of the best passive income ideas for 2023 on the internet for earning monthly residual money. However, we can narrow them down to the most effective passive income ideas and strategies. As we all know, the coronavirus epidemic has lost many people and their jobs. It has reignited interest in concepts for passive income. There are several classic and new passive income techniques that can provide you and your family with a consistent source of income.
Unlike the misconception, passive income ideas do require upfront work to earn, like writing an e-book or building and monetizing a blog. Some passive income ideas — like investing in stocks or renting out a property — may take some work to get up and running, but they could eventually earn you money while you sleep.
Passive income is important because it creates stability, security, and freedom in your financial life. In a time when the COVID-19 pandemic has caused many workplaces to shut down, the country is in a recession and economists still have no idea how long the economy will be in a downturn, it's a good idea to create multiple streams of income to protect your personal finances. Good passive income streams take time to build up. Passive income has been loosely defined as money that you earn with the least or zero amount of effort.
People often associate passive income with dividends, interest as well as lottery winnings, and capital gains from real estate. Passive income or residual income can also be derived from a business where you do not have a substantial investment in terms of labor. It's easy to see why people like the idea of passive income. You can do the work once and get that passive income forever. Passive income is the opposite of how most of us earn a living. Through it, the money comes in without much work on your part.
The question for many is how to earn a real passive income. What does it take to earn passive income? What are legitimate strategies for earning a real passive income? Let us answer all these questions and discuss some of the best passive income ideas that can be used to make extra money in 2023. The difference between active and passive income – Your business associate who does most of the work will consider the income that they earn from the partnership as active income.
This is the polar opposite of passive income because the former is money earned from rendering a service. Your salary is considered as an active income, and so are tips and commissions. Let us assume that you have a 50% interest in a business venture, you have invested more than 100 working hours to make the enterprise prosper. In this scenario, you consider this as an active income whereas a passive income is earnings derived from any form of business or partnership in which a person is not actively involved.
A passive income can also be referred to as residual income. However, no type of passive income is sustainable long-term without some sort of maintenance. The best example of this is rental properties. They need maintenance as well as rental management. For e.g; your rental property will need to be repainted occasionally or may need a new carpet or an HVAC. Below, we have identified key passive income strategies you can use to build financial security.
Are The Passive Income Ideas & Sources Effective?
Yes, all of these passive income options are viable and can augment your current income. Better still, you could make some of them your primary source of income. You get to earn without having to exert a lot of effort. All you have to do is find the right one for you. The best passive income ideas combine decent returns with little effort on your part once you've sealed the deal. You aren't left worrying about the state of the financial market or struggling to manage a small business. You're free to search for the next deal, but you don't have to, and that's the point of passive income. While there are many ways to generate passive income, it is important to further diversify your portfolio and look for alternative vehicles to earn more money. We've shortlisted some of the best passive income ideas & strategies which are apt for beginners who want to make more money or build wealth.
The coronavirus has not been the major killer they feared it would be. This is in part due to the massive government-mandated shutdown of most of the private economy and stay-at-home orders. This unprecedented near-total quarantine of the healthy is going to weigh on the economy for months if not years. For example, unemployment has already surpassed 15 percent due to the shutdown and could hit the Great Depression levels.
This has proven the importance of building multiple sources of passive income. After all, those who lost their job due to a government-ordered shut down out of fear of a future Chinese virus-like COVID or SARS don't want to deliver pizzas or stock grocery store shelves to make ends meet. Here are a few new passive income ideas for 2020.
What does it take to earn passive income? The best passive income ideas require little to no work on your part after you've set up the deal. They certainly require far less work than trying to day-trade stocks, manage your own small business, or work for a large firm.
The best passive income ideas will generate revenue while you're asleep or on vacation. This includes ad revenue from a blog, royalties from a book or online course, and rent from a rental property. People promoting passive income systems or frauds will tell you that it is so easy that you'll earn money while you sleep.
In reality, it may do so, though you'll always want to check in on things periodically, and there will be work to do at the very beginning. One of the misconceptions about passive income is that you can do so by trying to game the stock market or another financial institution. Day trading stocks, trying to trade cryptocurrency, and other methods are touted as the best passive income ideas, but in reality, they require work on your part and put your money at far greater risk than most investors are willing to take.
Considering the nature and benefits of passive income, a lot of people are attracted to it. A passive income can be very rewarding because you become your boss. This equates to the ability to manage your time. You can still financially gain on a business transaction while you spend time with your loved ones.
Even better, you can go on vacation and still earn money. Although you earn paid leaves in a regular job, the vacation time is counted. As you probably know, this carries a lot of risks because you are not actively doing something to ensure the success of the endeavor.
But you can lessen such risk by investing in passive income ideas that have been tested and proven to be successful. Passive income will give help you in making a safer retirement plan. Creating passive income streams means you have cash flow. Cash flow is different from savings because you're getting an amount regularly. Something is coming in and it's not much different from getting a paycheck. Except you're not actively working.
Passive income in most incidents is taxed at a lower rate or can be easily deferred for a later date. Getting taxed at a lower rate means you can leverage your cash flow better, which is an important benefit of passive income. You can create multiple streams of passive income.
If you can successfully build a blog from scratch and earn through Adsense or affiliate marketing commissions, you can surely repeat and add multiple blogs to your portfolio. The effort for building successive affiliate blogs or websites is gonna be much easier than before. Similarly, after breaking even on your first rental property you buy another, and so on.
These are some of the best passive income opportunities we have listed for your knowledge. They could help you to get started in making more money and maximizing your wealth, especially in a time of economic crisis like the current one emanating from this pandemic.  Achieving financial freedom via a passive income route requires some effort but is certainly doable. Also, if you truly want an early and quality retirement life, multiple streams of passive income are a great thing to have. Do you have any better passive income ideas that you would like to share? Let us know in the comments below.
---
References
Active and Passive Income


https://www.investopedia.com/terms/p/passiveincome.asp




https://www.investopedia.com/terms/t/timedeposit.asp

Benefits of Passive Income


http://www.wealthylovelife.com/benefits-of-passive-income.html




https://wellkeptwallet.com/24-great-passive-income-ideas

Crowdfunding


https://www.landlordology.com/real-estate-crowdfunding




https://www.freshbooks.com/hub/startup/passive-income-ideas




https://www.moneyunder30.com/should-you-invest-in-real-estate-crowdfunding




https://www.investopedia.com/articles/investing/072514/real-estate-and-crowdfunding-new-path-investors.asp

Peer to Peer lending


https://www.financialsamurai.com/how-i-earn-over-10-passive-income-with-p2p-lending

Real estate / Landlord


https://www.quickenloans.com/blog/5-ways-earn-truly-passive-income

Stocks and bonds


https://investorjunkie.com/16179/cashflow-quadrant

Affiliated blogging


https://www.affilorama.com/introduction/how-does-affiliate-marketing-work

Online Courses


https://www.entrepreneur.com/slideshow/299914#4




http://www.mymoneydesign.com/passive-income-ideas

Income Through Various Forms of Real Estate Investing


https://www.quickenloans.com/blog/5-ways-earn-truly-passive-income




https://www.goodfinancialcents.com/passive-income-ideas/#rent




https://smartasset.com/mortgage/pros-and-cons-of-buying-turn-key-homes




https://www.forbes.com/sites/jrose/2019/02/22/real-estate-investing-without-buying-property