Creating and using a Key Performance Indicator (KPI) dashboard is invaluable for any business manager. These dashboards allow managers to keep track of a company's performance in real-time and provide precise information to make informed business decisions, reach goals, and hit KPIs.
If you want to make smart decisions for your business, using the data that these dashboards provide is an excellent way to get a comprehensive overview of your organization. However, with so many of these dashboard monitoring tools today, it can be hard to know which is right for your business. 
While you have a wide array of options in 2023, we will help you narrow down some of the best KPI monitoring tools out there. Some are clunky but customizable, while others are cookie-cutter but easy to set up and visualize. No matter how small of a business you are, or how large your enterprise is – looking into and implementing KPI dashboard software to monitor metrics should be a part of your current business planning process and strategy.
The Importance of Dashboards & Metrics Monitoring
You should never operate your business without a plan or go into any situation blindly. Your business will never reach its fullest potential if you don't plan ahead and follow a path of accurate data to get to the end goal. Without a plan or direction, you are more likely to be efficient in your work.
That's why KPI dashboards and metric monitoring software should be essential to your strategic planning process. These digital tools can quickly overview your organization's performance, well-being, and expected growth. Broken down, dashboards and metric monitoring are actually two separate tools that work together to provide you with the data you need to visualize and make informed decisions. 
Dashboards
Dashboards effectively provide a comprehensive and concise overview of the performance and well-being of your organization. They display data visually appealingly, allowing you to understand your specific key metrics and performance indicators quickly. Typically, you can manipulate these dashboards how you want to see the data, providing a customized option suited to your business goals. 
Metric Monitoring
Metric monitoring software is designed to collect data through manual inputs or by extracting it from other sources and transform that data into meaningful insights. This type of monitoring enables you to track your KPIs and monitor their progress over time. Monitoring metrics allows you to identify trends and opportunities for improvement and measure the success of your strategies.
However, you still need to input your KPIs and set up your specific dashboards and monitoring software to be as efficient as possible. But, when both the dashboard and the monitoring metrics work together, they are a well-oiled machine that offers your business all the data you need to know if you hit/exceeded goals or KPIs and the fodder you need to adjust your strategy as needed.
Understanding how KPIs and dashboards work together
Key performance indicators (KPIs) are quantifiable metrics that allow businesses to track their progress toward specific goals. Examples of KPIs that can be set up include:
Customer satisfaction

Revenue growth.

Website bounce rate.

Revenue per client.

Profit margin.

Conversion rate.
KPIs can be set up for your business as a whole and at the individual employee level. For example, your business could have a KPI metric of "increasing website traffic to 2k in April," while a single employee could have a KPI metric of "checking in with five customers every week." Each KPI depends on the business and should be customized to your needs.
Using a dashboard to track both business and individual KPIs is a smart way to quickly see how well your business is meeting its strategic goals and objectives and instantly identify areas of improvement. A KPI dashboard will typically include visuals such as graphs, diagrams, tables, and charts that help make it easier for stakeholders and peers to understand the data at a glance. In addition, a good KPI dashboard provides a comprehensive overview of a company's performance (the metric part of this tool), allowing managers to identify areas of strength and weakness and adjust as needed.
Choosing the right KPI dashboard tool for your business needs
With so many KPI dashboard tools available, choosing the right one for your business can be challenging. Before you pick any tool, you need to consider your business's size, specific KPIs, budget and ability. It is also essential to choose a user-friendly and easy-to-understand tool, as this will help ensure that your team can use it effectively and not get bogged down with any complicated setups or maintenance.
To help you understand the market, here are our favorite KPI dashboard software to add to your tech stack:
1. Hive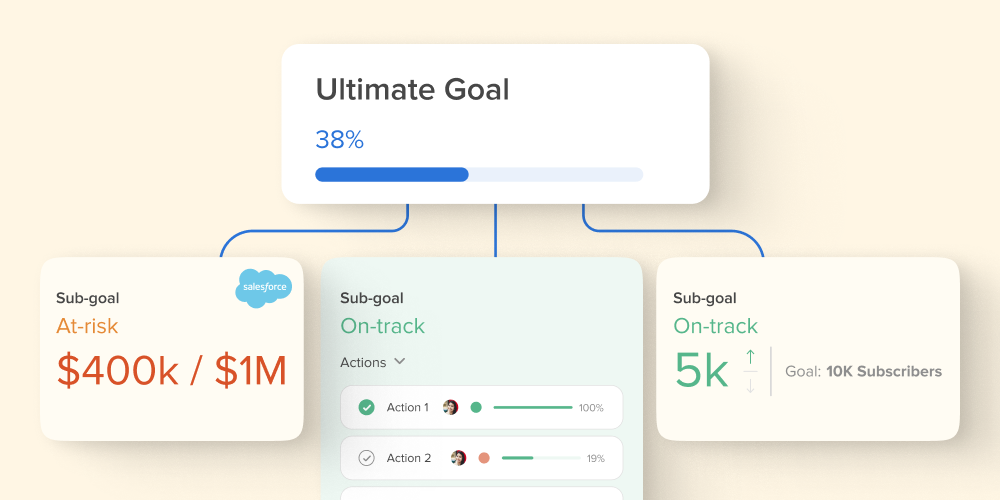 Hive is a popular project management platform that can also be used as a KPI dashboard software. It offers a comprehensive solution for businesses of all sizes, allowing you to manage projects, track performance, and visualize meaningful data. Hive's Goals dashboard uses various metrics to paint a picture for your organization. From automation reporting to pulling data from other systems into the Hive Goals dashboard, your business has the tools it needs to input, capture and track it's most important data points.
Also, with Hive, you can create custom dashboards and set up automated workflows to ensure that your team is always on track. You can also track your KPIs cross-departmentally in real-time, providing a quick and easy way to understand your projects' performance. In addition, Hive integrates with various other tools, such as Google Drive, Slack, and Trello, making it an all-in-one solution for your team.
Get started with a free 14-day trial of Hive to see how you can track KPIs and achieve results today.

2. Google Analytics

Google Analytics is one of the most popular and widely used KPI monitoring tools. It provides a wealth of data and insights into website traffic and user behavior, making it an excellent choice for businesses of all sizes. While Google Analytics has its own dashboard, it can often be challenging to set up and understand how to slice and dice the information you need. While it is extremely data-driven and useful, this tool requires additional training and setup than some of the others on this list. However, it is free, easy to set up for basic KPIs and is the place every business needs to start as they work to set up their business goal tracking. 
3. Klipfolio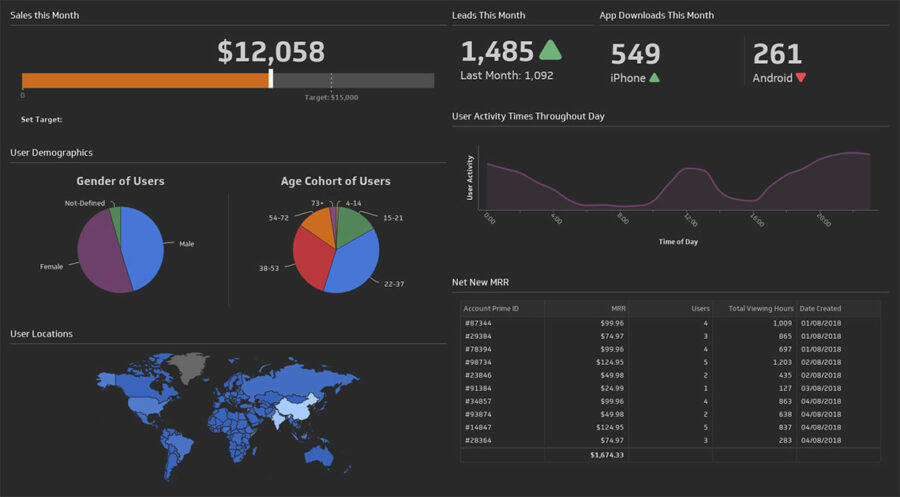 This dashboard tool offers a range of features and integrations that make it an ideal choice for businesses of all sizes. With Klipfolio, you can create custom dashboards and reports, making tracking and measuring your KPIs easy. This cloud-based software platform gives its users a real-time business dashboard with visibility on who is using their data on the web, mobile devices and more. It offers visibility for your most important data and metrics. This program is user-friendly and easy to set up and offers a ton of prebuilt templates for dashboards and examples of successful ways to track metrics and KPIs. 
4. Tableau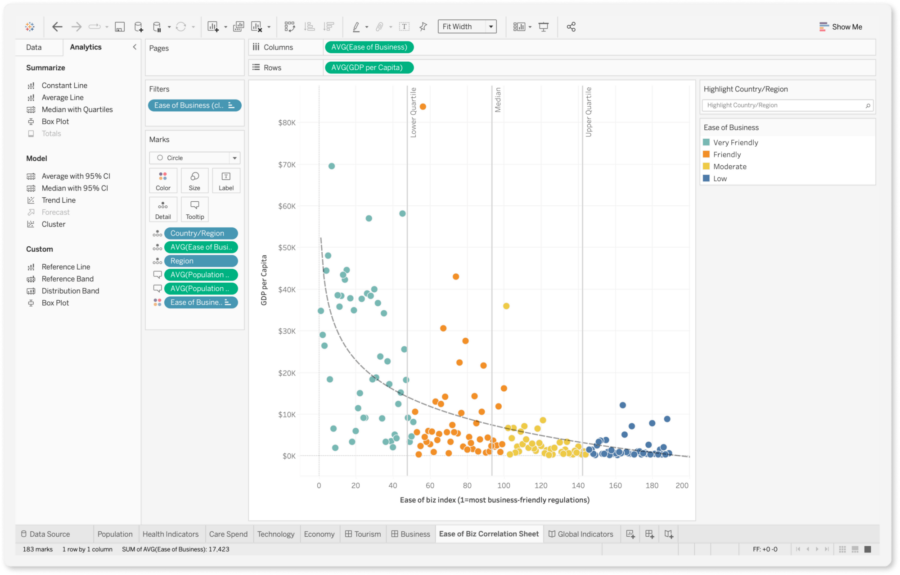 A powerful KPI monitoring tool, Tableau provides detailed insights and real-time data. Said to offer "limitless data exploration without interrupting your flow of analysis," Tableau definitely delivers. Built with a mindboggling amount of ways to slice and dice data for your team, this analytics dashboard is a powerhouse for enterprise clients who want to dig into their metrics. Perfect for sales, marketing or accounting teams, Tableau's platform is laser-focused on pulling data out in a way for its stakeholders to understand robust data in the simplest terms. 
5. Scoro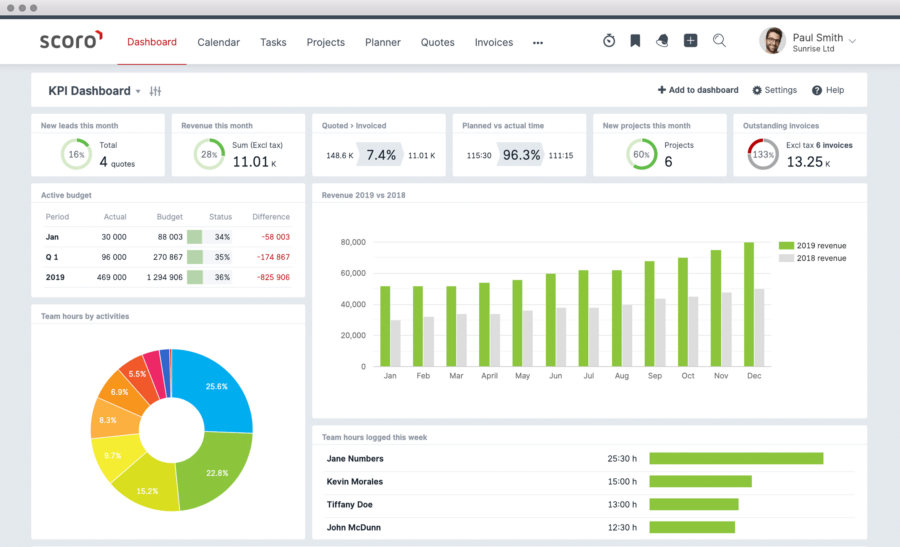 Scoro's KPI dashboard offers a holistic view of each aspect of the business, allowing users to track projects, workflow, and financial KPIs in real time. 
Pricing for Scoro begins with the Essential subscription at $26/user/month and requires a minimum of 5 users. The plan includes projects, calendars, task list & task board, contacts & customers, quotes, invoices & receipts, bills, dashboards and summary of financial reports. One  downside is Scoro doesn't have a free version, only a free trial, while Asana has a free forever version with limited features.
Choosing the right KPI monitoring tool for your business needs is essential, so research and find one that meets your specific requirements. With the right KPI dashboard, you can quickly identify areas of improvement and adjust accordingly, helping to ensure long-term success.
6. Airtable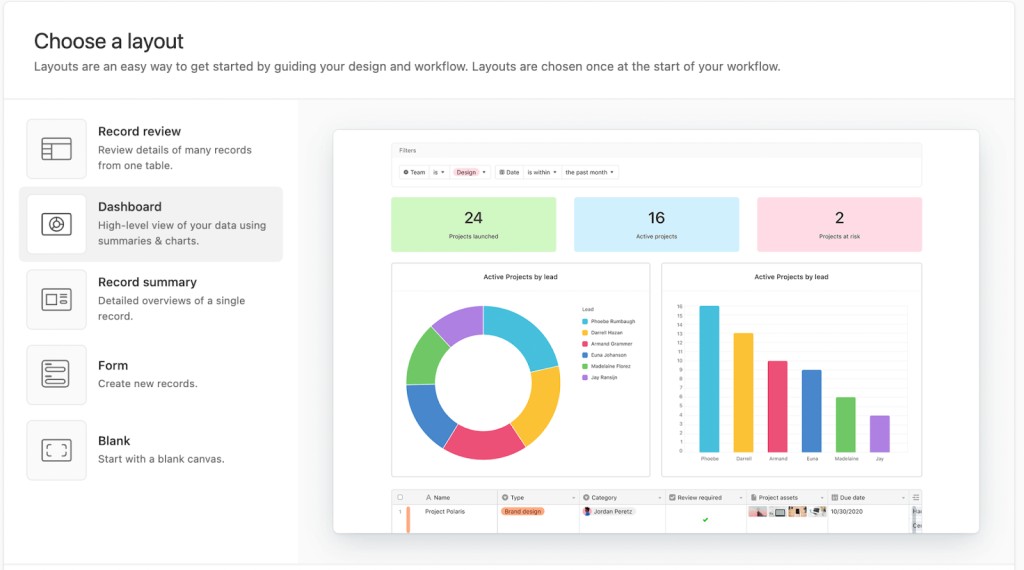 Airtable is a project and task management software with the capability to create KPI dashboards. Its completely customizable Interface Designer's dashboard layout lets you aggregate information, highlight trends, or visualize distribution in charts and graphs. You can sync the data you need to display on your KPI report directly from your Airtable base into a reporting dashboard. Airtable also offers different views for your data, such as Kanban boards, Gantt charts, and calendar views. Airtable has a free plan with limited functionalities and a paid plan starting at $10/month. 
Unsure if Airtable can create the type of KPI dashboard for your team needs? See how Airtable compares to others in the same category.
7. DashThis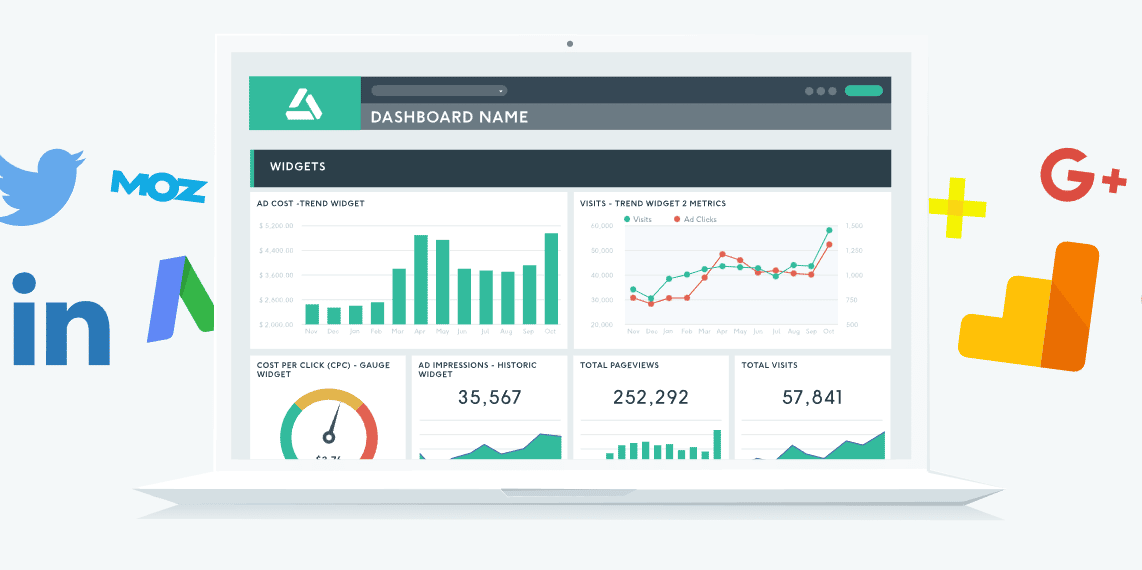 DashThis simplifies the process of tracking and monitoring KPIs for marketing campaigns by providing a centralized dashboard that allows users to view all KPIs related to their campaigns in one place. With native integrations to popular marketing tools across all major channels, such as Ahrefs, Semrush, Google Ads, Facebook Ads, and Mailchimp, users have access to all the data they need. DashThis also offers a range of ready-made templates and a drag-and-drop interface to customize the dashboard, making it a powerful tool for analyzing marketing campaign KPIs.
8. Polymer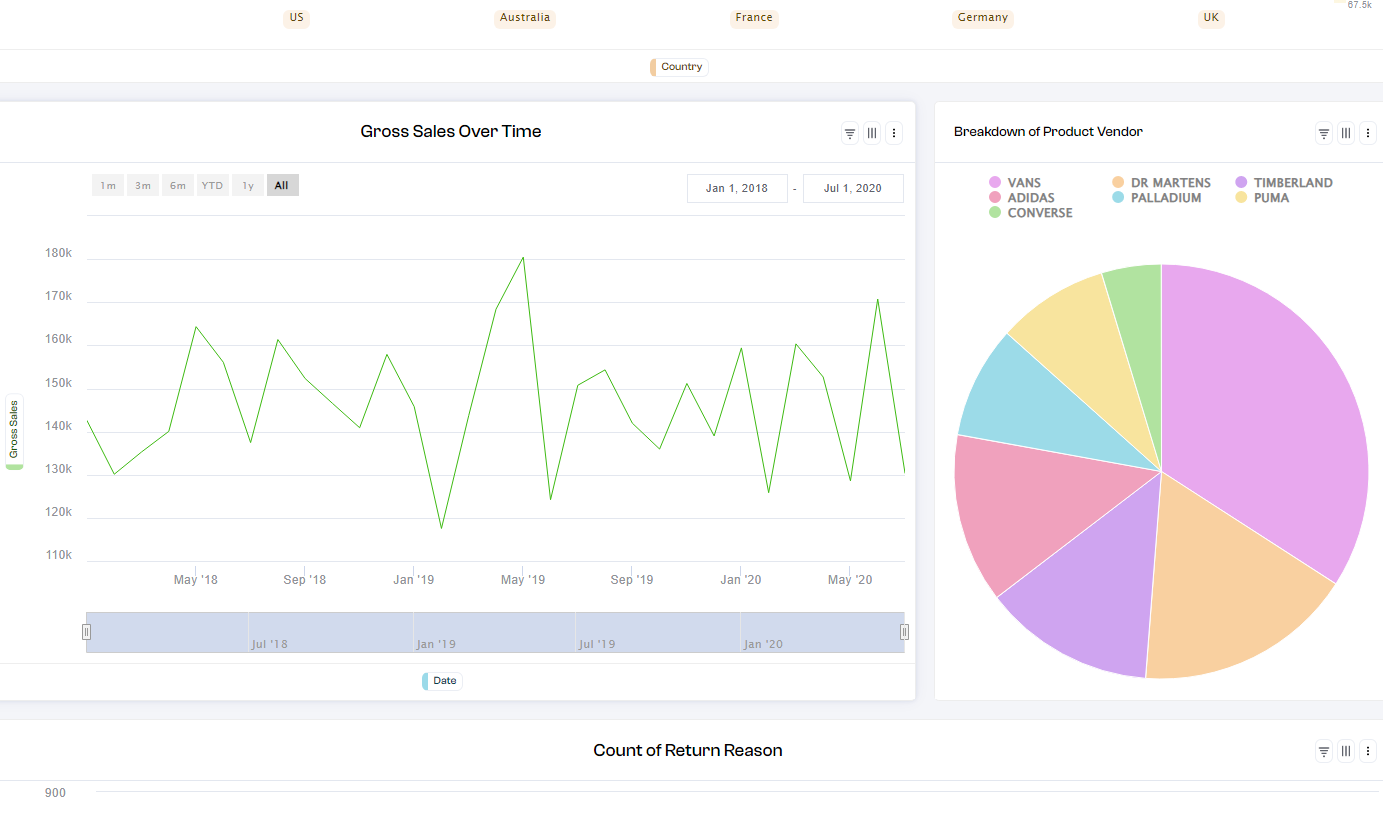 Polymer is an exceptionally user-friendly business intelligence tool. It enables the creation of tailored dashboards and perceptive visualizations, allowing you to showcase your data professionally without any technical configuration. The platform is compatible with various data sources, such as Google Analytics 4, Facebook, Google Ads, Google Sheets, Airtable, Shopify, Jira and more. Additionally, data sets can be easily uploaded using CSV or XSL files.
Something else that makes Polymer stand out is its adaptability for use by all departments within an organization — from marketing and sales to RevOps. For example, marketing teams can utilize Polymer to pinpoint top-performing channels and see how marketing resources impact their conversion rate. Meanwhile, Revenue Operations can perform detailed analyses on the fly.
9. Microsoft Power BI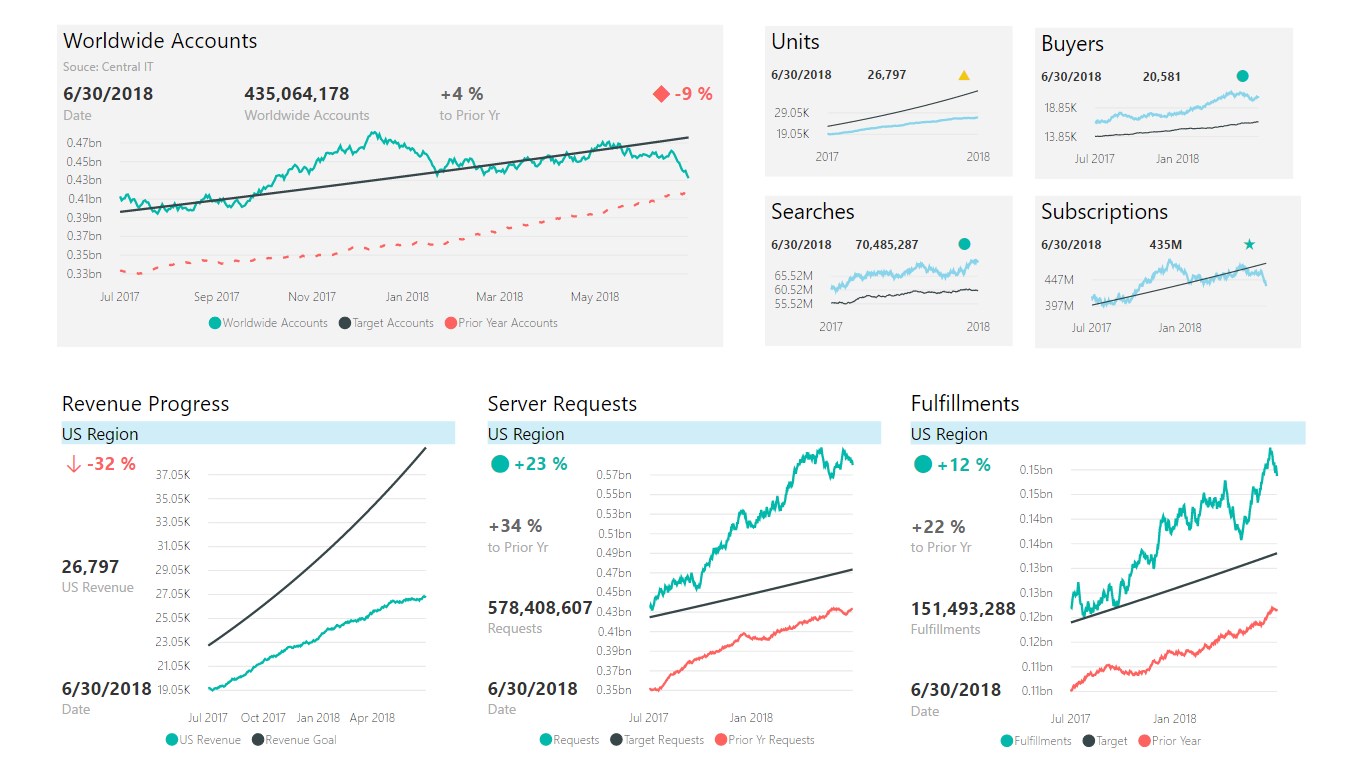 Microsoft Power BI is an interactive data visualization software that allows you to easily connect to various data sources, transform raw data into meaningful insights, and create visually compelling dashboards that highlight your organization's KPIs. What makes Power BI stand out is its ability to handle large and complex datasets, allowing you to analyze vast amounts of data and uncover actionable insights.
The software offers a wide range of visualization options, including interactive charts, graphs, and maps, enabling you to present your KPIs in a visually engaging manner. Additionally, Power BI provides real-time data updates, so you can monitor your KPIs and make informed decisions in a timely manner. Its user-friendly interface and drag-and-drop functionality make it accessible to users with varying levels of technical expertise. The software can be accessed on desktop and mobile devices, and pricing starts at $10/user/month.
10. Databox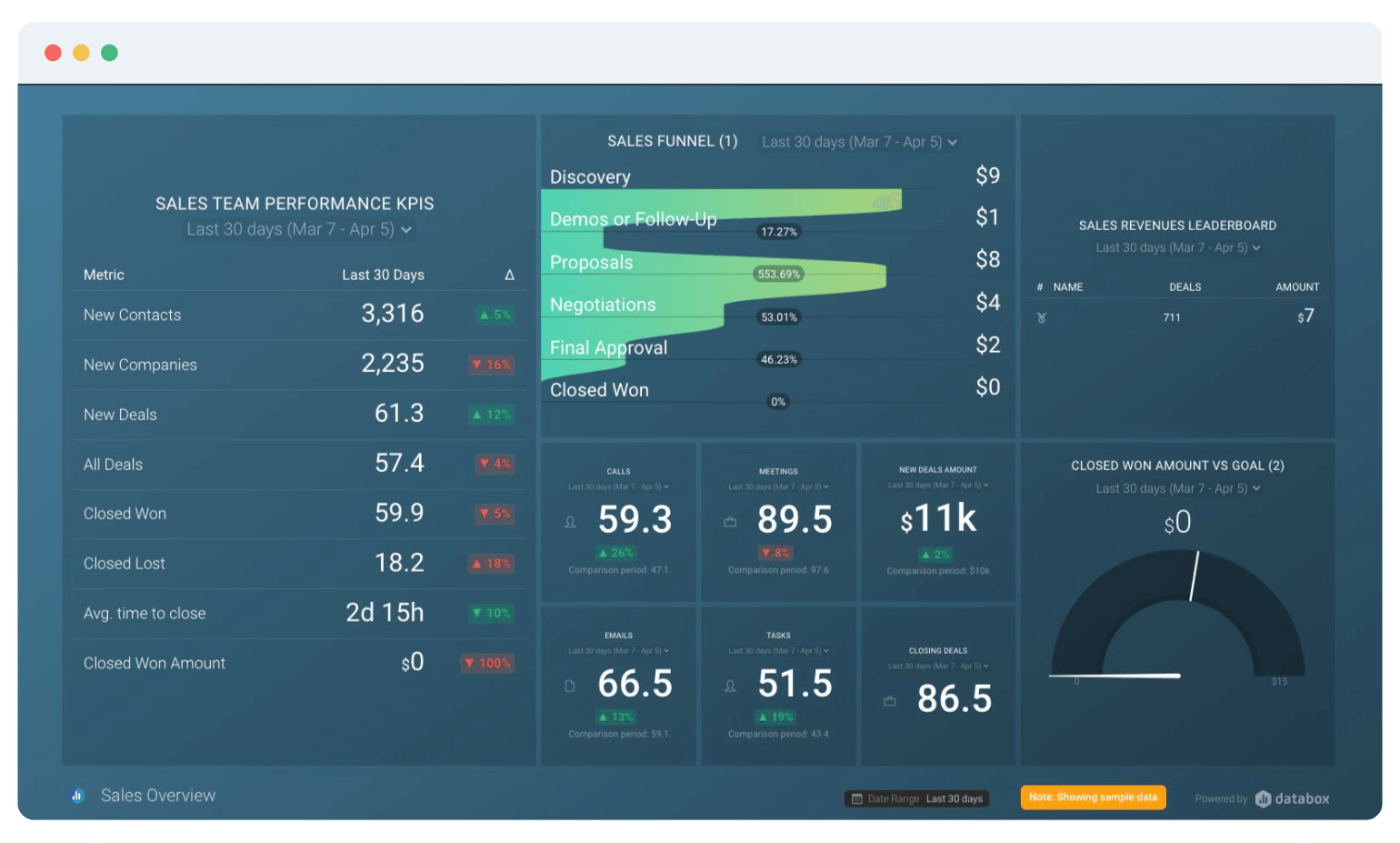 Databox is a highly effective KPI dashboard software that shines for its ability to combine data from multiple sources and present them in a visual format. It can integrate with over 100 different data sources, including Google Analytics, social media platforms, CRMs, and many more. This capability allows users to pull in all relevant KPIs into a single platform and visualize them in real-time, aiding the process of making data-driven decisions.
Databox also offers a range of customizable dashboard templates, allowing users to accommodate the presentation of their data to their unique needs. It features a simple to use, drag-and-drop interface that doesn't require any coding knowledge, and it's accessible on both desktop and mobile devices. Databox's alerts and scorecards feature sends updates about important metrics, so you can always stay informed about your performance. With Databox, users can quickly and efficiently monitor, analyze, and act on their metrics. There's a free plan for individuals and small teams, and paid plans are available starting at $47/month for growing businesses.
11. Domo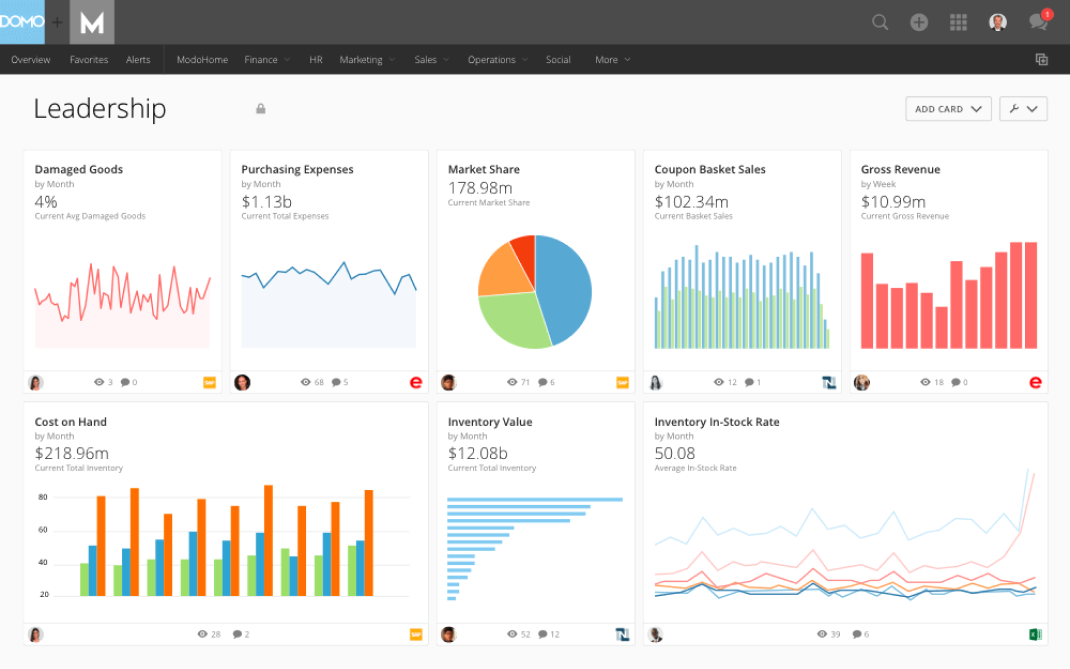 Domo is a powerful KPI dashboard solution with over 150 types of charts, including Trellis charts, data science charts and period-over-period charts. You can customize maps in unique ways with Domo — the platform offers another 7,000 custom maps and also lets you upload your own map. 
Easy to use, Domo also allows you to use drag-and-drop to build dashboards and data visualization interfaces. Domo has a robust filter that lets you sort data without altering the data source of affecting other people's views. 
You can try Domo for free, if you decide to use the application you'll need to contact their sales team to get a quote for your company. 
12. Coupler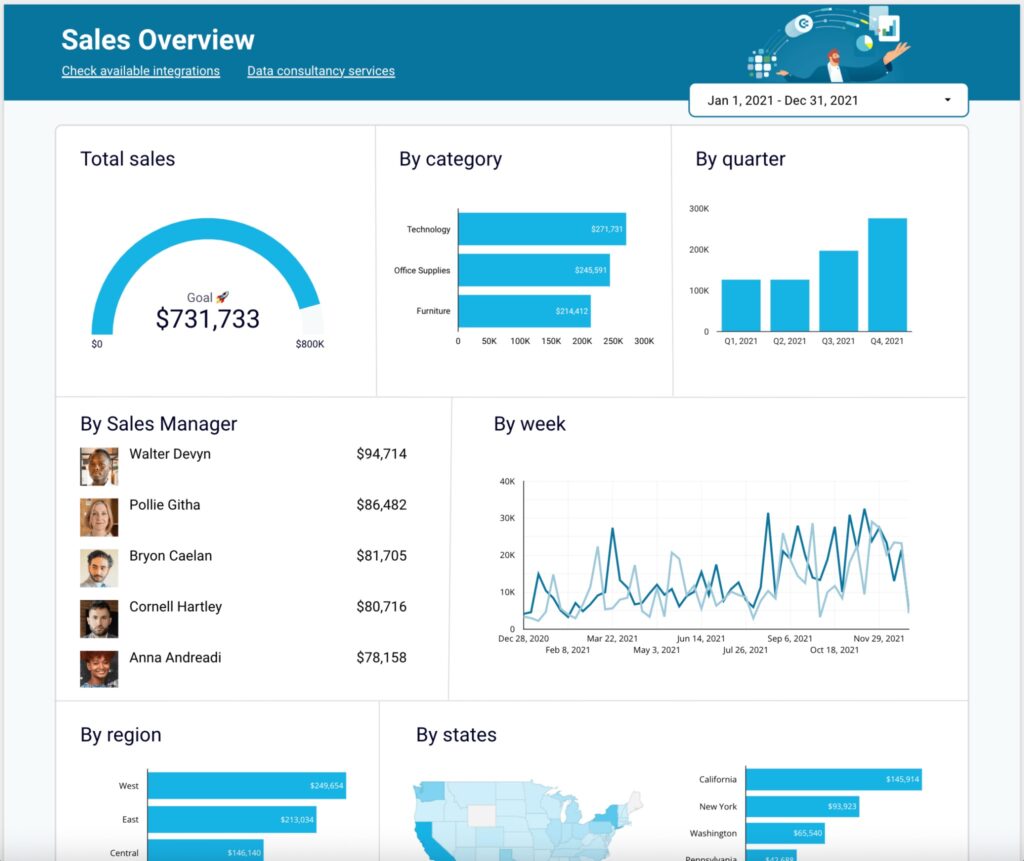 Coupler.io provides a convenient functionality of KPI dashboard software. With this full-scale analytics and automation platform, businesses can automatically gather, transform, and visualize their data in dashboards. Users can choose from ready-made dashboard examples and templates and customize dashboards for their needs effortlessly.
The platform allows exporting data from over 70 popular apps – from accounting software to email marketing tools. Users can check the performance of their Facebook Ads, Google Ads, or other ad campaigns, get viewer insights from their YouTube channels, evaluate sales KPIs, or display financial metrics.
Notably, there is an opportunity to request a custom data source as well as use data consultancy services to build unique KPI dashboards. Coupler.io has a 14-day free trial, during which you can examine its capabilities. Meanwhile, paid plans are available from $49 per month.
---
Do you have a KPI dashboard you love that tracks your metrics? Let us know in the comments below!