Last Updated on July 20, 2023 by Katie
Are you in college and getting worried about seeing the debt pile up? Luckily, in the digital age, there are many ways to make extra cash and online typing jobs for students are abundant and have little barrier to entry.
No longer do students need to juggle hectic schedules with part-time jobs in cafes or retail stores. Instead, they can make money from the comfort of their own home, or dorm room, and on their own time.
Online typing jobs are a perfect fit for student life. They offer flexibility, decent pay, and most importantly, they can help build vital skills for the future.
Fast typing speed and accuracy can go a long way, not just in these jobs, but also in many other careers.
In this post, we'll explore eleven easy online typing jobs that are ideal for students.
From data entry to transcription work, there's something for everyone. So, let's dive in and find the right job for you!
The Best Online Typing Jobs for Students
If you're a student looking to earn some extra money, online typing jobs can be a great option.
These jobs are flexible in terms of hours, allowing you to work around your school schedule.
Plus, the faster you can type, the more money you can earn. Read on to learn about the best online typing jobs for students.
1. Data Entry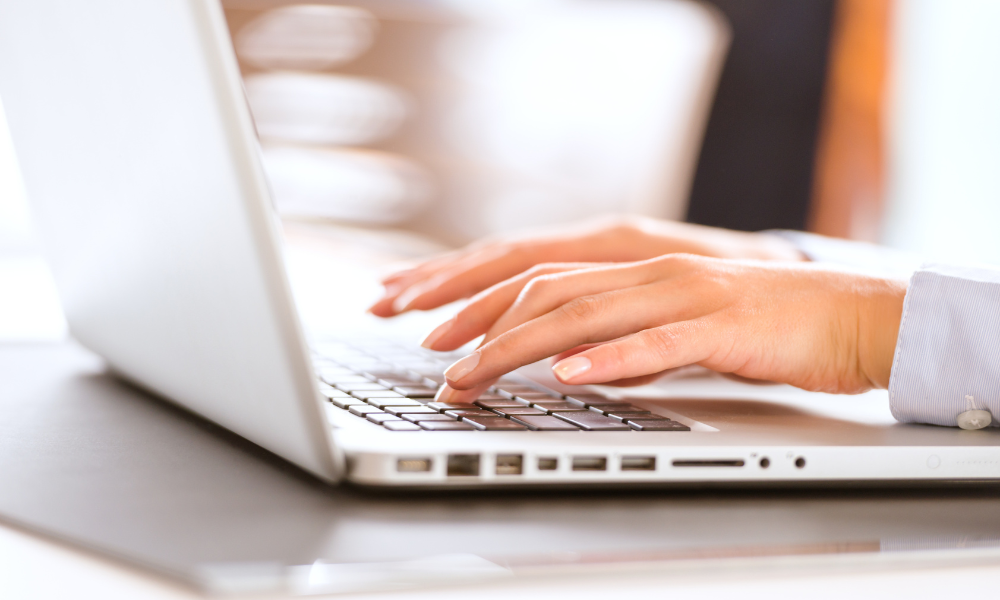 Data entry is one of the most common online typing jobs available. It involves inputting data into a system or database.
This could include entering information from forms, surveys, or other sources. Companies often hire data entry clerks to help them manage their data efficiently.
Learn more: 25 Best Data Entry Jobs for Beginners Hiring Today
2. Transcription
Transcription involves listening to audio files and typing out the spoken content.
This job requires good listening skills, accurate typing skills and a decent level of grammar.
Transcriptionists are needed in various industries, such as healthcare, legal, and media. Plus, many YouTube creators need their videos transcribed and pay transcriptionists to work on their content.
Learn more: 21 Best Remote Transcription Jobs for Beginners
3. Online Survey Typing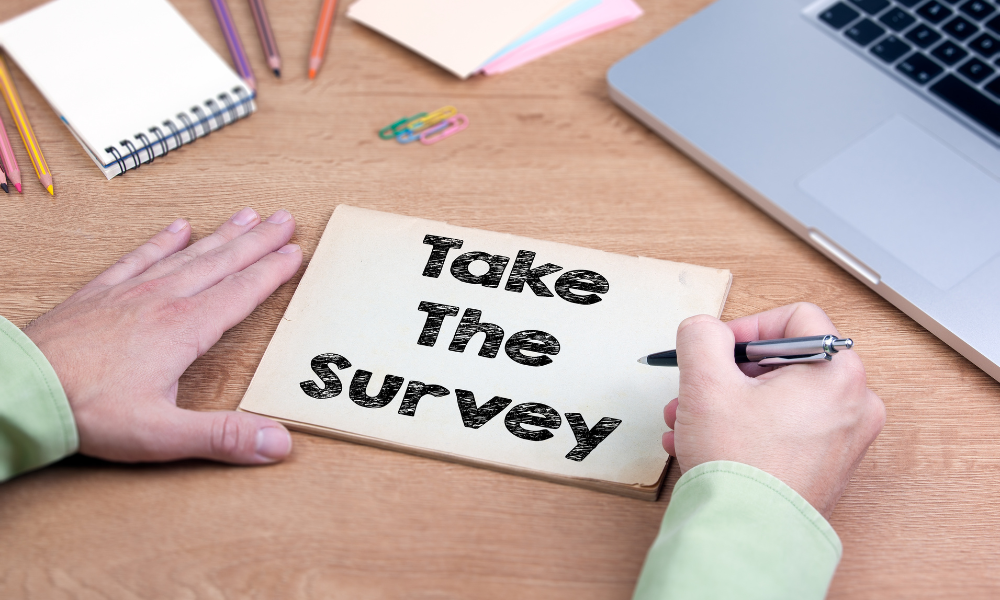 Many companies conduct online surveys to gather data and insights.
Online survey typing jobs involve filling out surveys and providing feedback. This job is ideal for students as it can be done in your free time.
This is generally a fun job as you get to give your opinion and possibly shape the future of what products hit the shelves, all while getting paid for it!
Learn more: 25 Survey Sites that Pay Instantly in 2023
4. Captcha Typing
Captcha typing jobs involve entering captcha codes to prove that you are a human and not a bot.
Text-based captures are most commonly used but audio captchas are sometimes used to stop bots from commenting in forums.
This job is relatively easy and can be done quickly even with little experience.
Check out these legit platforms for captcha typing jobs:
5. Article Writing
If you have good writing skills, article writing can be a lucrative online typing job.
Many websites and blogs are in need of content writers who can produce engaging and informative articles.
Many brands and companies don't have time to write their own content and employ freelance writers to create articles for them.
It doesn't take long to learn how to become a freelance writer even with zero experience.
Make sure you build a writing portfolio to show potential clients and take the time to market your writing business to get your name out there.
When you feel ready, apply for writing jobs:
6. Virtual Assistant
Virtual assistants provide administrative support to individuals or businesses remotely.
This job can involve tasks like scheduling appointments, managing emails, organizing data, searching for information online and more.
If you're organized, have decent typing skills and are a good communicator, virtual assistance is one of the best online typing jobs for students to consider.
Learn more: 21 Legitimate Virtual Assistant Jobs Hiring Today
7. Essay Writing
If you excel in academic writing, essay writing can be a profitable online typing job for students.
Many students and professionals seek assistance with their essays and research papers.
Take a look at these platforms for paid essay writing jobs:
8. Blogging
Blogging involves writing and publishing articles on a personal blog or website.
It can be a great way to showcase your writing skills and earn money through advertising, sponsored posts, and affiliate marketing.
While a blog needs work upfront before it makes money, once you start getting traffic your income can grow exponentially.
Learn more: Make Money Blogging: Tips to Become a Successful Blogger
9. Subtitle Typing
Subtitle typing jobs involve transcribing and timing subtitles for videos.
This job requires good listening skills, fast typing skills and the ability to sync the subtitles accurately.
Businesses, brands, marketers and YouTube creators use typers to subtitle their content so those who're deaf and hard of hearing can understand whats going on in their video content.
Learn more: Get Paid to Write Subtitles: 15 Best Companies Hiring 2023
10. Social Media Writing
Many companies and brands hire social media writers to create engaging content for their social media platforms.
This job involves writing captions, tweets, and other posts that resonate with the target audience.
Social media writing involves the writer planning content schedules and posting content that creates engagement and gets new followers interested in a brand or product.
Check out these platforms for social media writing jobs:
11. Online Chat Moderation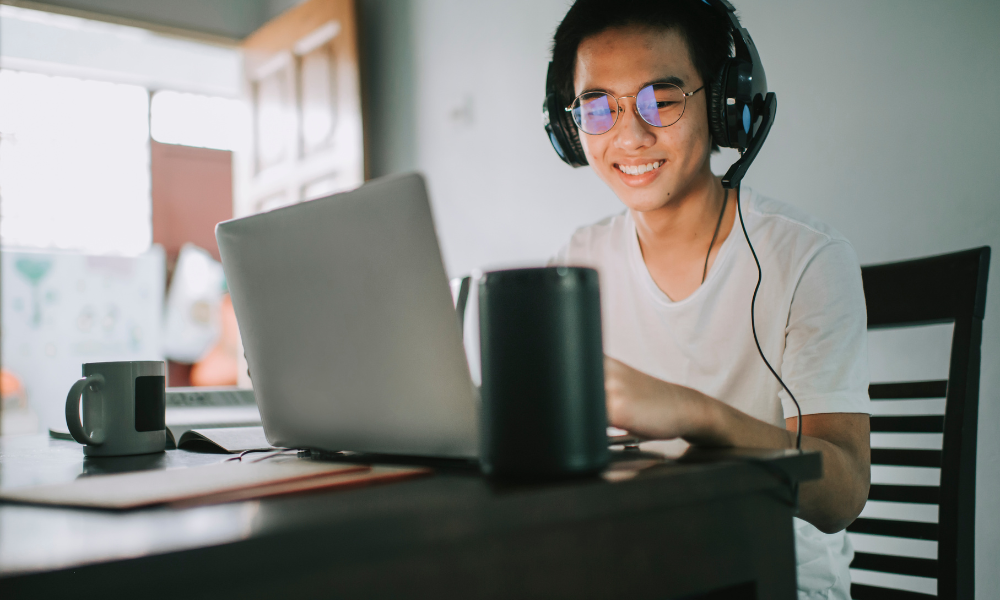 Online chat moderation jobs involve monitoring and moderating online chat rooms and forums.
This job requires good communication skills and the ability to enforce guidelines and policies.
Job hours are usually flexible and you can choose to moderate in the hours that suit you around class times.
Learn more: 25 Online Chat Moderator Jobs Hiring Today
Note: Please be cautious when applying for online typing jobs and ensure that you're dealing with reputable companies. Always research the company and read reviews before providing any personal information or accepting a job offer.
How to Find Online Typing Jobs for Students
If you're a student with fast typing skills and looking to earn money online, there are plenty of opportunities available.
In this section, we will explore different avenues where you can find writing jobs online.
Whether you prefer freelancing platforms, job boards, or online marketplaces, there's something for everyone.
Freelancing Platforms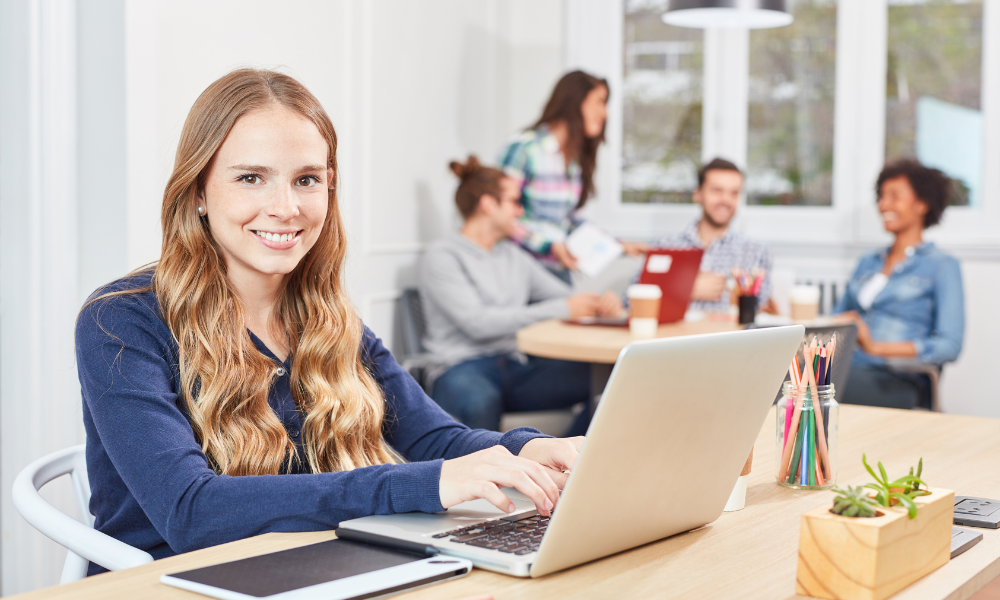 Freelancing platforms are a great way to find online typing jobs for students. These platforms connect freelancers with clients looking for specific services.
Here are a few popular freelancing platforms where students can find typing jobs:
Upwork – Upwork is a well-known freelancing platform that offers a wide range of job opportunities, including transcription and data entry jobs. The best part is that teenagers aged 13 and above can access these typing jobs without any issues. You can set your own rates and determine the timeframe for completing and delivering projects.
Freelancer – Freelancer is another popular freelancing platform where you can find typing jobs. It's a global marketplace with various job categories, including data entry, transcription, and more. Have a browse through the available projects and submit proposals to start getting paid work.
Guru – Guru is a platform that connects freelancers with clients from all over the world. It offers a wide range of job categories, including typing jobs. As a student, you can create a profile, showcase your skills, and start bidding on relevant projects.
Job Boards and Websites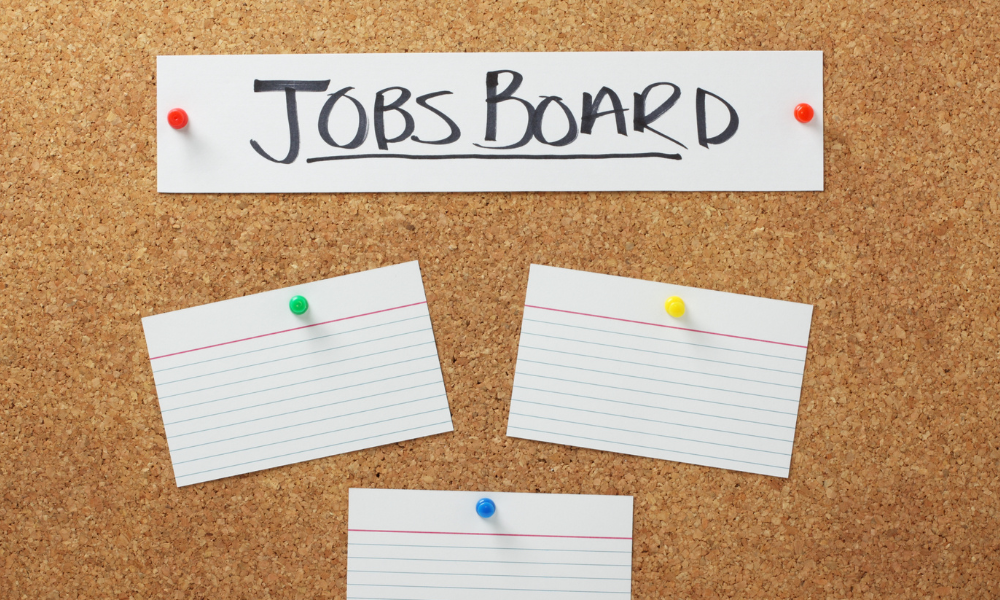 Job boards and dedicated websites for typing jobs are also great resources for students looking to earn money online.
These platforms specifically focus on connecting job seekers with typing-related opportunities.
Here are a few examples:
Rev – Rev specializes in converting speech to text. As a beginner, you can use your typing skills to transcribe audio files like educational videos into written text. Rev allows you to choose the projects you're interested in and complete them within set deadlines. Payment is issued weekly via PayPal.
Caption Max – Caption Max focuses on typing captions and providing transcriptions for various industries, including media, entertainment, business, education, and government. Students can become independent contractors and choose the category they find most interesting. If you're multilingual, this is an excellent opportunity to earn even more.
TranscribeMe – TranscribeMe offers typing jobs where you can make $15 to $25 per hour. As a beginner, if you've proven to be skilled at typing, you can even earn an extra $2 bonus per hour. To get started, visit their registration page, complete a short training, and pass an exam. Once you're approved, you can start typing and earning money.
Online Marketplaces
Online marketplaces are platforms where clients post job listings, and freelancers can bid on them.
These marketplaces offer a wide range of job categories, including typing jobs.
Here are a few popular online marketplaces to explore:
Fiverr – Fiverr is a well-known online marketplace where freelancers can offer their services for a fixed price. As a student with typing skills, you can create a gig offering services like data entry, transcription, or proofreading. Clients can browse through gigs and hire you based on your skills and pricing.
PeoplePerHour – PeoplePerHour is another online marketplace where freelancers can find typing jobs. It allows you to create a profile, set your hourly rate, and showcase your skills. Clients can post job listings, and you can submit proposals to secure projects.
Giggrabbers – Giggrabbers is a platform where freelancers can create profiles and offer their services to potential clients. You can create a profile highlighting your typing skills and browse through job listings related to data entry, transcription, and more.

Tips to Succeed with Online Typing Jobs
If you are considering typing online as a way to earn money, it's important to develop the right skills and strategies to succeed in this field.
Here are some tips to help you excel:
Improve Typing Speed and Accuracy
One of the key factors that will determine your success in online typing jobs is your typing speed and accuracy.
The faster you can type without making errors, the more work you can complete and the more money you can earn.
To improve your typing skills, consider the following:
Practice regularly: Set aside dedicated time each day to practice typing. There are numerous online resources and typing programs available that can help you increase your speed and accuracy.
Learn proper finger placement: Using the correct finger placement on the keyboard can significantly speed up your typing. Familiarize yourself with the home row keys and practice typing without looking at the keyboard.
Use online typing tests: Take advantage of typing tests to measure your speed and accuracy. These tests can help you identify areas where you need improvement and track your progress over time.
Enhance Time Management Skills
Time management is crucial when it comes to online typing jobs.
As you work on different projects, it's important to stay organized and meet deadlines.
Here are some tips to enhance your time management skills:
Create a schedule: Plan your work hours and allocate specific time slots for different tasks. Setting deadlines for yourself can help you stay focused and complete projects on time.
Prioritize tasks: Identify the most important tasks and tackle them first. By prioritizing your work, you can ensure that essential projects are completed without delay.
Avoid distractions: Minimize distractions during your work hours. Turn off notifications on your phone, close unnecessary tabs on your computer, and create a dedicated workspace to stay focused.
Develop Strong Communication Skills
Strong communication skills are essential for any online job, including typing jobs. Here's how you can improve your communication skills:
Be responsive: Respond to client emails and messages promptly. Being available and reliable will help you build a good reputation and secure more job opportunities.
Ask for clarification: If you are unsure about project requirements or instructions, don't hesitate to ask for clarification. It's better to seek clarification upfront rather than making mistakes later.
Be professional: Maintain a professional tone in all your communications. Use proper grammar and punctuation, and be respectful and courteous in your interactions.
For more information and resources related to online typing jobs, you can visit the following websites:
Typing.com: Provides typing lessons, tests, and games to improve your typing skills.
FlexJobs: Offers a wide range of remote job opportunities, including typing jobs.
Grammarly: A writing assistant tool that can help you improve your grammar and writing skills.
The Benefits of Online Typing Jobs for Students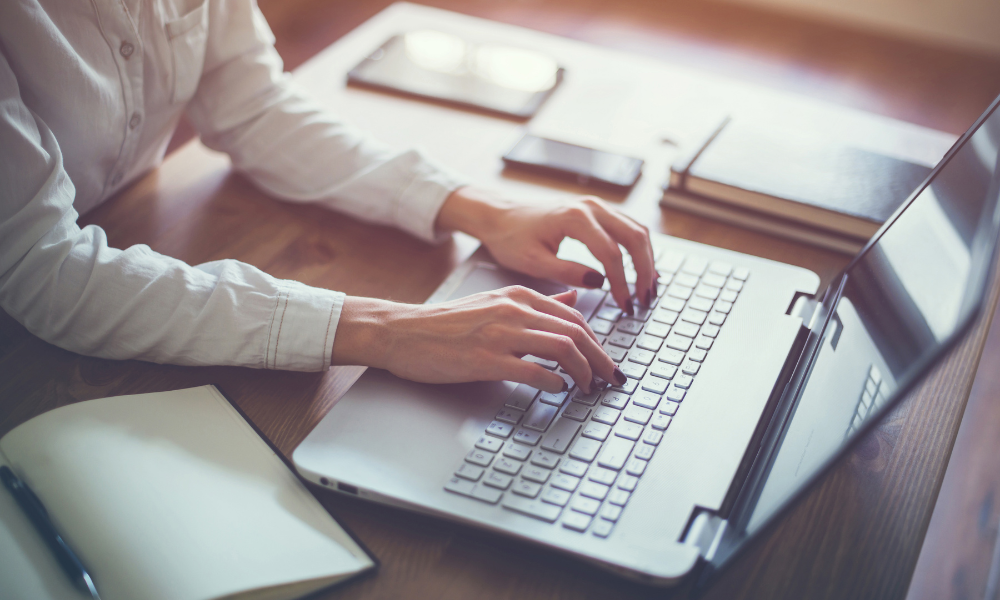 In today's digital age, students are constantly searching for ways to earn extra money while balancing their studies and personal commitments.
One lucrative option that can provide them with flexibility and a steady income is online typing jobs. These jobs offer a range of benefits that make them an attractive choice for students looking to earn money from the comfort of their own homes.
Let's explore some of these benefits in more detail:
1. Flexibility in Schedule
One of the primary advantages of online typing jobs for students is the flexibility they offer in terms of schedule.
Unlike traditional part-time jobs that require fixed working hours, online typing jobs allow students to choose when they want to work.
This means they can easily fit their job responsibilities around their classes, exam schedules, and other commitments.
Whether it's early morning or late at night, students can work at their preferred time, making it easier to strike a balance between work and academics.
2. Work from Anywhere
Another appealing aspect of these types of jobs is the ability to work from virtually anywhere.
As long as students have access to a computer and an internet connection, they can complete their tasks from the comfort of their own homes, a local café, or even while travelling.
This eliminates the need for commuting and provides students with the freedom to work in an environment that suits them best.
3. Enhanced Typing Skills
Engaging in online typing jobs can significantly improve a student's typing skills.
Regular practice and exposure to various typing tasks, such as transcribing audio files or converting handwritten documents into digital formats, can help students become faster and more accurate typists.
These improved skills can be beneficial not only in their current typing job but also in future endeavours that require proficient typing, such as writing research papers or creating presentations.
Online typing jobs serve as an excellent opportunity for students to develop a valuable skill set that can benefit them throughout their academic and professional lives.
4. Supplemental Income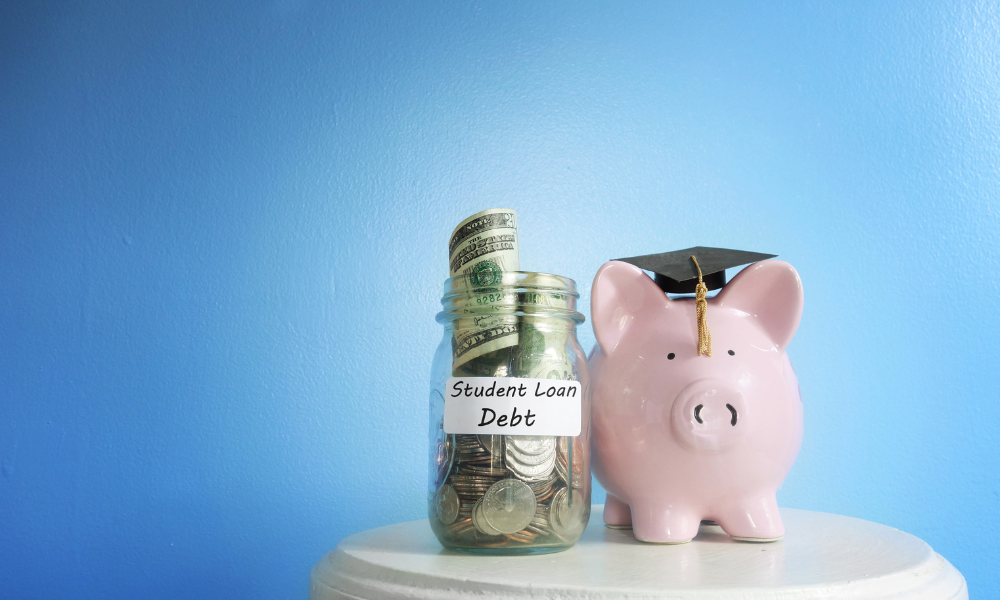 For many students, financial independence is a significant concern.
Online typing jobs offer them an opportunity to earn a supplemental income that can be used to cover various expenses, including textbooks, tuition fees, and personal needs.
By taking on these jobs, students can alleviate some of the financial burdens associated with their education and gain a sense of financial stability.
Moreover, the ability to earn money while studying can empower students, allowing them to take control of their own finances and become more self-reliant.
5. Skill Development
Aside from enhancing typing skills, writing for money can provide students with valuable experience that goes beyond just typing.
These jobs often require attention to detail, time management, and the ability to work independently.
By honing these skills, students can become more efficient and organized, traits that are highly sought after in the professional world.
Additionally, they can learn how to effectively manage their workload and meet deadlines, which are essential skills in any career.
Online typing jobs allow students to develop a well-rounded skill set that can contribute to their future success.
Online Typing Jobs for Students FAQs
How much can students earn from online typing jobs?
One of the most common questions students have about online typing jobs is how much they can earn.
The answer to this question varies depending on the type of typing job and the student's level of experience.
For simple data entry tasks or basic transcription work, students can expect to earn anywhere from $1 per hour to $10 per hour.
These tasks typically don't require any specialized skills and are a good starting point for beginners.
However, as students gain more experience and develop their typing skills, they can potentially earn higher rates, ranging from $15 per hour to $30 per hour or more for more specialized typing jobs such as copywriting or transcription.
It's important to note that these figures are just estimates and actual earnings can vary depending on factors such as the student's typing speed, the complexity of the tasks, and the platform or company they are working for.
Are online typing jobs legitimate?
Many students may be sceptical about the legitimacy of online typing jobs, and understandably so, as there are unfortunately scams out there.
However, it's important to note that there are many legitimate online typing jobs available for students.
These jobs are offered by reputable companies and platforms that connect freelancers with clients who need their typing services.
Some well-known platforms for finding legitimate online typing jobs include Upwork, Freelancer, and Fiverr. It's always a good idea for students to do their research and read reviews before signing up for any online typing job opportunities.
Additionally, students should be wary of any job that requires them to pay upfront fees or promises unrealistic earnings.
Legitimate online typing jobs will typically pay on a per-task or per-hour basis, and the payment should be clearly communicated upfront.
What skills are required for online typing jobs?
To excel in online typing jobs, students need to have a strong set of typing skills. This includes being able to type accurately and quickly.
The average typing speed is around 40 words per minute, but many online typing jobs may require a higher speed, such as 60 words per minute or more.
Students can improve their typing speed and accuracy through practice and by using online typing tutorials or software.
In addition to typing skills, some online typing jobs may require additional skills such as data entry, transcription, or copywriting.
Students should carefully read the job requirements and make sure they have the necessary skills before applying for any online typing job opportunities.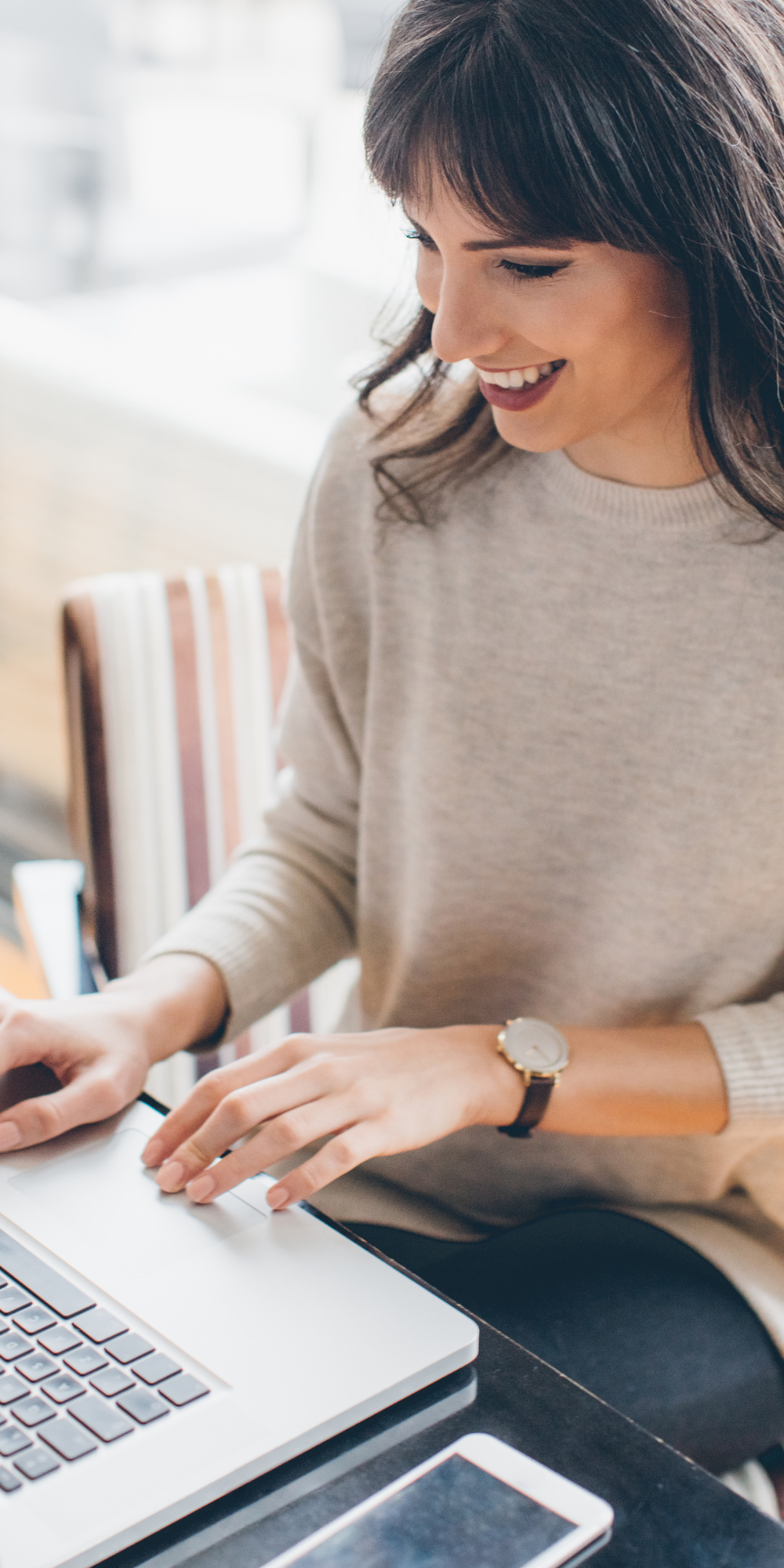 How can students avoid online typing job scams?
Unfortunately, there are scams targeting students looking for online typing jobs.
To avoid falling victim to these scams, follow these tips:
Research the company or platform: Before accepting any online typing job, students should research the company or platform offering the opportunity. Look for reviews or testimonials from other freelancers who have worked with them to gauge their reputation and legitimacy.
Never pay upfront fees: Legitimate online typing jobs should never require students to pay any upfront fees. Be cautious of any job that asks for payment before you have even started working.
Read the job description carefully: Scammers often use vague or misleading job descriptions to lure in unsuspecting students. Make sure to read the job description thoroughly and look for any red flags, such as promises of unrealistic earnings or requests for personal information.
Trust your instincts: If something feels too good to be true or doesn't seem right, trust your instincts and proceed with caution. If a job opportunity doesn't feel legitimate or raises any red flags, it's best to avoid it.
Use reputable platforms: Stick to well-known platforms like Upwork, Freelancer, or Fiverr when looking for online typing jobs. These platforms have established systems in place to protect freelancers from scams and ensure fair payment.
Final Thoughts on Online Typing Jobs for Students
Online typing jobs for students offer a great opportunity to earn money while getting experience in a real-world job.
This type of work not only provides a flexible schedule but also gives you a chance to improve your writing skills and overall productivity levels.
Whether it's transcribing audio files, data entry, or content creation, there are various job options to choose from.
Plus, these online typing jobs mostly have little barrier to entry and can be started with minimum experience.
After securing a few online typing jobs, you'll be on your way out of student debt in no time at all!
Want more options for typing jobs? Check out these 7 beginner-friendly typing jobs that pay well.
*Disclosure: I only recommend products I would use myself and all opinions expressed here are our own. This post may contain affiliate links that at no additional cost to you, I may earn a small commission.
Summary
Article Name
11 Easy Online Typing Jobs for Students to Make Extra Cash
Description
11 Easy Online Typing Jobs for Students to Make Extra Cash.
Author
Katie Lamb
Publisher Name
Remote Work Rebels
Publisher Logo