Our website is supported by our users and contains affiliate links. We get paid when you purchase or sign up for anything through those links. Read the full disclaimer for more information.
Last Updated on May 5, 2023 by Daniella
Are you new to remote work or trying to get yourself organized?
As someone who's been either freelancing or working remotely my entire career, I definitely know the struggle. To make your life easier I put together some of the best remote work tools I use in my business every day.
Find everything you need from productivity tools to help you focus to remote job boards & career-building resources. These tools are great for both employees working remotely, as well as remote side hustlers, business owners, and freelancers. 
If you're part of a hybrid team, maybe introduce some of these tools to your management and team to help everyone stay more connected. Who knows, your boss might even love them so much that they budge on your request to be 100% remote.
The best part? Most of these remote work tools has a free option; you only need to pay if you want to upgrade for the features of their premium versions. 
If you want to pivot to remote work but don't know where to start, use our free quiz:
1. Loom – Best for Training and Sharing Videos
I use Loom all the time as a freelancer and business owner. It's great for creating video tutorials that you can send to clients or employees. Unlike live screen sharing with Zoom or Teams, Looms can be viewed anytime making them a great choice for asynchronous work. 
Other features, like editing tools, mouse highlighting, and collaborative comments make it a great option for teams.
2. DialPad – Best for Automated Meeting Notes
DialPad is a genius remote work tool that makes meetings actually worthwhile. It automatically transcribes and shares meeting notes with your team, eliminating the need for manual note-taking. Which also means no more getting roped into non-promotional work at your job and no more wasting mental energy in your business.
Plus, you can easily share your screen and collaborate with colleagues in real-time. DialPad also integrates with other popular tools like Slack and Salesforce, making it a great addition to any remote team's workflow.
3. TeamViewer – Best for Remote Desktop Access
Imagine having the freedom to work from anywhere in the world, without sacrificing access to your desktop computer. That's where TeamViewer comes in.
As a remote worker, you can easily access your computer from your laptop or mobile device on the go. It's also especially perfect for remote workers who have on-call duties. 
4. Canva – Best for Quick Graphics and Team Collaboration
Canva is such a useful tool that I subscribe to it despite also paying for Adobe Creative Cloud. You just can't beat how easy Canva is to use, especially if you need to create a quick graphic for social media or a newsletter. The templates save me so much time!
If you work with a team, Canva has great sharing and collaboration options that make it easy to stay organized and share your work. If you're a looking for a side hustle idea, it's also a great tool to create and sell digital products with to make money with Canva.
Pro tip: Read our Canva Review to see the tool in action.
5. Trello – Best for Simple Project Management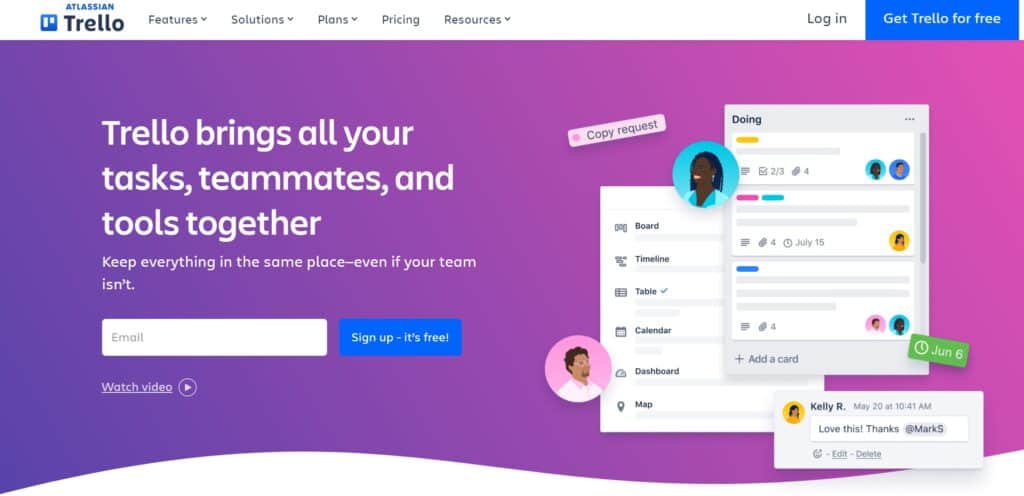 If you're looking for a remote work project management tool that's visual and uncomplicated, Trello is it. Trello uses the KanBan system, which sorts tasks into columns that you move from left to right as they progress along the workflow. 
There are plenty of extra features that you can take advantage of like checklists, color coding, and due dates to keep your tasks within a project organized. Multiple team members can join your Trello board which makes it easy to collaborate with coworkers, clients, or hired freelancers. 
6. Notion – Best for Connected Virtual Workspace
Notion is a comprehensive tool for managing all aspects of remote work, all in one centralized workspace. The team at I Like to Dabble uses it for an idea database, to collaborate with team members, share knowledge, manage tasks, and more.
It doesn't matter what type of remote worker you are – employee, freelancer, business owner, etc – Notion is a game changer for your organization.
Notion's flexibility allows you to easily create custom pages, databases, and notes that are accessible to your team in real-time. The secret-sauce to getting started with the tool to cut overwhelm is using Notion templates to create your pages. Be sure to experiment with different layouts and workflows to see how to best put together your workspace for you and your team. It also has powerful integrations with other remote work tools, such as Trello and Slack, making it easy to incorporate into your existing workflow. 
7. Scribe – Best for How-To Guide Automation & Knowledge Transfer
Have you ever spent hours or maybe even days on knowledge transfer within your team? Now you can automate it.
Scribe allows you to easily record, edit, and share screen recordings to help colleagues understand complex processes or workflows. Use it for onboarding new team members, share expertise with colleagues, cross train other teams, or hand over duties when switching roles or jobs. 
It also integrates with other popular remote team tools, such as Slack and Jira, so you can quickly close the communication and information gap in your team. 
8. Clockify – Best for Time Tracking
I'd be lost without Clockify in my freelance business, but it has a lot of uses in the workplace too. Use it to track your billable hours for invoicing or to stay accountable at work.
If you have employees, there are plans where you can view their tracked time, which is super handy if you have to run payroll for remote workers that are paid by the hour. 
9. LastPass – Best for Shared Logins
I was saving all my passwords in my web browser, but that's not very helpful when you need to share a login with someone. LastPass solves both the problem of remembering passwords and sharing them with others.
Instead of giving out your password LastPass creates temporary login information that you can share with someone who needs one time access to your account, like a freelancer. 
You can also use it to create cloud access that everyone in your organization can use securely without the security risks of giving out all these passwords to your team.
10. Greenshot – Best for Screenshots
This is a tool I probably use a dozen times each day! Greenshot replaces your PC's print screen button with a powerful screenshot tool. You can snip parts of the screen and copy or save it, plus add markup and commentary to the image.
If you ever send screenshots this is by far one of the best remote work tools to make your life easier.
11. Clickup – Best CRM and Task Organizer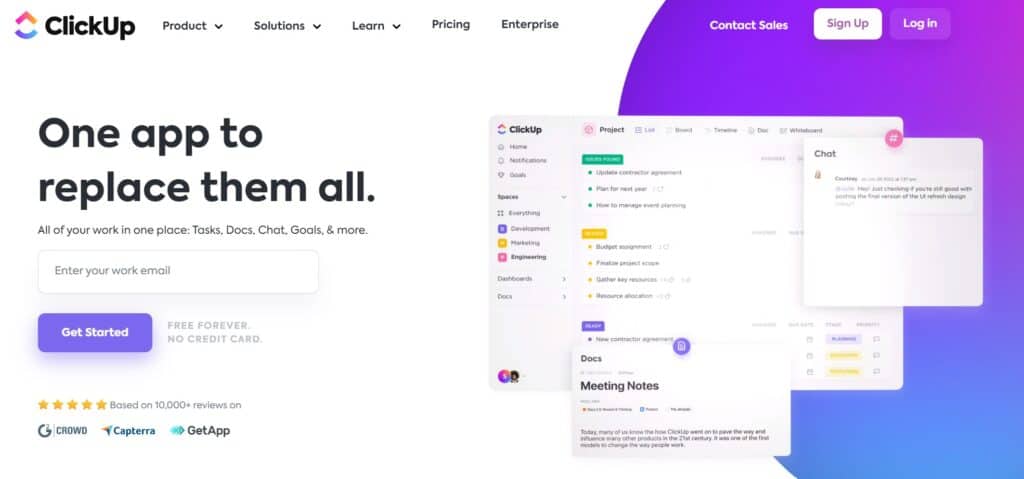 OK, the best CRM is highly subjective here, but ClickUp is the tool that I personally use to manage my small business. What makes ClickUp stand out is how highly customizable it is; I have mine set up to work exactly how I need. 
If you're looking for a CRM to help manage yourself or your team remotely, shop around and find one that fits your needs best. The most important thing isn't what software you choose to stay organized, it's actually using it. 
Some other similar CRMs you can try are Monday, Pipedrive, and Keap. 
12. Google Drive – Best for Document Collaboration and File Sharing
We use Google Workspace in our organization, but you can also access Google Drive with a free Gmail account. Collaborative docs and spreadsheets are handy for remote workers, especially because it logs all changes.
For bigger teams, features like comments and suggested edits help speed up your workflow and keep things organized, even for offices working across different time zones. 
On top of collaboration, you can also use Google Drive for sharing documents so they're easy for everyone to access remotely. 
If you're already using Outlook for your work emails you can also take advantage of similar tools within Office365.
13. Figma – Best for Creative Collaboration and Whiteboarding
One thing that's often missing from remote meetings is that ability to brainstorm together effectively. Figma helps solve that by allowing you to draw your ideas on their virtual  collaborative whiteboard.
You can then iterate on that concept until you land on a final product, all within the same software. There's even a mobile app! 
14. Slack – Best for Team Chats
Slack is a tool I was reluctant to use over other chat services, but it's definitely the best option to chat with a team. Even though we use Google services and have access to Hangouts, Slack does a much better job of organizing conversations and offering integrations.
There are two strong runner ups in the chat department, though. The first is Microsoft Teams; their messaging service is actually really good, especially if you're already using Office365 services.
Second is Discord. Although it's designed with gamers in mind, you can create your own Server with different channels within, just like Slack. Unlike Slack, though, you don't have to pay extra to keep your messages forever. The downsides are lack of add ons, it's less user friendly, and it may feel less professional.
15. Zapier – Best for Automations
Zapier is a groundbreaking service that allows you to create custom automations with minimal tech skills. Before they offered an integration option, I used to use Zapier to sync information between Hubspot and Clickup.
Some of the many automations you can set up include creating reminders for yourself or your team, automatically adding leads from a form to your CRM, and sending your team a happy gif every day in Slack to brighten their day. 
16. Range – Best for Asynchronous Communication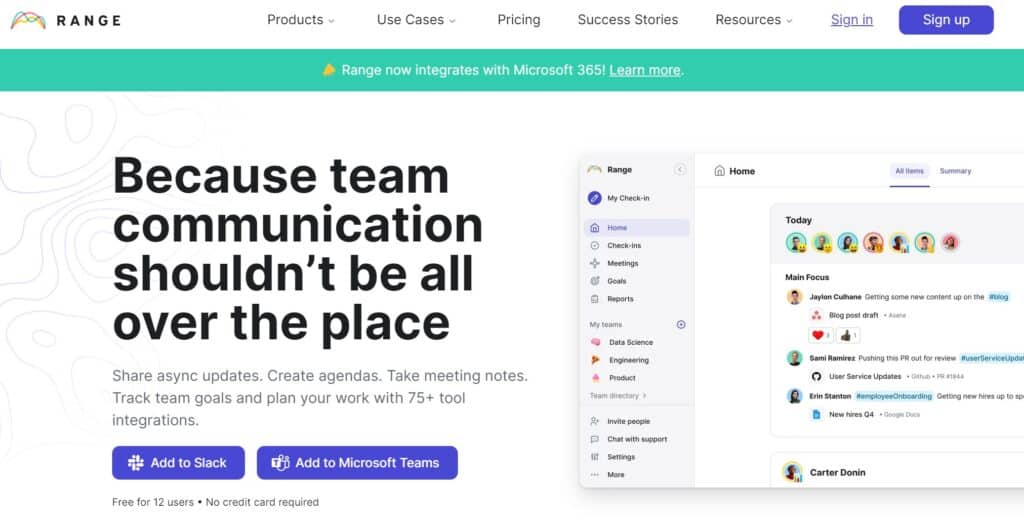 Range is a fantastic tool for remote teams that prioritize asynchronous communication. Teams can use it to streamline communication, track goals, and manage progress, all in one place.
It's also compatible with several other popular remote work tools, such as Slack, Trello, and Google Calendar, allowing for a seamless integration into your existing workflow. 
17. Brain.fm – Best for Improving Focus
If you have trouble focusing while working, you have to try Brain.fm. It's a game-changing tool that enhances focus and concentration by providing scientifically backed music customized to your specific needs. How? With cutting-edge AI algorithms and carefully crafted music.
Finally, a little trick to power through your to-do list.
18. Shift – Best for Reducing Work Chaos
Did you know we can waste hours switching between different tools and apps throughout our workday? It can also throw off neurodivergent folks such as folks working with ADHD, and cause us more friction in the time and energy it takes to get our work done. Shift helps with exactly that.
Shift is a comprehensive remote work tool that reduces the digital chaos in your workday. It brings all of your favorite apps and tools into one place so you can easily switch between your email, calendar, messaging apps, and more – all in one streamlined interface.
No more constant toggling between different apps that can also cause temporary confusion and paralysis in your work. Finally feel efficiency in your work again.
19. Coursera – Best for Continued Learning
Coursera is my favorite online learning platform. It offers thousands of free and premium courses from top universities and companies around the world that anyone can take from the comfort of their smartphone or laptop. They also have tons of free courses available as well as paid ones.
The platform offers courses in a wide range of subjects, including business, computer science, and data science. With Coursera, remote workers can continue their education and stay up-to-date on the latest trends and technologies in their industry.
20. ChatGPT – Best for a Digital Second Brain
When it comes to working remotely, a digital second brain is a huge advantage and now, it's a possibility with ChatGPT.
As a large language model trained by OpenAI, ChatGPT is equipped to help you with anything from taking notes to creating to-do lists to even generating ideas and suggestions for your next project. Its ability to understand natural language means that you can communicate with it in the same way you would with a real assistant, making it the perfect addition to any remote worker's toolkit.
For example, it's especially great if you're a freelance writer and need help outlining your articles or if you're a data analyst and you forgot some syntax in a certain script – you can ask ChatGPT for what your script might be missing.
21. FlexJobs – Best for Premium Remote Job Search & Career Coaching
This premium job search platform not only connects job seekers with legit remote work opportunities, but also offers a diverse range of listings from reputable companies. They also guarantee that all of the jobs listed on their platform are scam-free, something that is hard to find with other popular job search platforms.
There's more – FlexJobs isn't just a job board. They provide their members with invaluable resources, resume help, and coaching to help you snag your dream job. Whether you're a seasoned freelancer, ambitious entrepreneur, or dedicated remote team member, FlexJobs is an indispensable tool for discovering high-quality remote work opportunities and securing the support you need to thrive.
Pro tip: Even though you have to pay to apply for jobs on the site and for the other member services, their blog is completely free and has tons of useful information. If you end up wanting to try out their premium services, use our special code FLEXLIFE for up to 30% off using our link. 
22. LinkedIn – Best for Career Building & Relationship Building
LinkedIn is the world's largest professional networking platform, with over 700 million users worldwide.
The platform is designed to help professionals connect, share information, search for companies & jobs, and build relationships with others in their industry. The tool acts like a digital business card meets portfolio min-site. Use it to show off your work, and build authority in your space. I especially recommend it for searching and getting familiar with remote-first companies and connecting with recruiters to help plan your next career move.
It's also perfect for freelancers to build their client list!
23. Fishbowl – Best for Community
Fishbowl is a social networking platform designed specifically for professionals. It's like LinkedIn, but more fun and less cringey.
The platform allows users to connect with others in their industry, share information and insights, and build relationships with others in their field. You'll use the app by using certain "fishbowls" which are different communication channels, categorized by company, topic, or expertise.
I personally love it for the referral fish bowls and the negotiating salary fishbowls to be able to chat with other professionals so openly. You can even use the app anonymously in case you want to protect your privacy. It's really one of the more welcoming career apps too – which is a breath of fresh air in a discouraging job market.
24. Express VPN – Best for Protecting Your Privacy
With the rise of remote work, the risk of cyber attacks and data breaches has increased, making it crucial for remote workers to protect their sensitive information. A VPN is a virtual private network and is a tool that creates a secure and encrypted connection between your device and the internet.
If you're an employee working remotely for a company, usually a VPN and other security tools will be installed on your device. The most common one being Cisco. Some companies may not supply you with a device but may have a process for connecting securely. For all other scenarios, you'll need a VPN to secure your device and protect your privacy. 
ExpressVPN is one of the top recommended VPNs out there and it lives up to the hype. It's easy to use and compatible with a wide range of devices, making it accessible to all remote workers. ExpressVPN is especially useful for remote workers who need to access sensitive company data or connect to public Wi-Fi networks, as it provides an extra layer of protection against potential threats. 
25. Bonsai – Best for Freelancers to Grow Their Virtual Business
Bonsai is a comprehensive virtual business management tool for freelancers to help manage their business operations, including invoicing, contracts, and time tracking. Their contracts feature is my favorite because they are one of the only tools I've found that provide contract templates written by real lawyers for free.
Use the tool to streamline your freelance business and focus on doing what you do best – providing high-quality services to your clients. 
Best Remote Work Tools to Make Your Life Easier: Final Thoughts
These are the tools my team & I use every day to make life easier in our remote work environment. I strongly recommend giving a few of them a shot, especially if you want to save time and improve your day-to-day workflow.
Related:
Pin it for later!