ChatGPT is getting its hands on almost every way to create passive income, from entrepreneurship, side hustles, etc. Its uses are just compounding!
But what about real estate? There are tons of ways you can use the famed AI, for now, here's a quick guide on 3 uses of ChatGPT to elevate your real estate game.
---
For those who are a bit late to the AI revolution, ChatGPT is a versatile and powerful AI developed by OpenAI. Think of it as a powered digital tool that is known to closely mirror human communication… to a somewhat impressive (yet scary) degree.
It's a topic for controversies, but the point of the matter is… it's an indispensable asset that will free up your valuable time so you can focus on other more important things.
So if you're a seasoned real estate investor or a newcomer to the field, embracing this AI can significantly enhance your odds in the competitive industry. Let's start with three simple uses of ChatGPT for real estate, examples and prompts included!
3 Uses of ChatGPT for Real Estate: Examples and Prompts Included
1. Content for Blogs, Newsletters, Social Media, etc.
ChatGPT is known to create fast, informative, and flexible content. If you need it to create one for you, you can use the prompt example in the image above!
Remember, the more information you give it the better the output it will have. Feel free to be creative and customize the result even more. 
Pro tip! You can copy the questions and paste them in the command bar. There you can answer the questions with ease.
2. Property Listings and Descriptions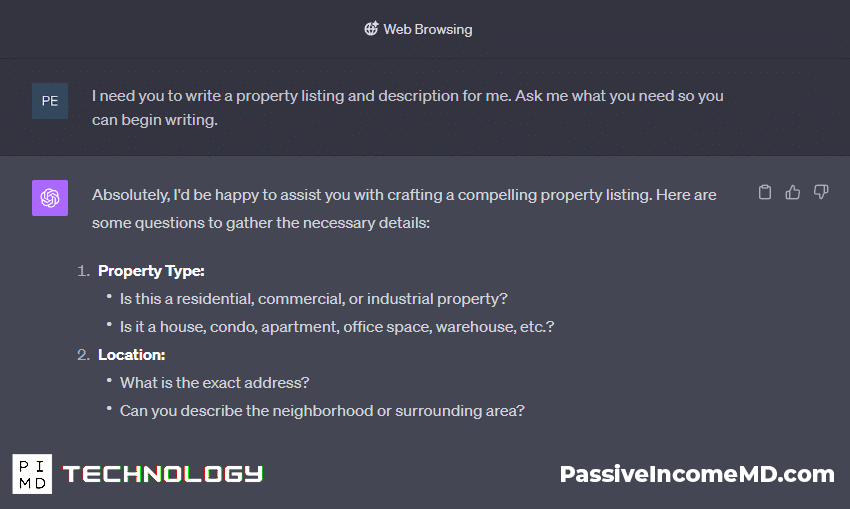 Need help to list your property with complete details matched with a compelling description? ChatGPT got you!
Simply fill in all the information it needs, review the results, and edit when necessary. It might take some time but the result would be worth the wait.
Here's an example of what the result could look like!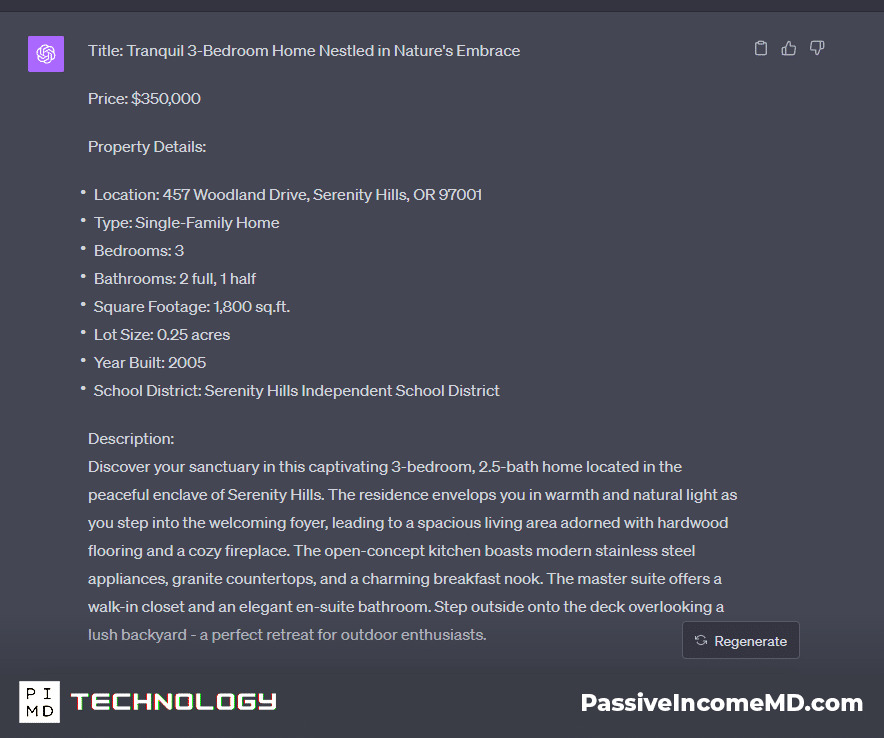 3. Market Research and Analysis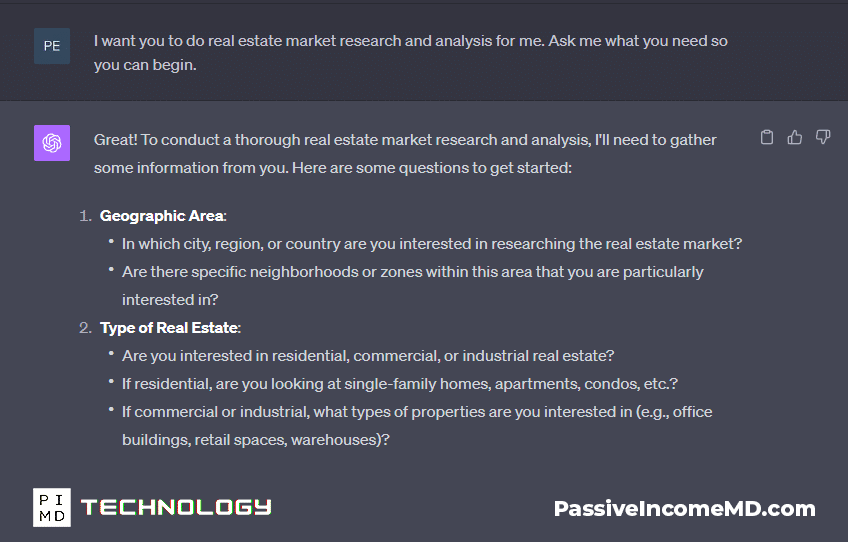 We're telling you, this AI is powerful, it can even do the research for you and analyze the results so you can figure out your steps moving forward.
You can see it all in one place! Give it some patience while answering questions and here's what the result might look like.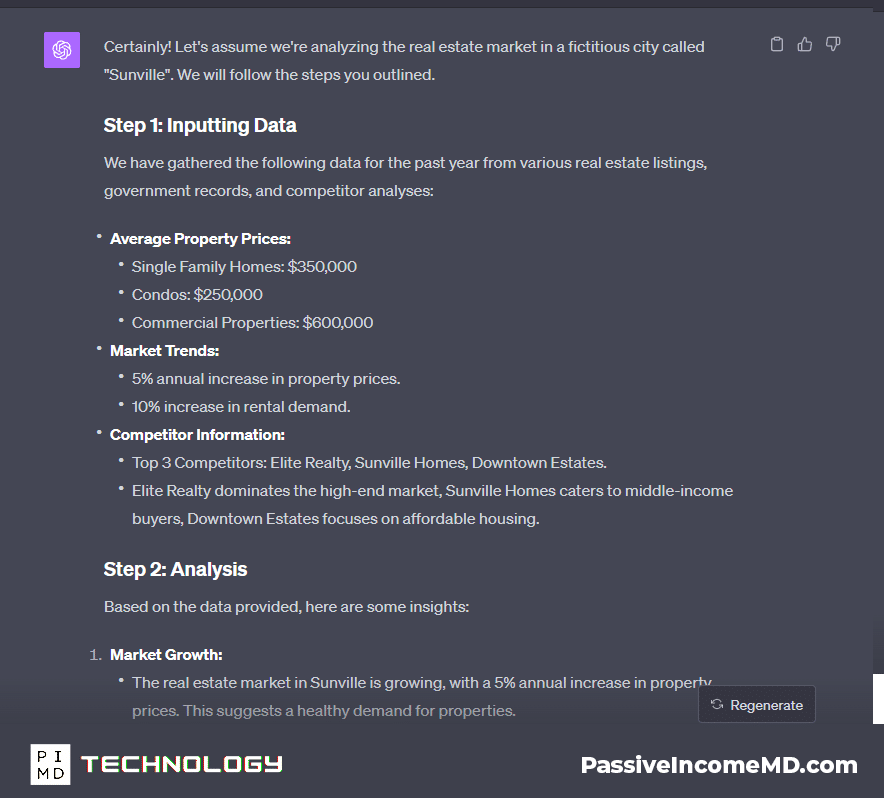 Some Things to Note:
Data Privacy: Always handle client data responsibly and adhere to data protection regulations.
Due Diligence: Remember to always do your research and review the outputs given by ChatGPT. You're the expert and AI is just the tool! 
Data Source: The free version of ChatGPT only sources data up to September 2021. Premium users can access real-time data via the internet through the Bing plugin in ChatGPT-4 (which will be available in the free version soon). 
AI Tools: If you're looking for other useful AI that you can use, check out this podcast. Also, here's a useful prompt for your daily ChatGPT use.
Final Thoughts
This article only covered three potential uses of ChatGPT for real estate, surely, there are more to be covered since the AI has immense potential. There's still more so tune in!
Wouldn't it be exciting for it to have updates that would bring more to the table? Who knows. There's even an app for it in IOS that was just released. Imagine what it can deliver in the future…
Well, one thing is for sure though, whatever new things it may have, we will surely bring you valuable updates so you can use them to streamline your goals for passive income.
Are you willing to try ChatGPT for real estate? 
***PS: Do you know that we offer free AI tools? We have one that will generate the best prompts. and a ChatGPT Cheat Sheet that will level up your AI experience. Get it now!
---
If you want more content like this, make sure you subscribe to our newsletter to get updates on the latest trends for AI, tech, and so much more.