I've been itching to write this blog post for a while now, but I've been holding back to see how it all plays out.
I think I've seen enough.
Due to unfavourable legislations that's been (and being) applied to the private rental sector, in particular Section 24 (which stopped landlords from being able to offset interest on mortgage loans against their tax liability) and the much anticipated abolishment of Section 21 (which means landlords will be severely limited to when and how they can repossess their property), there's been a surge of traditional BTL landlords that said "screw this shit" and migrated to a place where those rules don't apply. The Airbnb/Short-let marketplace.
Not only have landlords managed to bypass the restrictions by doing this, but many are also reported to be making a killing, and consequently feeling foolish for meddling with long-term tenancies in the first place.
In a recent paper published by the UK Parliament on the growth in short-term lettings (England), it's stated that "the number of short-term lettings in England has increased significantly in recent years, due to the development and growth of the 'sharing economy' and 'peer-to-peer' accommodation services such as Airbnb."
So, what should you do? Is switching to Airbnb worth it?
Table of contents:
The gamble: switching to Airbnb/short let tenancies
There is no definitive answer to the question of whether making the switch would be a wise or a stone-cold daft decision, because it really depends on your individual circumstances, specifically the location and the type of property you have at your disposal. Airbnb/short-lets are particularly sensitive to those variables.
We can make no-brainer assessments, like a cottage in a popular coastal town or an apartment in a bustling metropolitan city will likely perform well. But it would be disingenuous for anyone to make bold and sweeping claims when it comes to the viability of short-let tenancies. One glove certainly not does not fit all in this case.
Objectively, it's a lot easier to provide a more reassuring and confident thumbs-up to anyone that's interested in flogging long-term tenancy agreements, because those puppies are selling like hotcakes nationwide, in every nook and cranny – the housing crisis is no joke. The short-let market is an entirely different beast, targeting a different and more compact demographic.
Even though I can't give you any definitive answers, don't render this blog post completely useless just yet. The hope is I'm able to share some useful reports and principles of Airbnb/short-let tenancies, which may help you decide whether it's a transition you want to take into serious consideration. Cool?
Will landlords make more money switching to short-term Airbnb/Holiday lets?

I guess this is what it really boils down to; will landlords have money flying out of their buttholes after making the switch?
While the potential for UK landlords to make more money with short-term leases versus long-term tenancies depends on several factors, it is a reality that short-term Airbnb/Holiday lets are generally more profitable (after expenses), and that's because they're charged on a per-night basis. In other words, there's a premium to be paid for short-term accommodation.
It's not unusual for Airbnb properties to make more in one week than they could make in a month under a long-term tenancy.
Where in the UK are the best Airbnb/short-let returns?
The formula for the best ROI for an Airbnb is the same as any property investment, it comes down to low priced properties that can generate high revenue returns from renting (in other words, rental yield). For a traditional BTL, a yield above 6% is considered to be a good return on investment.
AirDNA with ONS conducted a study that looked at 27 major British cities and revealed that Bradford offered the highest yield, with a median house price of £135,000, with a monthly revenue from Airbnb of £1,229, which equates to a 10.92% yield (without taking into account any expenses such as stamp duty, legal costs etc). That means that it would take a mere nine years to pay off.
Swansea came in second, taking just 10 years to pay off the city's median property price of £143,500, with monthly yields of £1,100, which equates to a 9.2% yield.
Average Airbnb yield
According to this article on Which?, landlords using short-term rental platforms benefited from average yields of 9.8%. That's not too shabby at all.
The problem is, it's incredibly difficult to verify any of the data projecting return on investment. So please bear that in mind. You'll need to do your own due diligence and crunch your own numbers to see where you stand.
I will say though, a yield of 9.8% does sound realistic, and actually, rather quite modest.
Long-term Vs Short-term tenancy returns
What's more impressive than the average yield of 9.8% (and equally as mind-boggling) is how it rockets in certain high demand zones. Yes, it's expected for major cities to perform well with short-let Airbnb tenures, but the difference in returns compared to long-term tenancies is truly bonkers.
helloguest.co.uk have published data that compares the average annual tenancy fees in several popular cities to average Airbnb earnings per area:
| | | | |
| --- | --- | --- | --- |
| London | £21,984 | £72,385 | 229% |
| Manchester | £11,496 | £52,259 | 354% |
| Bath | £26,328 | £62,648 | 37% |
| Edinburgh | £30,312 | £59,725 | 97% |
| Brighton | £16,260 | £67,194 | 313% |
| Liverpool | £12,540 | £55,830 | 345% |
| Cambridge | £32,040 | £50,963 | 59% |
| Cardiff | £17,856 | £52,911 | 196% |
Hot damn! I'd be a very happy man if my long-term tenancies did a fraction of any of those.
"My mate Harry…" (a real life Airbnb case study in London)
His name isn't really Harry, but he is my mate.
I thought I'd share an anecdotal case study because I 'spose it's relevant and provides insight into what's achievable by making the switch to short-term from long-term tenancies.
A friend of mine has a swanky apartment in London, which he was originally renting out on a long-term tenancy agreement via a local high-street letting agent.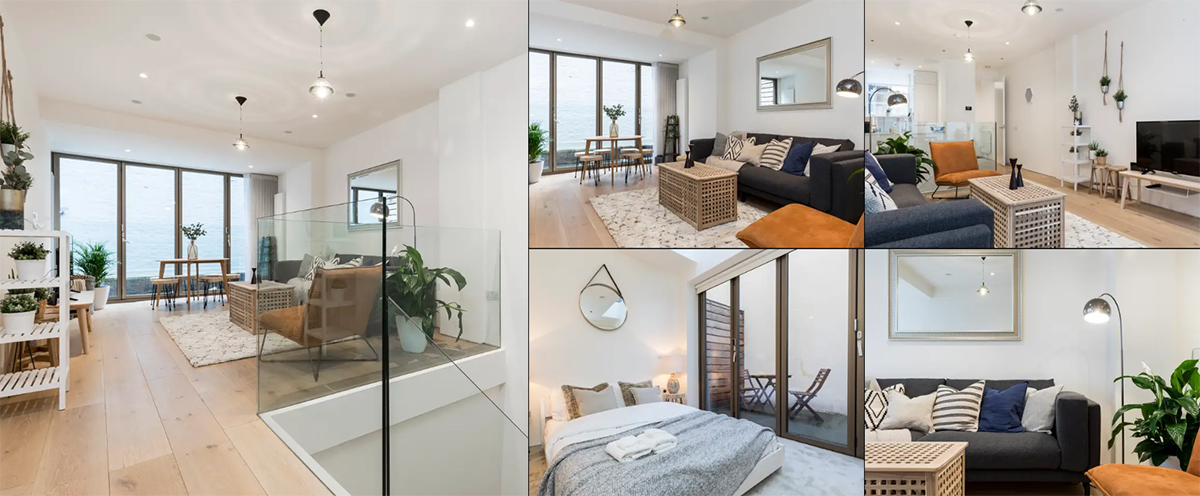 After realising how much more money he could potentially be making by switching to short-term Airbnb leases, he decided to sign up with an Airbnb management company to take control of the entire process (I'll go into more details about Airbnb management companies later on, because I believe they're a rather interesting piece of the puzzle, which enables more and more landlords to make the switch).
His annual earnings in 2016 under a long-term tenancy was £35,244 (after expenses), and after he made the switch to Airbnb his earnings bumped to £62,975.90. I've broken down the exact numbers in another blog post – City Relay Property Management Review – if you're interested.
Bottom line, his income increased by 56% by switching to the Airbnb model.
Conclusion
So what does this all mean?
Honestly, it should mean very little to you as an individual, because the information I've shared is based on limited data (which is tough to verify) and averages. You could fare significantly better or worse off with your asset.
That said, I think it's safe to say there is a boatload of money to be made in this neck of the short-let woods, but whether you can capitalise on it is a totally different issue and warrants further investigation.
How much does location matter (my rental property isn't in a holiday hotspot)?

It should come as no surprise to a single soul that the switch to Airbnb will be a non-starter for some landlords, simply because their properties won't be located in areas optimised to generate demand for short-term accommodation. But the problem isn't as widespread or cancerous as it may seem, so I'm told.
Yes, and needless to say, the best returns are generated from properties situated in or closely surrounding tourism hotspots, namely coastal areas, and areas with historical landmarks and/or natural beauty. Got one of those on your hands? Then you should be laughing yourself in hysterics all the way to the bank. You may want to consider advertising on Airbnb today.
But everyone else need not worry just yet though, because even if you're not sitting on prime real estate it doesn't necessarily mean you're out of the game. Even the most unsuspecting shacks have turned into Airbnb success stories – so don't just assume it's a full gone conclusion that you're stuck with a losing horse without knowing the facts.
It's a common misconception that Airbnb/short-let properties are just for holiday-makers. In fact, that couldn't be further from the truth. I've been notified by folk in the industry that the Airbnb model is working in most parts of the country (and not exclusively tourist hotspots), because of three reasons:
The UK is so small that it makes most places accessible from most locations. In other words, some people don't want to pay for premium spots, so they spend less on accommodation that's outside their intended destination, with the willingness to travel in.
Short-let tenancies are popular among contract workers, and this can apply nationwide in even the most unexpected areas.
A report by theismoney.co.uk has suggested that an exodus of landlords (leaving the BTL market) has created a shortage of rental properties offering long-term tenancies, forcing some renters to live in Airbnbs.
The Guardian published an article in 2020 using data from Inside Airbnb to compare the extent of Airbnb listings across the UK, It found that some parts of the country have one listing for every four properties. London and Edinburgh had the highest absolute numbers of Airbnb listings, but some rural areas also had a high rate of listings relative to the number of residential properties in the area.
So before you completely toss the idea in the bin because your rental property isn't located in an optimal area for holiday lets, it's probably worth doing a little further investigating first. You could start by researching on Airbnb's website to find out if there are other properties available in your area. You might be pleasantly surprised.
Of course, if you have a property in the arse end of absolutely nowhere and doesn't contain any redeeming features, like on a busy runway, then the bin is probably the best place for your Airbnb pipedream.
The advantages of switching to short-term tenancies from long-term
Potential to make significantly more money
Margin for error is largely limited in the sense that if you fall short on bookings, it's easy to flip back to a long-term tenancy strategy.
Less red-tape, which means landlords have less legal responsibilities to be concerned with. Unlike with Assured Shorthold Tenancies, short-term holidays lets are not government by the Housing Act.

As mentioned in the intro, this is one of the primary reasons for the mass migration to short-term leases.

Landlords have more flexibility:

Adapt to market conditions: Short-term tenancies allow landlords to adjust rental rates more frequently to align with current market conditions.
Property maintenance: Short-term agreements provide opportunities for landlords to inspect and maintain the property more frequently, ensuring it stays in good condition.
Regain possession: easier to regain possession if the landlord needs the property for personal use or for other business purposes.

One of the biggest problems landlords face with long-term tenancies is the difficulty of dealing with and removing rogue tenants, but with short-term leases, landlords can regain possession of the property quickly.
The disadvantages of switching to short-term tenancies from long-term
Increased chance of voids periods due to the nature of short-term tenancies, which means the property could remain empty for long periods. This will impact rental income and potential complications with insurance (i.e. most insurance providers won't insure properties that are empty for more than 30-60 days).
There can be restrictions on Airbnb/short-let tenancies in the following areas, so they need verifying first:

Building insurance: check to see if your current insurance provider covers you for Airbnb/short-let tenancies. If not, you may need to change your policy.
Mortgage: check to see if the terms and conditions of your mortgage prevent short-let tenancies.
Lease: if you have a leasehold property, check the terms of the lease to see if there are any sub-letting restrictions.
Regulation / restrictions: depending on the location of your property, various restrictions may apply on both a national and local level, including the need to obtain a licence before being able to rent out your property for short-term lettings. It's best to check with your local council to determine what restrictions apply to you, if any at all.

Managing Airbnb/short-term tenancies entails a lot more work, as they require more frequent cleaning and maintenance to meet the expectations of guests, not to mention checking guests in and out. This can lead to higher operating costs for landlords (but that's usually reflected in the rental price).
Airbnb listings are fully furnished and equipped with amenities such as kitchen appliances, linens, and entertainment systems, and since most BTL properties are unfurnished, switching to short-term tenancies may require an initial capital injection to get it fully equipped.
It's important to note that while short-term tenancies and Airbnb rentals may be more expensive on a per-night basis, long-term tenancies often provide landlords with more stable and predictable income over extended periods.
How to get started: switching to Airbnb/short-term tenancies
I've already written an in-depth guide on how to get started with Airbnb, including where and how to market short-let rental properties to help ensure a steady flow of bookings.
Airbnb management companies – perhaps the perfect solution for landlords looking to switch?
I told you I'd get here eventually. It's time to give Airbnb management companies some sugar.
Think along the lines of fully managed letting agent services, but for Airbnb and short-term tenancies. And much more useful (in my opinion).
In the past I've very been vocal about my gripe and general distain with using fully managed letting services.
In short, I think they're a waste of money for most landlords, because once a good tenant is in place, the day-to-day management of running a rental property becomes minimal. So effectively, landlords end up paying an obscene amount for a money-transfer service (i.e. tenant pays rent to agent, agent passes on rent to landlord, minus management fees). I mean, seriously, a monkey is capable of managing the same task in exchange for peanuts.
In the case of Airbnb and short-let tenancies, I actually believe there is a legitimate case for using an Airbnb management company, simply because Airbnbs require significantly more effort to run effectively. Long-term tenancies are a stroll in the park in comparison, and that's actually the biggest warning I offer to landlords before making the switch.
Running a successful Airbnb entails managing a revolving door of incoming and outgoing guests, and with that comes:
Continuous marketing and guest acquisition
Management of reservations, check-ins, check-outs, and everything in between 24/7
Cleaning services, some similar to "hotel" experiences
Repairs & maintenance management
Regular pricing review to maximise returns
It's a buttload of work, and I personally don't think it's easily done by landlords that have other work commitments. It can be is very time-consuming. This is where the services of Airbnb management come into play, they take over the entire operation, and most importantly do all the marketing and manage the calendar to help ensure occupancy rate is maximised.
Here are a few examples of the best rated management companies:
Please note, I try my best to keep the information of each service up-to-date, but you should read the T&C's from their website for the most up-to-date and accurate information.
For more information, here's my full guide on The Best UK Airbnb & Short-Let Management Companies.
*deep breath" And I'm done. This turned out to be a hell of a lot girthier than I ever imagined possible.
Right, so what ya' thinking?
Landlord out xo
Disclaimer: I'm just a landlord blogger; I'm 100% not qualified to give legal or financial advice. I'm a doofus. Any information I share is my unqualified opinion, and should never be construed as professional legal or financial advice. You should definitely get advice from a qualified professional for any legal or financial matters. For more information, please read my full disclaimer.