Remote work offers a vast array of benefits, whether you work from home (WFH) or work from anywhere (WFA). But there's something else remote work offers, whether we like it or not — back pain. In fact, shortly after the seismic shift caused by the COVID-19 pandemic, which relegated most U.S. workers to their home offices (or kitchen tables or couches), an overwhelming 92% of chiropractors reported an uptick in back and spine issues.
The cause behind these problems? A major decline in physical movement. And sure, in the head-spinning early days of the pandemic, when we were all feeling a little overwhelmed and shellshocked, we needed time to process (which might have involved a significant amount of Netflix bingeing and ice cream eating). But now remote workers — whether they chose the life or the life chose them — are savvier, smarter, and honestly, not getting any younger. Everyday aches and pains can turn into long-term problems if you aren't prioritizing an often-forgotten element of remote work:
Ergonomics.
Luckily, we've got some easy work-from-home ergonomics tips you can adopt right away. So, whether you're hunched over your coffee table at home or working from a cramped airplane seat, you can learn how to be kinder to your body and do your best work without sacrificing your physical well-being.
Top Tips for Work-From-Home (or Anywhere) Ergonomics
We've talked a lot about the mental strain of remote work, but we don't talk all that often about the physical toll it takes. Everyone loves the idea of working from somewhere exotic or the comfort of working from home, but we don't always consider the consequences on our bodies. Start with these tips, and avoid spending your entire paycheck on the chiropractor.
Sit Up Straight
Okay, so we all rolled our eyes when our mothers snapped at us to sit up straight and warned that if we slouched, our spine would get stuck that way (just me?). But there's some truth to it. Incorrect posture can have disastrous consequences, especially over extended periods of time. Keeping your back straight can help you avoid serious issues down the road.
It helps to have a setup like the one above, but there are certain things you can control no matter where you're working.
Stack your laptop on books or cushions to keep your eye line at the right level.
Get an ergonomic Bluetooth keyboard to use with your laptop while traveling.
Use a separate mouse.
Take along a cushion or foam yoga block you can use as a footrest when needed.
Roll up a towel to place under your bottom for better hip alignment.
Adapt to Your Environment
Not everyone has a decked-out or dedicated home office. Those who work from home may simply not have the space, while digital nomads who are on the go can't always predict whether an Airbnb or hotel will have an adequate setup.
You can still create a good ergonomic environment working with what you've got, whether it's a dining table, a kitchen counter, or a sofa.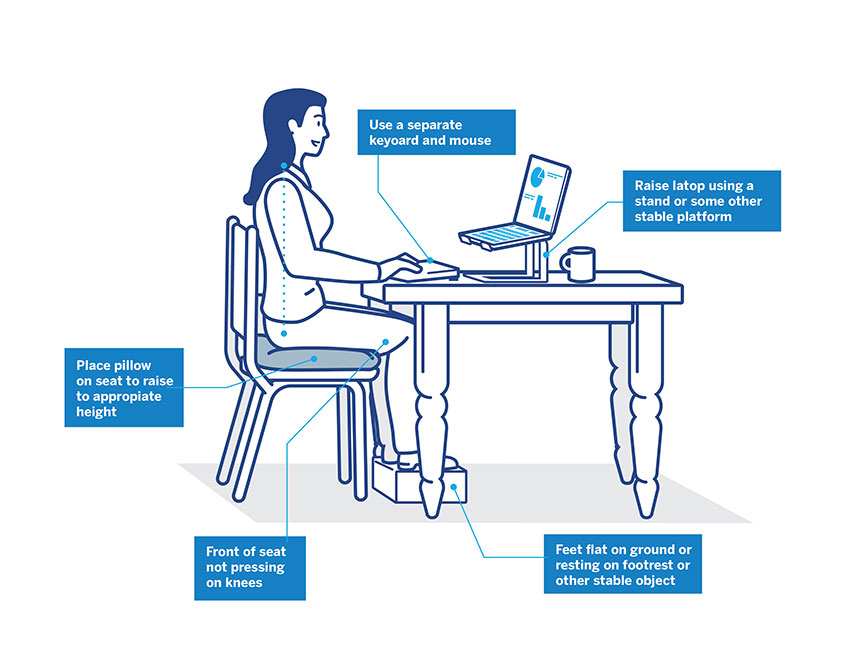 Part of prioritizing ergonomics is figuring out your personal preferences. If you'd rather work while standing, you don't need a fancy or expensive desk to make it happen. Instead, get creative with what you've got.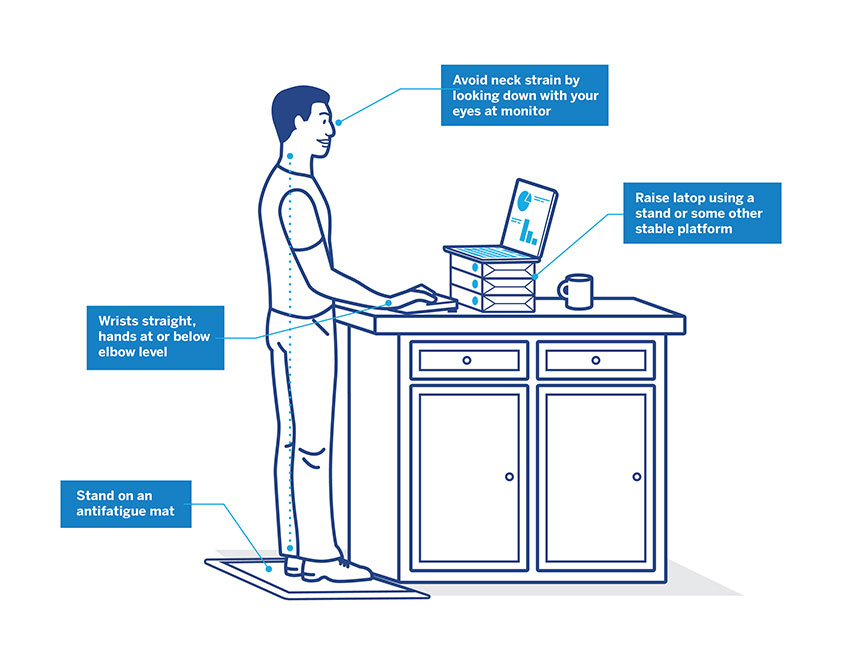 If you're working from home, use the everyday objects around you — books, boxes, towels, mats, or cushions. If you're working on the go, consider making an ergonomic travel kit, which might include a laptop riser, foam yoga blocks, towels, blue light blocking glasses, and a travel mouse/keyboard.
Choose the Right Tools
In pretty much all circumstances, having the right tools makes the job easier. And while you can certainly adapt to your environment, as mentioned above, it also helps to have a home base with some ergonomically-friendly furniture.
But it can be overwhelming to find the right item in a growing sea of WFH gear. How do you know what's best?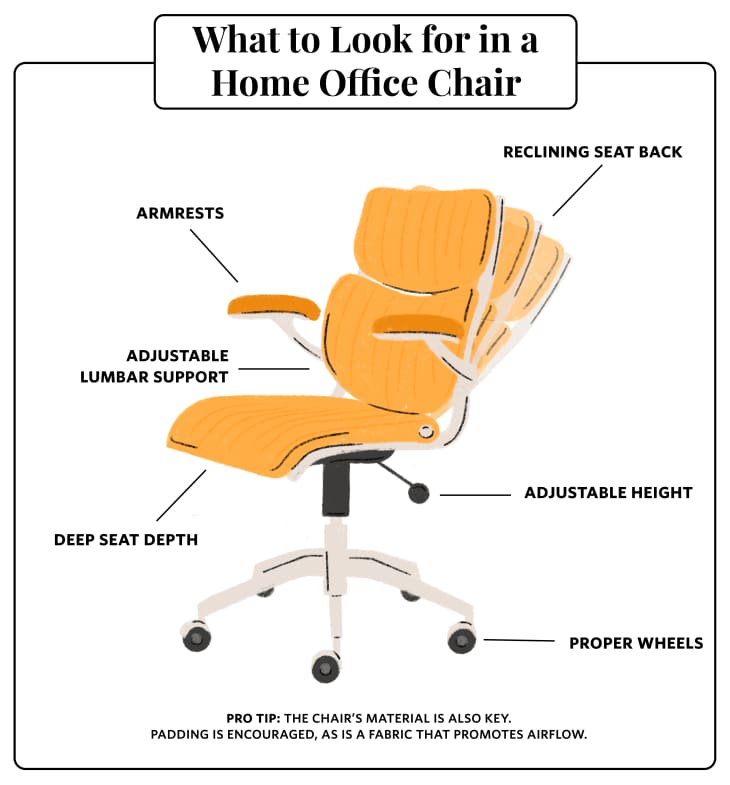 There are probably billions of office chairs on the market (I'm sure that's a scientific fact). Same for desks, monitor stands, footrests … and the list goes on. So how do you decide?
Look for items with "ergonomic" in the name.
Pay close attention to reviews from other remote workers.
Ask for input on WFH or WFA forums.
If ordering online, make sure there's a trial period or adequate return policy.
When possible, test out chairs and desks in person.
Make notes/take pictures of pieces you like in coworking spaces
Protect Your Vision
Eye strain is a risk for anyone who works at a computer all day. And if you WFH or WFA, that's likely exactly what you're doing. Eye strain can also be connected with other issues, like neck pain and spinal alignment.
One of the best ways you can lower your risk of digital eye strain is to use the 20/20/20 rule.
You should follow this rule no matter where you're working from. At home, you can choose a permanent spot that you can focus on every 20 minutes, like a picture on the wall or a tree out the window. While traveling, it might be harder to find a stationary object exactly 20 feet away, but you can still take a 20-second break every 20 minutes and find something in the distance you can focus on.
A couple other ways to keep your eyes strong:
Maintain regular visits with your eye doctor to update prescriptions or find vision problems before they worsen.
Wear glasses or contacts consistently.
Make sure there is adequate light in your workspace.
Add blue light block lenses to prescription glasses, or purchase dedicated blue light blockers.
Move Your Body
When you're working from home, you're often in your comfort zone, so it's easy to stay stationary (especially when you're also "in the zone" with work). When working from anywhere, it's easy to find yourself completely worn out by the mere act of traveling, so it's no surprise that you just want to rest when you get where you're going.
But in either situation, moving your body is key to maintaining your physical well-being. You don't need to cram in a full workout every single day, but incorporating a short movement session into your schedule once or twice a day goes a long way. Here are some ways you can boost your physical activity, no matter where you are:
Yoga: There are tons of sequences designed especially for those working from home or those who are in tighter spaces while on the go. Yoga is easy enough for beginners to jump in and usually doesn't require any extra equipment.
Stretching: If yoga isn't your jam, try some light stretches. You can find entire stretching routines designed for the home office, and like yoga, you don't need any equipment or experience to get started.
Take a Walk: Walking through your neighborhood or just around the block gives you the physical activity you need, with some major bonuses. You'll get fresh air and likely boost your mental well-being, as well.
Hit the Gym: If you're not a novice, and fitness is an important part of your life, be sure to incorporate it into your workday. Take a long lunch, or start your day with an energizing workout. If you don't have a home gym, you can find tons of workouts on YouTube. If you're traveling, you might find your hotel or coworking space has a fitness center you can use at no cost.
Wherever and however you work, taking care of your body is critically important. If you let it slide now, you'll have to deal with the consequences down the road. Your work may suffer, but mostly, your health and well-being may suffer. Incorporating ergonomics into your WFH or WFA life is a quick and simple way to keep your back (and all the rest of you) in top form.
Want to work for a company that gets the remote work lifestyle and is there to support you (and doesn't mind if you take a yoga break, a coffee break, or a mental health break)? Sounds like you might be a fit for FPS! We're experts in WFH and WFA lifestyles, and our culture supports the well-being of our team members — physically, mentally, and emotionally. Check out our job listings to see if we've got a spot for you!