Back in 2014, I started working from home.
This was after my failed attempt at trying to set up an applied behavior business for children with autism where I would drive to people's homes and spend all day practically on the road.
I had to give that up because daycare was so expensive, and my husband couldn't watch the babies all day since he had to work too.
And, with my in-laws? Well, I couldn't ask unless they offered first.
They didn't.
But I wasn't ready to give up on my dream of working for myself!
Working from home is awesome for moms who want to balance work and family, but finding time to work can be challenging when your little one needs constant care and attention.
Fortunately, there are things you can do when you want to work from home but have no childcare!
Let's take a look.
1. Set Realistic Expectations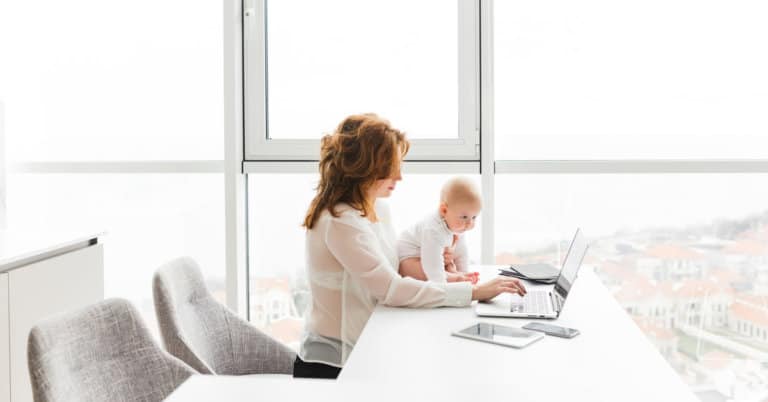 Look –
You gotta be realistic with all of this. You may just not have a lot of time to work.
When you're looking for jobs you can do with a baby, it's important to set realistic expectations.
You may have to consider adjusting your workload or schedule to accommodate your baby's needs, or be prepared to work outside of traditional office hours to get your work done.
Remember that it's okay to take breaks and prioritize your little one's needs over work when you have to.
Setting realistic expectations will help you avoid burnout and also make sure that both you and your baby are getting the care and attention you need.
2. Understand Why Daycare is So Expensive
So, why is daycare so expensive in the first place?
Mostly it's because of the high ration of caregivers to children, but also because daycares have to adhere to strict licensing and safety regulations, which can drive up the cost of operations.
Daycares have to follow a lot of rules to provide adequate care and attention to every child there.
Plus, many daycares stay open in the evenings, so they have to pay their staff.
Understanding why daycare is expensive won't help you work from home without childcare, but it's helpful to understand why they charge what they do.
3. Ask For Help
If you have family or friends nearby who are willing to help, there's nothing wrong with asking them to watch your little one while you work from home.
This is definitely a more affordable option than paying for a daycare or hiring a babysitter.
But if you don't have friends or family that can help, you can always look into joining a local parent group or online community of working moms.
These groups can provide support and advice, as well as potential babysitting or childcare swap opportunities.
4. Look for a Cheap Babysitter
When you want to work at home but don't have anything that can help with childcare, you can always look at hiring a cheap babysitter.
I'm not saying that you should expect someone to babysit for pennies, but babysitters often charge far less than daycares because they have fewer children to care for and fewer overhead costs.
Chances are, you're going to find a good rate for a babysitter who watches children in their home (instead of coming to yours). If you want someone to come to you, you may end up paying more.
To find a cheap babysitter, ask for recommendations on your social media or check online classified for babysitters looking for work.
If you end up hiring a stranger, just make sure you do a background check and interview them to make sure they are a good fit for your needs.
5. Work Around Your Baby's Schedule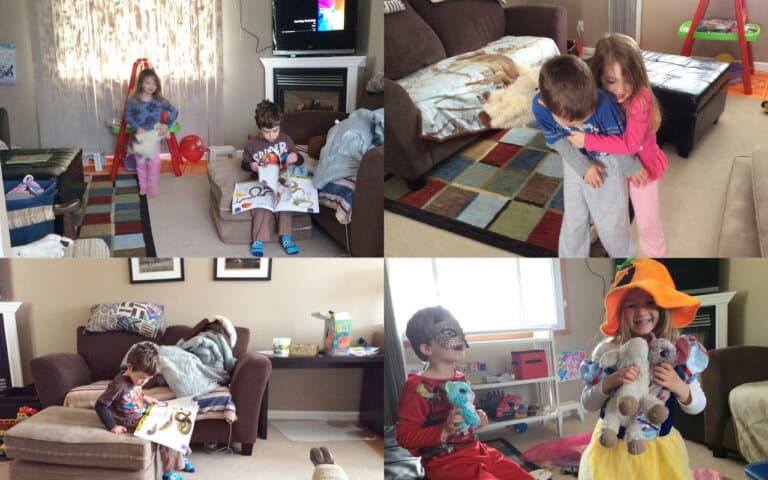 I know that babies need a lot of care, but they don't need attention 24-7. If you have a flexible work-from-home job, you can work around your baby's schedule.
You can do this by creating a routine for your baby and establishing things like consistent naptimes and feedings.
Plan your work around these times so you can focus on what you need to do and be productive.
This is exactly what I did with my twins.
I would set them up for an activity and then do my pitching for clients.
Or, I would put them down for a nap at the same time and get an hour or two to write blog posts.
You can also use a sling or baby carrier to keep your baby close to you while you work.
This way, they are more likely to take those naps, and you can quickly soothe them and keep them calm if they wake up.
6. Look for Jobs With Flexible Schedules
Good jobs for moms are those with flexible schedules.
This means that you aren't expected to work during a specific timeframe – you can work whenever you want as long as you get the work done.
Many employers offer remote work options and flexible hours to accommodate the needs of working parents.
When looking for a job, make sure you read the job description carefully to see if the job really is flexible.
I have some flexible work-from-home job ideas you can check out here.
7. Start Your Own Business
If you're a mom saying, "I want to work from home but have no childcare," why not start your own business?
Starting your own business is a great way to work from home and have more control over your schedule so you can take care of your baby instead of worrying about childcare costs.
There are tons of businesses you can start at home, such as freelance writing, graphic design, or consulting.
Even if you don't have any ideas for starting a business, that doesn't mean you can't get started!
Here are some business ideas you can use:
8. Embrace the Gig Economy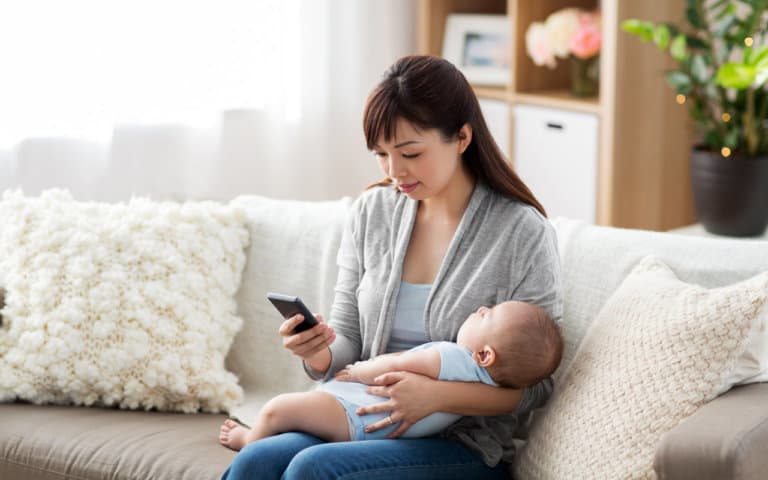 The gig economy is an online labor market where you can post the work you are willing to do or apply for freelance jobs to make money from home.
Gig economies offer a range of opportunities if you are looking for work-from-home jobs for moms with babies.
Upwork and Fiverr are two examples of gig economies where you can find flexible jobs that you can do from home.
Finding gigs is a great way to make easy money but they can also lead to a full-time income.
9. Take Advantage of Technology
Technology can be an absolute lifesaver for moms who want to work at home with a baby. There are so many tools and apps available to help you work more efficiently from home.
For example, video conferencing software like Skype or Zoom can allow you to have virtual meetings with clients or colleagues.
Project management tools like Trello can help you stay organized and on top of your work tasks.
There are also apps and devices that can help keep your baby entertained and occupied while you work, such as a baby swing or bouncer to soothe your baby.
You can also use a baby monitor so you can keep an eye on your little one while you work.
Jobs You Can Do With a Baby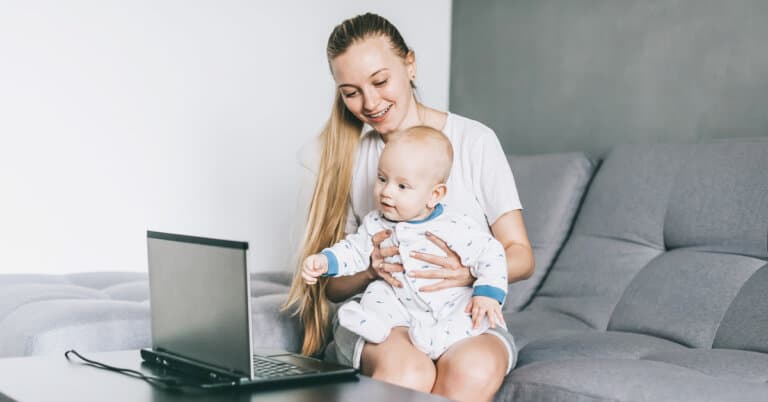 Okay, so we talked about what you should do when you want to work from home but have no childcare and now I want to give you some ideas of jobs you can do with a baby!
I know personally that finding a way to balance caring for my twins with earning an income was a dream come true.
It took some trial and error, but I eventually found a way to make it happen by exploring a ton of good jobs for moms.
To help you find work-from-home jobs for moms with babies, here are some ideas you should check out:
1. Freelance Writing or Editing
If you have strong writing or editing skills, freelance writing or editing can be a great option for working from home with a baby.
Many companies and websites are in need of freelance writers or editors to create content for their websites, blogs, and social media platforms.
This type of work can often be done on your own schedule, which makes it ideal for moms who need to work around their baby's needs.
Want to learn more? Check out all the amazing jobs a mom can do to make money with their writing!
2. Blogging
If you enjoy writing and have a passion for a particular topic, you can consider starting your own blog.
Many successful bloggers are able to earn a substantial income through advertising, sponsored posts, and affiliate marketing.
While it can take time to build a successful blog, this type of work can often be done from home and on a flexible schedule.
I have lots of information here on how you can get started!
3. Virtual Assistant
Virtual assisting is a popular freelance field that can be done from home.
Virutal assistants provide administrative and technical support to businesses, entrepreneurs, and professionals who need assistance with tasks such as scheduling, email management, social media management, research, and more.
This is an amazing opportunity to use your organizational and communication skills to help others while also being able to care for your baby.
Virtual assistants often work on a project basis or on a retainer, and the work can be flexible and remote.
You can specialize in a particular industry, such as real estate or finance, to better serve your clients.
4. Online Tutoring
If you have experience in a particular subject area, such as math or English, you can consider online tutoring.
Many tutoring companies allow you to work from home and on a flexible schedule, which can be ideal for moms with babies.
You can also consider creating your own tutoring business by advertising your services on social media or through your local community.
5. Graphic Design
If you have graphic design skills, such as drawing by hand or using software, you can work from home with your baby as a graphic designer.
Many businesses and individuals are in need of graphic designers to create logos, websites, and other marketing materials.
With many companies requiring these services, it's a great way to work from home while caring for your baby.
6. Social Media Management
Freelance social media management is a growing field that can be done from home.
Social media managers help businesses and entrepreneurs build and maintain their online presence by creating and responding to comments and messages, posting content, and analyzing data to improve engagement.
This type of work requires creativity, strong communication skills, and an understanding of social media platforms and trends.
You can also specialize in an industry that you have experience in, such as fashion or food, to better serve your clients.
By working as a social media manager, you can choose your clients, set your own rates, and work on a flexible schedule that accommodates your baby's needs.
7. Translation
If you're fluent in multiple languages, freelance translation can be a viable option for you.
Companies, government agencies, and individuals often require translation services for documents, websites, and other materials.
You can specialize in a specific field such as legal, medical, or technical translation, which can increase your earning potential.
This field is in high demand and can be a great way to work from home while caring for your baby.
8. Photography
Okay, so maybe being a photographer doesn't allow you to stay at home, but it's job where you could take your baby with you!
Or, you can get someone to watch your little one and get a ton of pictures done in just a couple of hours.
Either way, many businesses and individuals look for freelance photographers for their websites, social media accounts, and other marketing materials.
Yes, You Can Work At Home With a Baby!
As a working mom who wanted to work from home but didn't want to pay out the nose for childcare, I know how challenging it can be to make this dream a reality.
Thankfully, there are so many options out there for you to consider when it you want to work but have no childcare.
From asking for help to finding a flexible job, you can fin a job that works for you and your baby.
Just don't forget that it's okay to ask for help and prioritize your family's needs while pursuing your carer goals.
With some creativity, planning, and support, I know you can achieve success a a work-from-home mom!
What's your experience balancing work and family life as a parent?
Have you found any tips or tricks that have helped you make it work? Share your thoughts in the comments below!