What is one of the best ways to make money online?

To help you identify the best ways to make money online, we asked career coaches and marketing professionals this question for their best insights. From offering photography services to writing digital content to working as a freelancer, there are several creative ways recommended to help you start earning a decent income online. 
Here are 12 ways to make money online:
Offer Photography Services
When you put effort into something you are truly passionate about, earning money online is simple. One activity that can earn you well online is photography, and the best part is that you don't necessarily need to put in extra hours to achieve it. If you are passionate about capturing artistic shots while traveling, in nature, or even just in locations close to lakes, you can sell those photos to certain photography websites. Additionally, you can work as a freelancer to conduct professional photo shoots for weddings or other special events. One easy way to earn extra money is by focusing on building a solid portfolio of your best work. This may demonstrate your originality and artistic approach to whatever subject you capture with your camera.
Timothy Woods, Carnivore Style
Sell Others' Stuff
A solid way to make money online is to sell items on eBay, Amazon, or other sales apps. Most people do this when they just want to get rid of stuff but others make a business out of it. They go to yard sales or advertise to help clean out storage units or garages, pick up cool items cheaply, and resell them for more online. 
The trick to making this work is understanding the value of things. Some things are more valuable than they look. Other things are cool but won't sell. If you can get that knowledge of what something is worth and how well it will sell, you can buy low enough and sell high enough to make some good money.
Baruch Labunski, Rank Secure
Become a Social Media Manager
One of the best ways to earn money online is by becoming a social media manager. Your role is to handle social media accounts from small businesses breaking into the social media space for marketing campaigns and organic engagement with prospective clients. You need to have substantial knowledge of different social media features, peak hours for engagement and audience activity, and communication skills to deliver the right message while keeping everything aligned to the company's brand.
Nunzio Ross, Majesty Coffee
Do Proofreading 
Virtual proofreading is a high-paying role where you can proofread for an author or content writer. You can earn up to 1500USD per month working freelance as a proofreader. Your role is to check for grammatical errors and correct them. The work of a proofreader comes after the author and editor have done their part, generally. They become the final set of eyes and do the last part of the writing process. It is not a very time-consuming or difficult task as there is flexibility of working hours and environment.
Samantha Odo, Precondo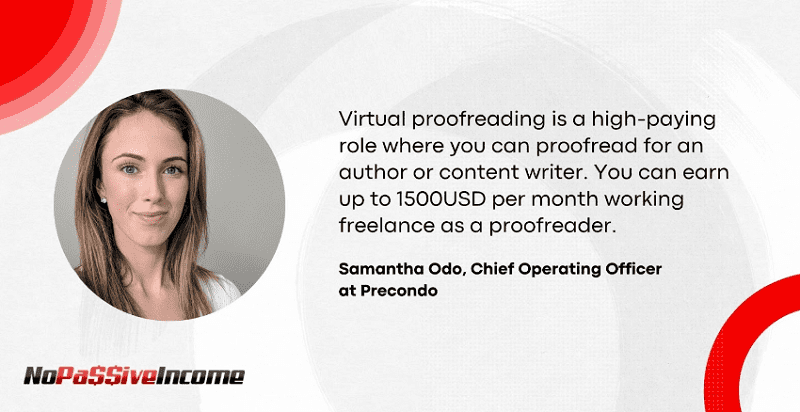 Establish Gaming Or Cryptocurrency Channels
Gaming and cryptocurrency are two of the hottest industries right now. And if you can tap into this market, you can make a lot of money. There are two ways to go about making money in this space – streaming and creating content. If you choose to stream, you can live-stream your gameplay on platforms like Twitch and make money from advertisements, donations, and subscriptions. If you choose to create content, you can create videos, tutorials, or articles about gaming or cryptocurrency and sell them on your own website or on platforms like YouTube.
Demi Yilmaz, Colonist.io
Offer Virtual Assistant Services
Offer virtual assistant services to earn money online. Identify the type of work you can expertly provide. It could be bookkeeping, social media management, sales, customer service, etc. You can look for VA positions from job marketplaces as a freelancer or join a VA agency that trains individuals in different business processes. Preferring the latter would mean doing your best to pass the training stage. This way, you can connect and work with clients who need help in running their businesses.
Abe Breuer, VIP To Go
Engage in Affiliate Marketing
If there's a subject you're passionate about, start a website. Write as much content as you can based on keywords surrounding the subject. You can find these keywords with tools like SEMRush or Google Keyword Planner. The key is to get as many blog posts out there as possible so Google starts ranking your blog at the top of search results. Once you're ranking you can run ads or use affiliate web links to gain a portion of every sale. It takes time but month over month you can see some really impressive returns and even make it your full-time job.
Shawn Plummer, The Annuity Expert
Run a Dropshipping Business
A dropshipping business allows you to run your own business, without having to spend too much time doing it. The simplest way to do this is to use a service such as that offered by Amazon. All you need to do after signing up is to arrange to have stock delivered to an Amazon fulfillment center from your chosen supplier. Amazon will store your products, list them on their website, dispatch them to customers, and take care of any customer service issues. All you have to do is to ensure that you have stock always available, Amazon will let you know as it runs low, then wait for the monthly payments to arrive in your account. Obviously, there is a charge for this service, but when we consider that very little effort is needed on your behalf, it can be a good way to raise some extra funds.
Colin Palfrey, JollySEO
Write Digital Content 
If you have the ability to write decently well, then writing ebooks, guides, low-content books, and even writing blog posts for others is a great way to make money online. The ability to publish ebooks and low-content books on Amazon is a blessing for those who have a story or knowledge to share with the world. Even better, these types of digital content can continue to generate income as long as it builds a following and you continue your marketing efforts for the ebook. Writing for other websites via blog posts is another great way to make money online. The more experience you build, the more you can charge.
Dylan Miller, DSM Story Forge
Offer Services at Virtual Events 
The world of virtual is here to stay. Therefore, offering virtual services to global companies is how I make 70% of my revenue. Companies find us through various Google searches including "virtual event DJ", "virtual event emcee", and "virtual party DJ". During the height of the pandemic, I was doing anywhere from 5-15 virtual events a week. This led to a word-of-mouth campaign that keeps us sustained despite many offices returning to in-person settings. The ease and accessibility of online team-building exercises continues to be the norm for both remote and hybrid companies, at least once a month. 
My company has become such a household name for business, that I continue to get inquiries for virtual conferences and webinars. We started out throwing complementary events for those in lockdown March of 2020. We have since grown to become the highest-rated service with awards from Forbes and Wall Street Journal for keeping virtual engagement and retention high.
Will Gill, DJ Will Gill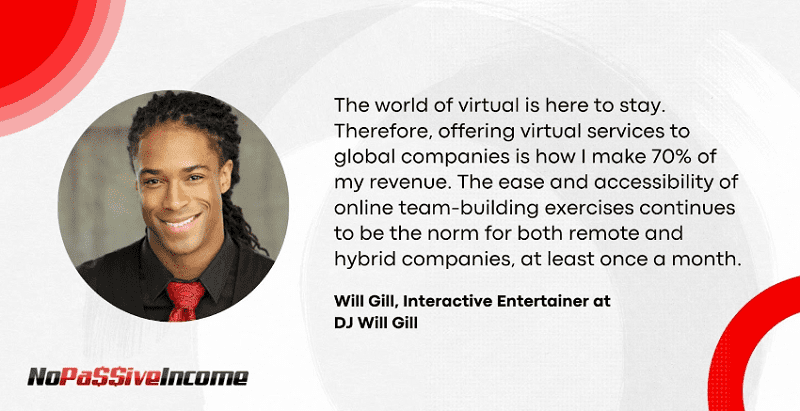 Do Email Marketing 
Emailing your customers irresistible offers is a proven way to make money online. I absolutely love email as a way to communicate with your customers. Social media algorithms can change at any time, hiding your marketing messages. Email is a direct line to your hard-earned customer. Build your email list by giving people a compelling reason to join. This could be a free ebook, a chance to win a prize, or insider access to your best information. Then use email marketing software to send out your newsletter and offers.
Scott Lieberman, Touchdown Money
Work as a Freelancer
Working as a freelancer online is one of the best ways to make money online. A fantastic way to earn money at your own speed is through freelancing. You are in charge of who you work for, how long you work, and how much you charge. Programmers, editors, writers, designers, and others with strong skills may look for employment with businesses that use freelancers on websites like Upwork, PeoplePerHour, Fiverr, or Freelancer.
You simply need to create an account on one or more of these websites and depending on the services you provide, you can eventually advance to high-paying freelancing positions. Create an online portfolio to complement your application on employment sites and increase your chances of being hired for lucrative tasks. Be certain that your pricing structure reflects the time and effort needed to complete each assignment. With just an internet connection, you may work from home for clients anywhere in the world, thanks to the flexibility of freelancing.
Maneesh Sharma, Donorbox
Terkel creates community-driven content featuring expert insights. Sign up at terkel.io to answer questions and get published.